When I were a child, birthday parties for children were much simpler. They were a time to play and have fun with family, cousins and a few buddies from school. Pinterest did not exist. Decorations were simple. I have memories of a Happy Birthday banner and some balloons in the corner. The hero was always the birthday cake (always made by my Mum). Fast forward 30+ years later and we live in a different world. As far as birthday parties go, the fundamentals are not too different though. The options for decorating your party are much greater (yay though, there's some seriously cool stuff available). There's a lot of inspiration readily available online and many parents love the creative outlet when putting their child's party together. It could be very easy to blow your budget so we've put together 5 easy tips to plan your next child's birthday party and stay within a reasonable budget regardless of whether you are planning something simple or more elaborate.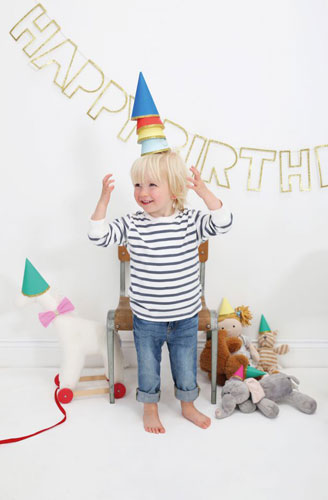 We love this gold Happy Birthday garland! You can use it at many birthday parties to come.
1. Limit the guest list or combine birthday parties
This is a big one as more kids tends to mean more of everything (more packs of plates, more food, more party bags…). Another idea is to combine birthday parties with a close friend whose birthday is around the same time. Uniting forces and celebrating together can really cut down costs.
2. Use a free location
The best free locations are usually either your home or a local park. Having the party at home has the plus side of not having to lug a whole lot of party paraphernalia to another location. Using a local park can work very well as they normally have play equipment for the kids which really helps with the entertainment side too. An extra positive for the park option is that you don't need to clean up before your guests arrive!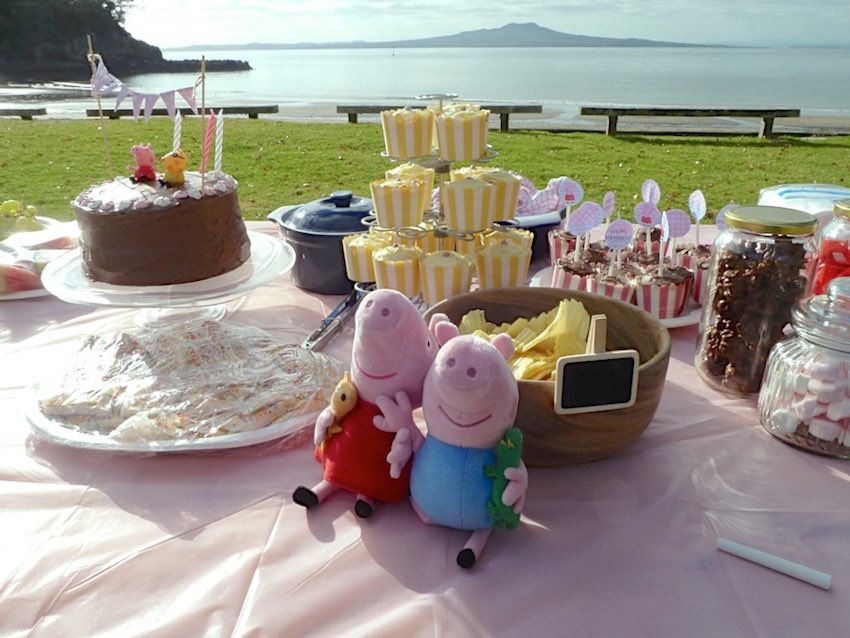 A friend of mine threw this fun Peppa Pig party at a much loved local beach. A great location with a beautiful view and fab playground equipment available too.
3. Invest in some party staples
As your child's birthday will come around every year, it is a great idea to invest in a few key items that you will use time and time again. Items like our mini milk bottles can be used every year meaning you will save on the cost of paper cups at each party. You could even go halves with a friend or family member and share between you for all of your kids parties. A nice cake stand is also a great investment. Whilst this may not be a budget friendly purchase the first time around, a stylish cake stand will transform a simple birthday cake. Trust me, a simple cake on a pretty cake stand with some funky birthday candles and maybe even a basic cake topper looks super awesome and anyone can do it.
There is a huge array of party decorations available these days, this doesn't mean you need to buy all-the-things! It's tempting though… We have some wonderful party decor options which are really quite special plus make fabulous home decor options. Our most popular reusable party decorations are tassel garlands and felt ball garlands (pom pom garlands). Both are often purchased for the sole purpose of decorating a bedroom or living space so you can see that they will have a lot of life left in them after the birthday party. There are also some stunning Happy Birthday banners which are versatile options due to their colours being gold or multi-coloured meaning they will suit many party themes in the future. Bunting flags and garlands can also be laid flat in a storage box and put aside for another event (we do this with any left over party supplies including paper napkins, plates and cups as they come in handy at other events).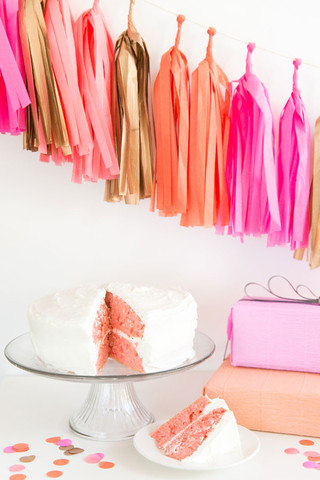 We love tassel garlands! The Honey Suckle Tassel Garland is a favourite where pink and gold colours are required. Note how lovely this simple celebration cake looks elevated on a basic, glass cake pedestal.
5. The goodie bag that is good for the budget
The goodie bag that is the kindest on the budget is the one that doesn't exist at all, however, they are quite popular these days so parents often look for cheap ways to fill a party bag. First off, there are some great party bags available in a wide range of colours starting from as little as 35c each (unfilled). You can also find free printable labels on line which you can use to decorate them. Filling them is often a challenge but the trick really is that they don't need to be full. A few items such as a couple balloons, some sweets, stickers or temporary tattoos can be more than adequate. There are also other options which don't have to be expensive, such as:
a take home piece of birthday cake because, lets face it, this often doesn't get eaten by the children at the party.
a cupcake that they decorated themselves as part of the party entertainment.
a beaded necklace or some other item which they made themselves at the party.
a balloon on a balloon stick. It's actually quite fun leaving a party with an inflated balloon. At one of our parties last year, friends left with mini balloons attached to mini balloon sticks – they were quite the hit and one child even came back for theirs after leaving without it. If you helium inflated any balloons, then they are a great leaving gift too (we did this at a party recently too!).
Birthday parties for children can be stressful, especially if you are stretching your weekly or monthly budget. The only thing your children want is to have fun and feel special. Lots of parents will save the more over-the-top parties for those milestone birthdays and have much more simple parties in between. Never feel like you need to go overboard because it is not what celebrating your child is about. Here at Miss Mouse Boutique we believe that birthday parties for children should not have to be stressful or break the bank so we offer a wide range of stylish and fun party supplies and decorations for a wide range of budgets.