If you've just been looking at the Pink Zebra themed party we put together last weekend and wondered what the costing would be, here is a breakdown which will help you with your own party planning. We used this theme for a movie night birthday party but this is a great one if you are looking for Glamour, Pamper, animal print or Monster High party theme ideas along with it being the most widely used colour scheme for a bachelorette party or hens night.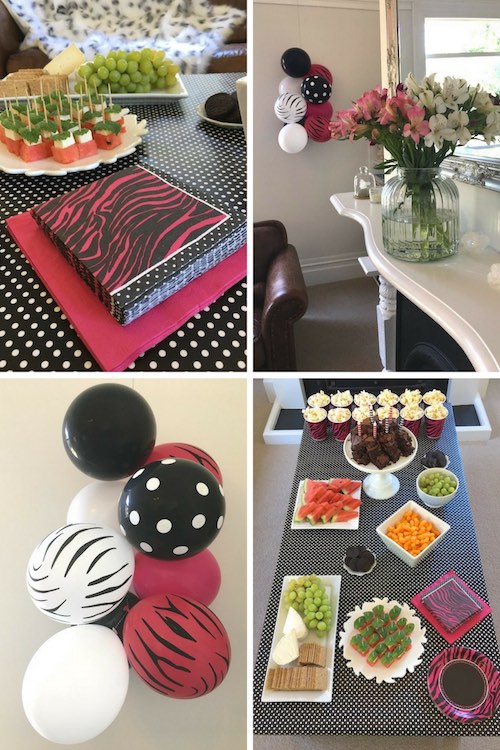 Image copyright: Miss Mouse Boutique
Not only is this a really easy party theme to put together, it takes very little time and is gentle on the budget. The single biggest element that was budget friendly was the party decorations. We kept these really simple and they only consisted of two bunches of latex balloons which we hung on one wall. We also colour coordinated a vase of flowers on our mantelpiece. The party table was set up on our coffee table in our lounge (movie night) and we used my daughter's black and white animal print throw and cushion to add another dimension. All up, decorating and setting the table took no more than 1 hour. For those of you who love to see a breakdown of costs, here you go…
Costings for up to 16 people (just so that each person has a party plate):
Total cost is $67.50 ($59.75 based on current specials on the Pink Zebra Boutique collection). We had adults whom we catered for with napkins, plates and cups. If you only had up to 8 children that you were catering for then your costs would be more like $48 – $51 (by removing 1 pack each of plates and cups and removing one of the napkin options). Pricing accurate as at 01/02/2017.
If you have party theme ideas you'd love some help with, please feel free to get in touch!