Planning your child's birthday party is quite an interesting experience. Many styled kids parties right now are somewhat minimalist or they often feature a monochromatic colour scheme. They look amazing! They really do. When your children are young you have quite a lot of control over the end result and can influence their desires somewhat to suit your own personal style. As your children get older, their own styles start to come through and, because the party is about them, their own style wins on the day.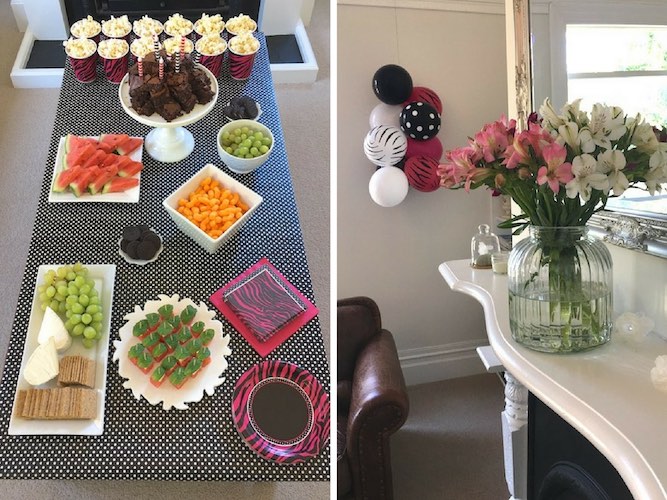 We mixed items from our Pink Zebra Boutique range with our striking black polkadot table runner. Simple bunches of balloons and flowers completed our party decorations.
My youngest is big time crazy about big cats. Lions, tigers, leopards, cheetah, black panther… she loves them all and animal print is a big part of her personal style. It started young too, her 3rd birthday was a tiger party and this theme was chosen by her based on her love of lions and tigers at the time (she used to sleep with a small Schleich toy "mother lion" under her pillow for about a year). This love is strong and unfailing.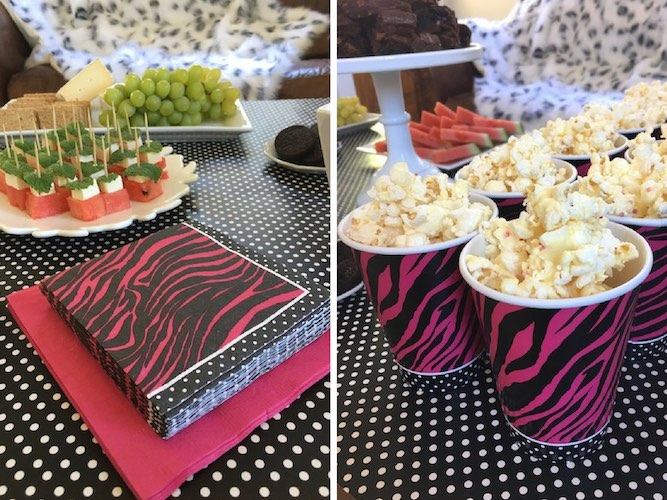 The mix of the pink zebra stripes alongside the bold spots and blocks of bright magenta was hard to miss. Simple white serving platters helped to balance this look. The oversized party cups were perfect for serving popcorn.
My youngest is having two parties this year. The first we had last weekend on her actual birthday and had a movie night to celebrate with family. Her second party is this coming weekend and is to celebrate with her school friends. For both parties I gave my daughter the option of picking whatever party supplies she wanted from our party shop. For her movie night party she chose a pink zebra boutique range of party tableware. This range is classic bachelorette party (the cups are even bigger than usual which I can only presume is to hold a bigger party drink at a hens night). Classic bachelorette party in terms of being hot pink and black with black zebra stripes (but from my daughter's perspective, these are tiger stripes so it was not a surprising choice). So, my challenge was to really embrace this style to create a party space that my daughter loved. And the images you see here are what I came up with.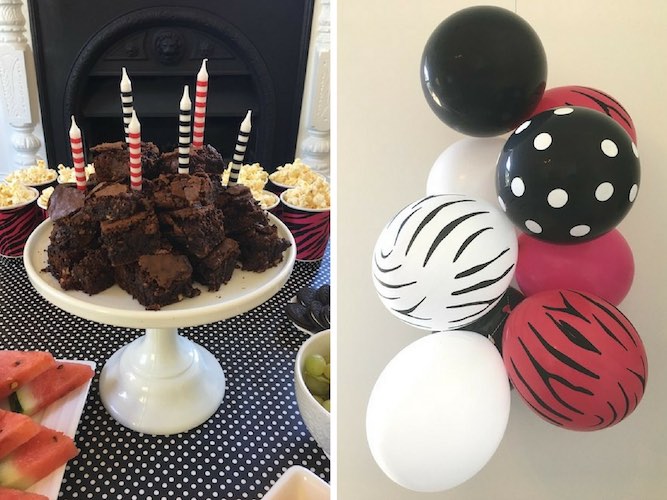 Birthday cakes don't need to be complicated. My daughter was set on having chocolate brownie at her party so we decided to do a rustic stack on a cake stand and then top with candles. The mix of printed balloons with standard balloons in black, pink and white looked great!
Did I do well? My daughter arrived home to see our lounge transformed and she was super chuffed. There lies my answer. And just quietly, I loved how it looked. The perfect balance of hot pink, black and white. A little style, a little tack. The balloons are still gracing our lounge.
So tell me, what are your children's loves right now and how does this translate into their personal style and party requests? Do you try to make your child's birthday reflect their own character and style? There is no right on wrong, simply musings on summer night. Would love to hear your thoughts below. xx Kylie