Our youngest daughter, Laura, turned 4 earlier this year and all she wanted was a tiger party. Laura is mad keen on tigers so it came as no surprise. Tiger party supplies are not so easy to find so you need to use a bit of imagination and build up an appropriate colour palette with some stripes thrown in for good measure. Many of these ideas would suit a jungle party or safari party too.
We have a great area at our home which we use for kids parties (note, no carpet hence great for coping with spills and crumbs) so I always like to focus the party decorations in that area. I made the bunting using the Tangelo Tri gift wrap by hiPP Australia and then added a mix of tissue paper pom poms in tangerine and white along with tiger and zebra balloons (the zebra balloons were used to resemble white tigers which tied in with the cake decorations).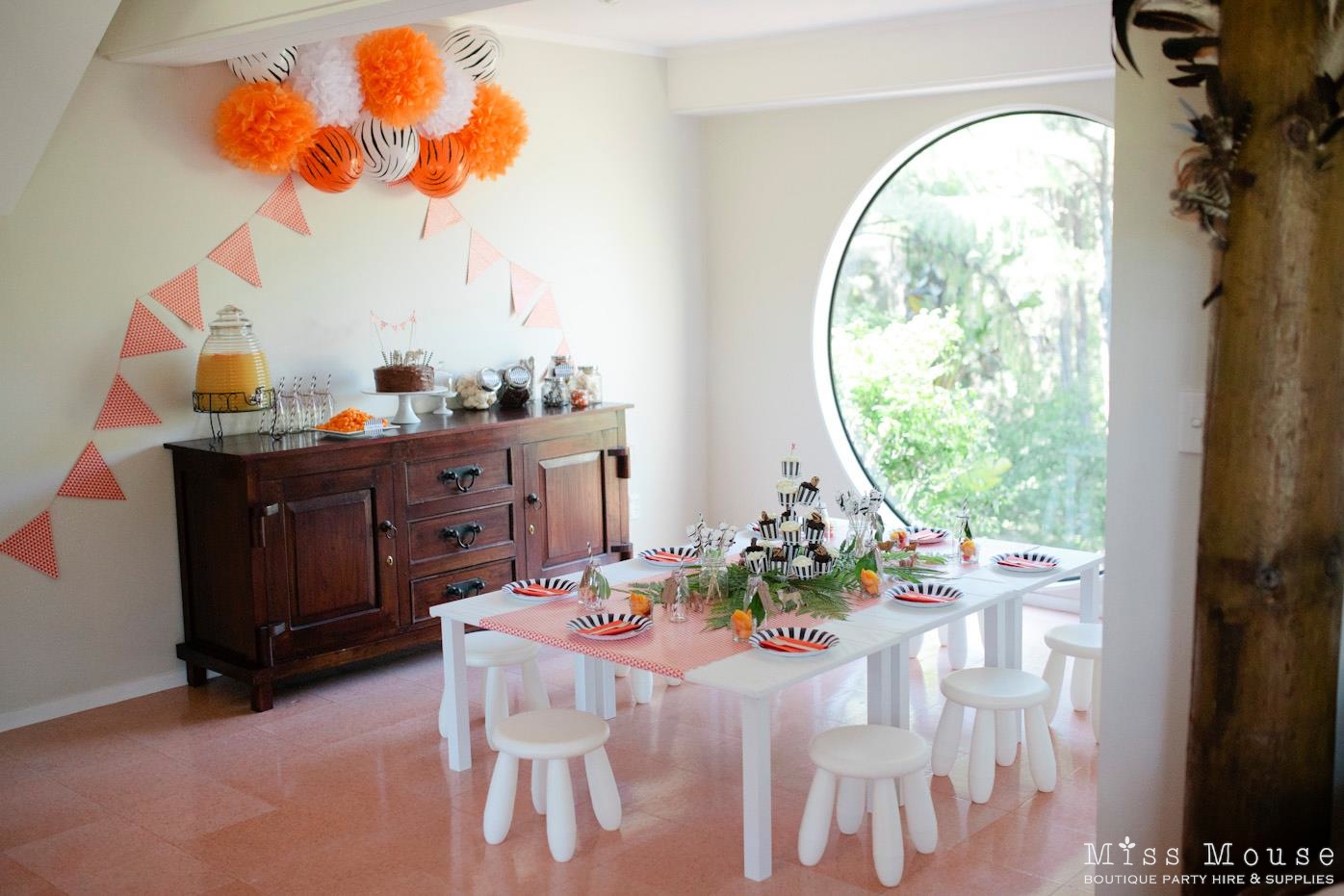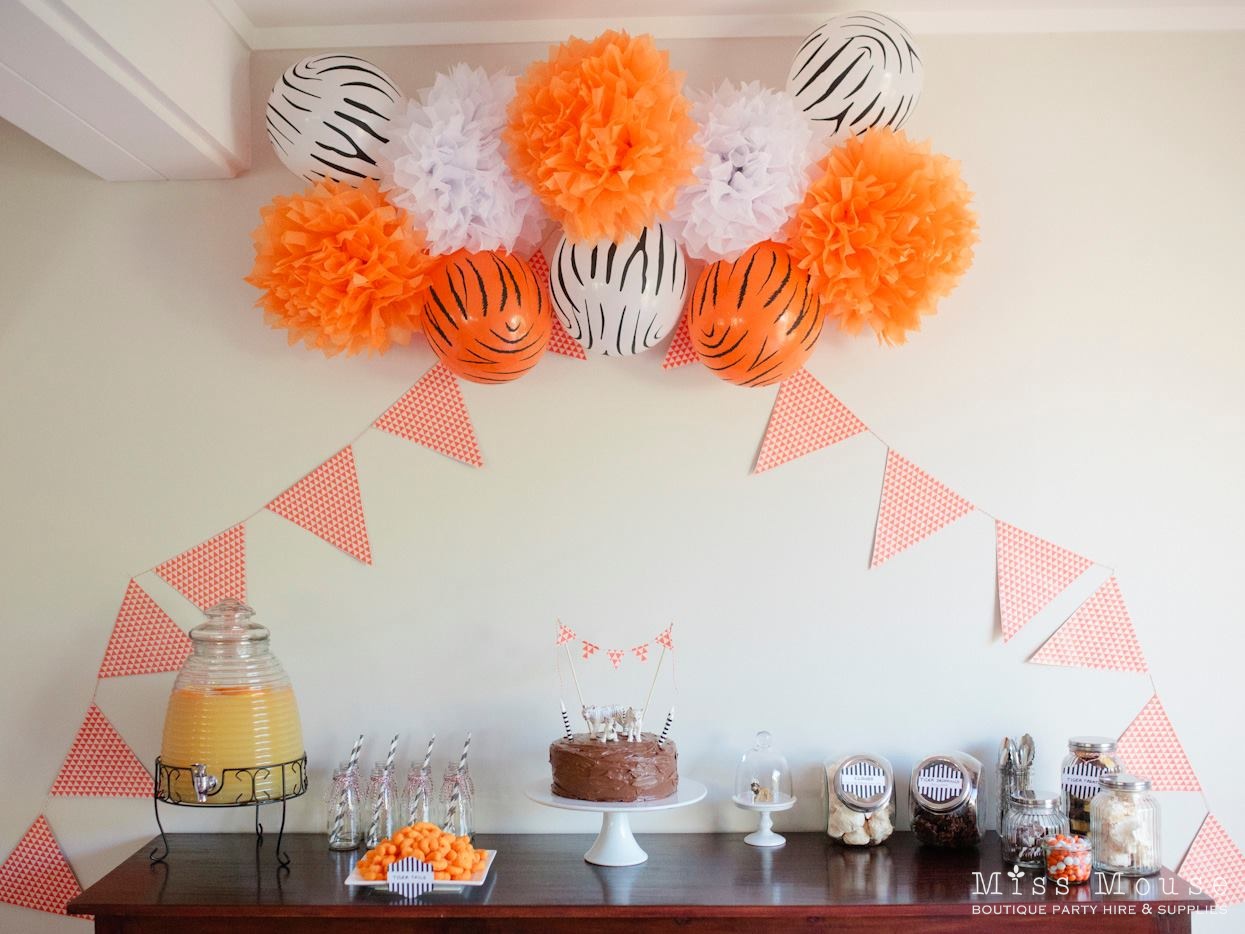 We used 3 smaller (ex-hire) tables and pushed them together to make one large table; white stools were placed around. A white table cover was placed over the top and then the tangelo tri wrapping paper used as a table runner through the center. These papers are perfect for table runners as they are thick and glossy so resist drips of fluid on them. I like taping the table cover and runner down on the underside of the table to keep it all tidy.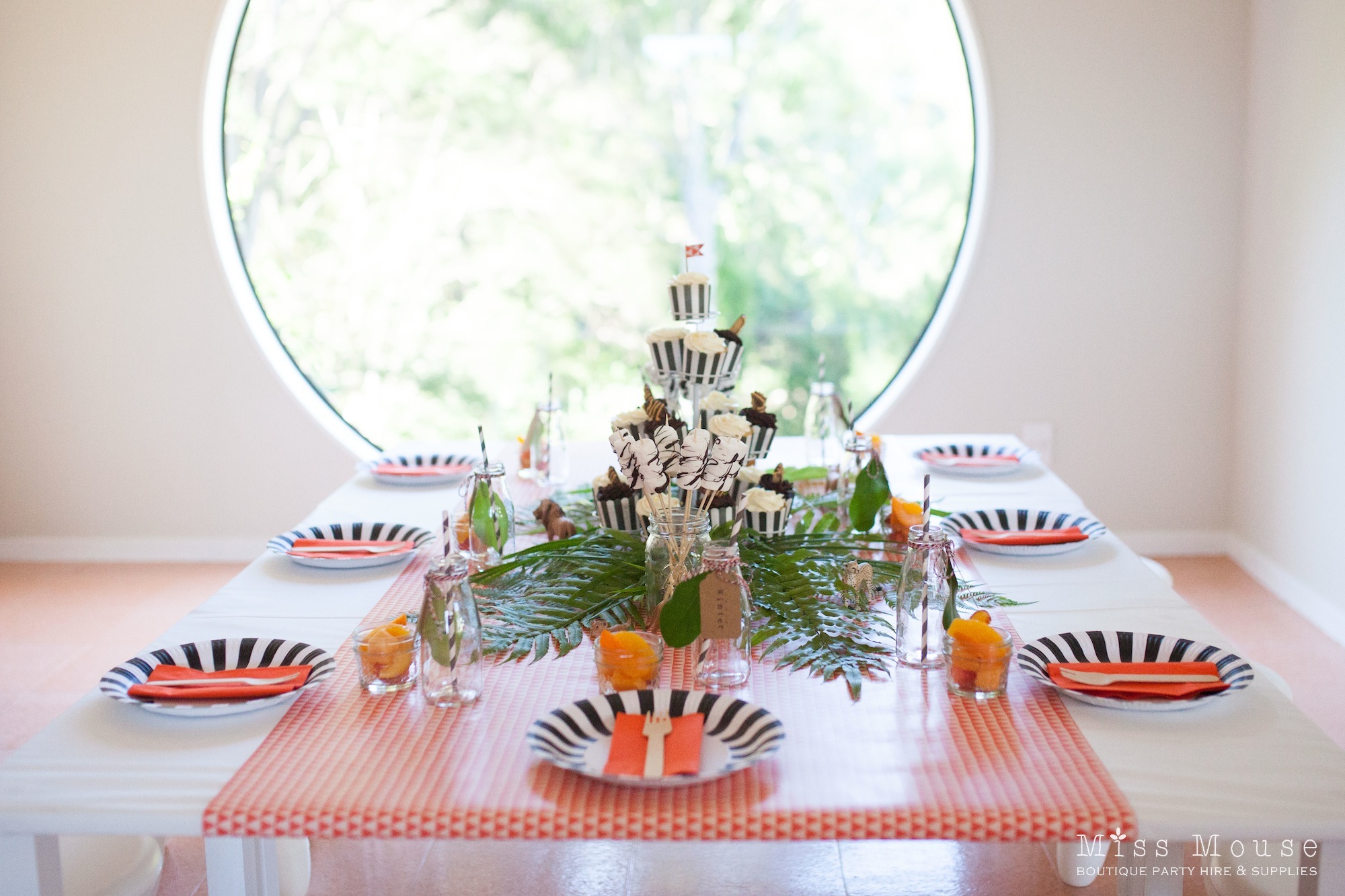 The black tie paper plates by Paper Eskimo were perfect for this theme and we placed a basic orange paper napkin and wooden fork on top.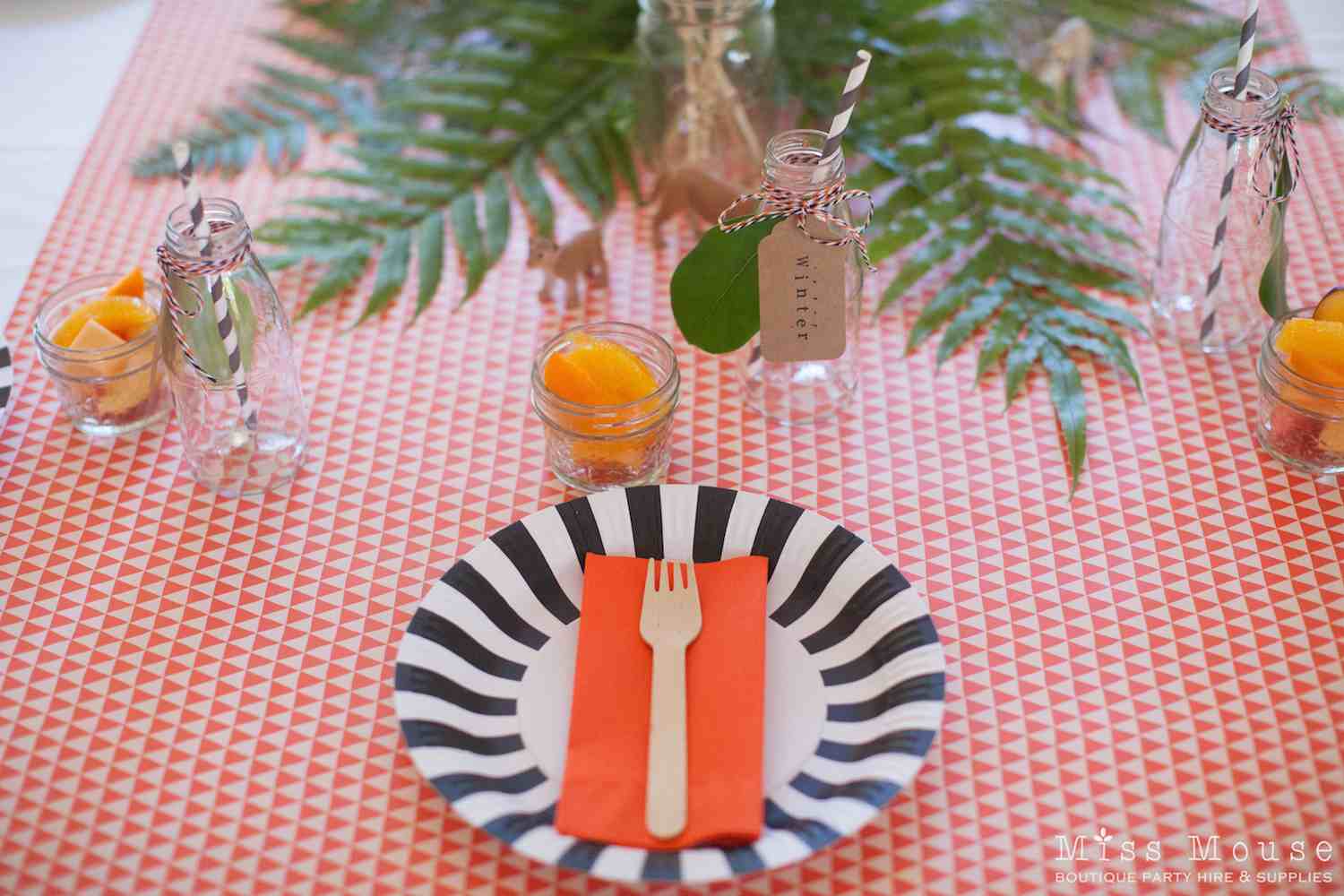 Mini milk bottles were decorated with kraft tags tied with black and orange bakers twine and a leaf from the garden. These were finished off with a simple black and white striped paper straw. We used our popular alphabet stamp sets to stamp names on the tags and the 4oz quilted crystal jelly jars were used to serve individual portions of fruit salad.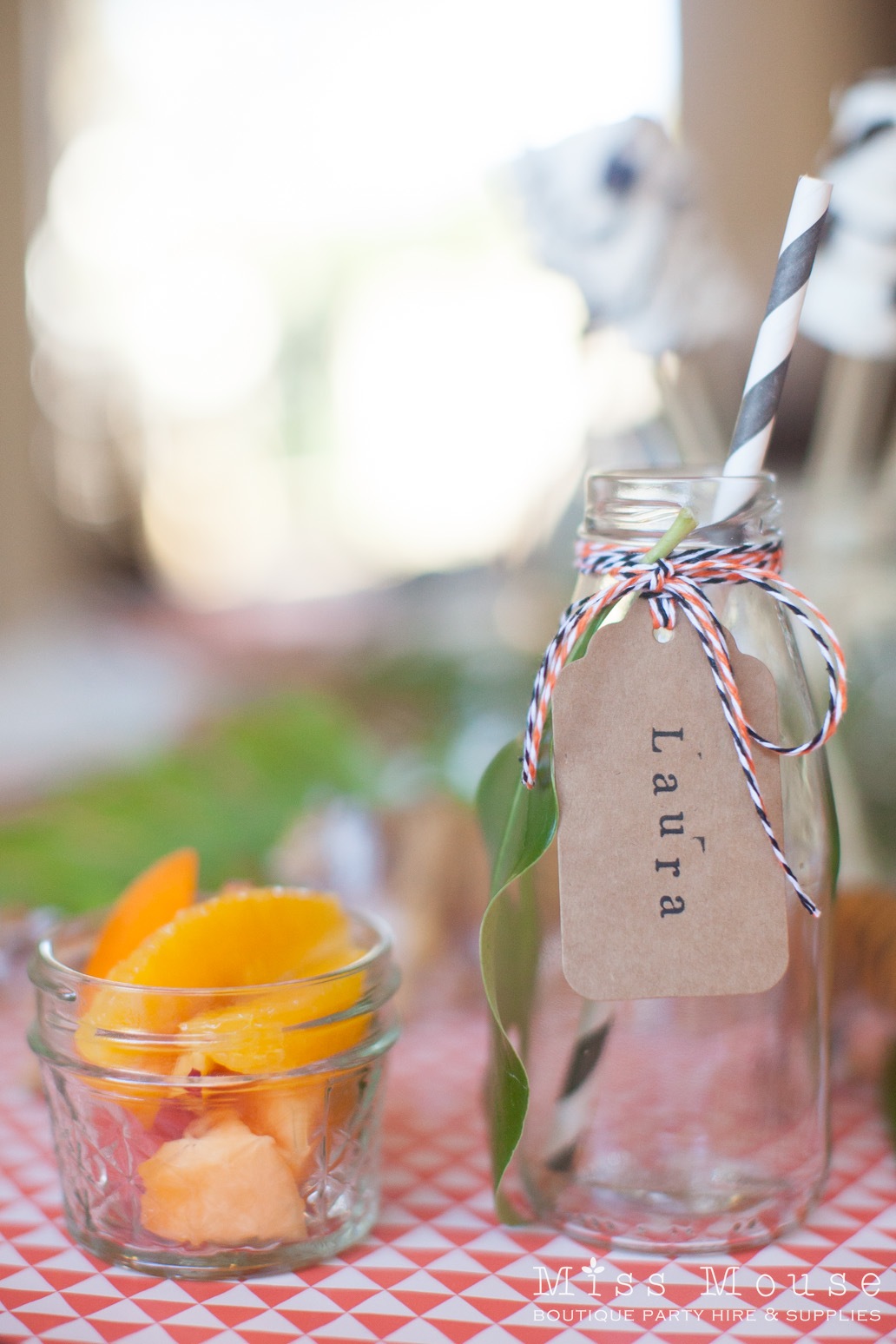 The party table was decorated with Nikau fronds and other greenery from our garden along with lots of big cat figurines from Laura's collection. We scattered the big cats around the table so that they peeped out from behind leaves and casually hung out next to their drinks. There were tiger marshmallow pops placed in mason jars. These are so easy to make! Simply white marshmallows on a skewer with stripes of melted dark chocolate overtop.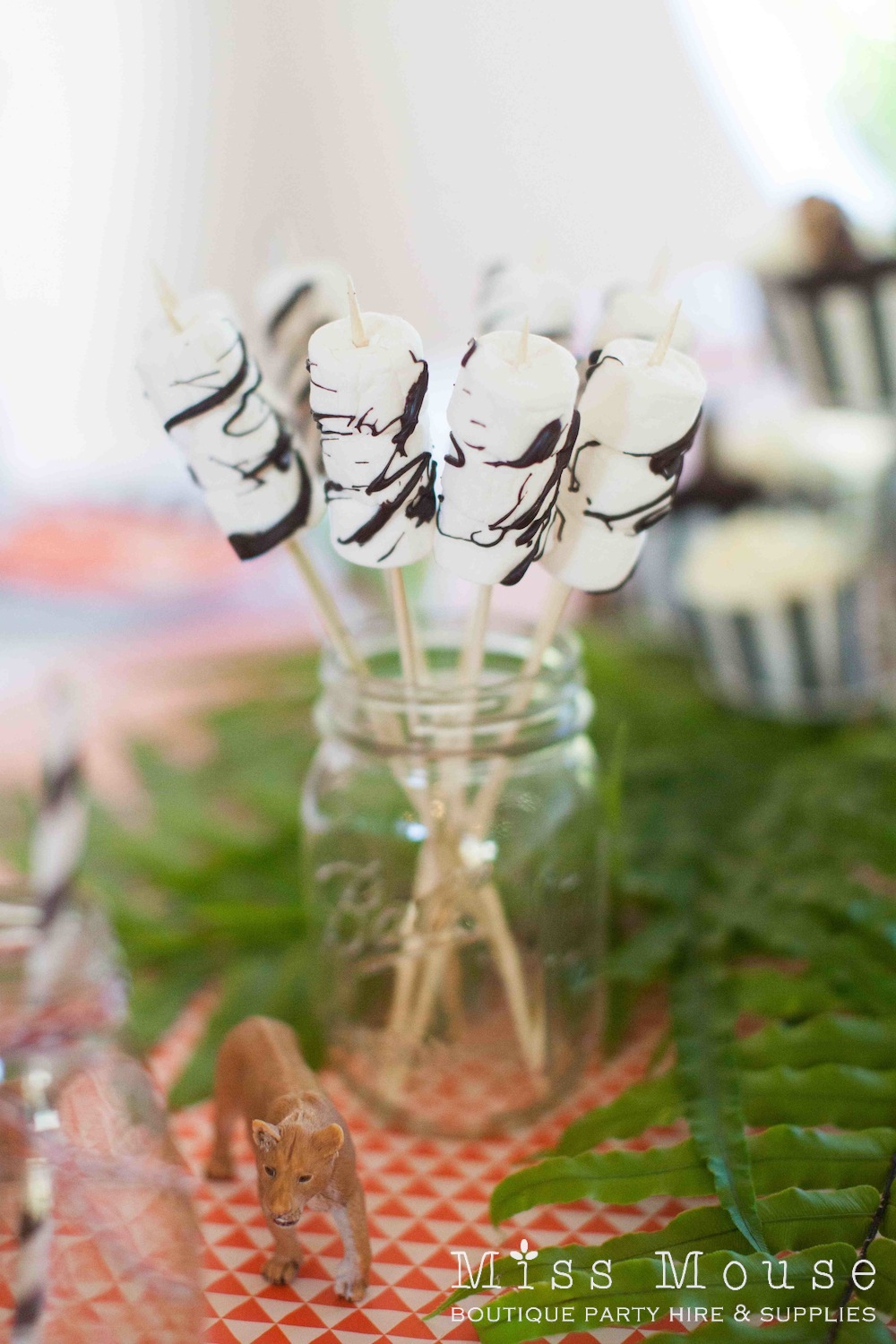 I used a cupcake stand in the middle as a tower of tiger cupcakes. These included chocolate cupcakes with chocolate ganache and half a Griffin's Squiggles biscuit, and lemon cupcakes with a cream cheese icing and yellow food glitter for decoration. The black stripes baking cups were perfect for these tiger cupcakes. These are fab baking cases as they do not tend to go greasy so you still have vibrant colours post baking.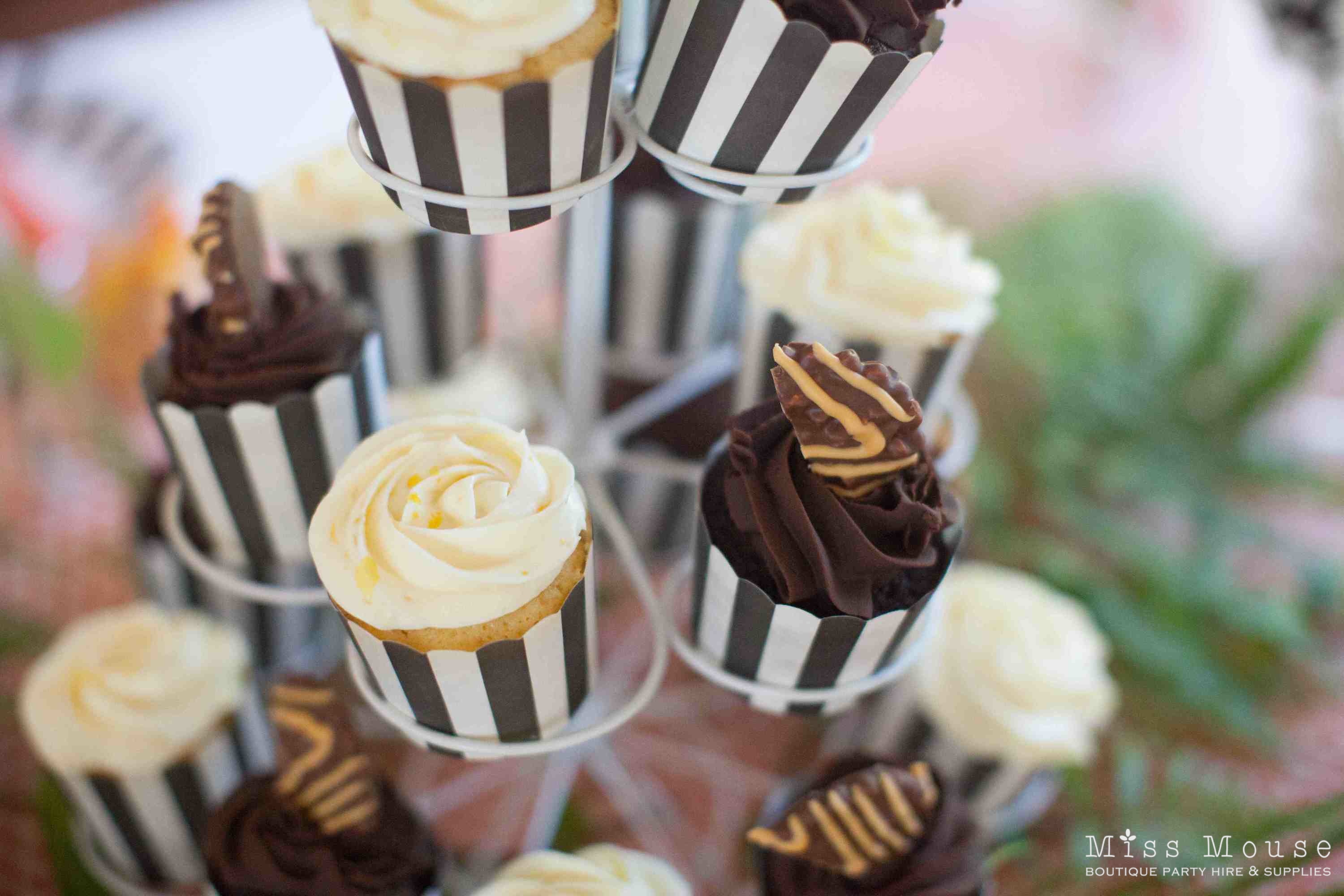 We set up a tiger inspired candy buffet full of tiger treats! There were tiger droppings (rice bubbles mixed with melted chocolate, dropped on a baking tray and left to set), clouds (where tiger dreams come true – these were meringues) and various other tiger treats including chopped up Cadbury Crunchie bars, Whittakers Creamy Milk Mini Slabs with white stripes over top, and orange and white MnMs. The black tie styling tags were used to label the glass canisters and cookie jars.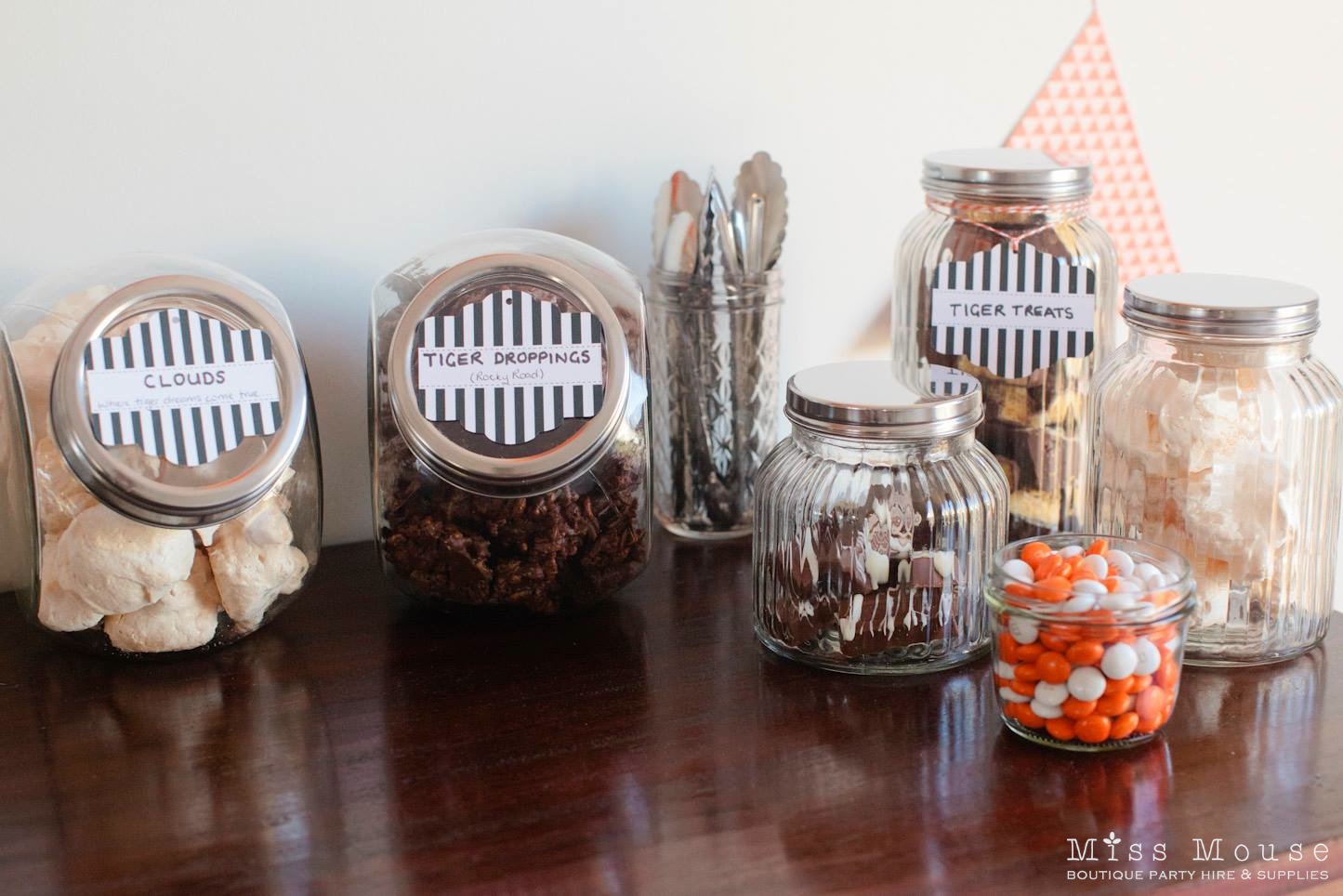 At the end of the party, the kiddies were able to fill up their party bags with treats from the candy buffet. We used our kraft paper bags with simple kraft tags with thank you stamped on and wooden pegs; they were really basic but did the trick! This was such an easy solution for party bags.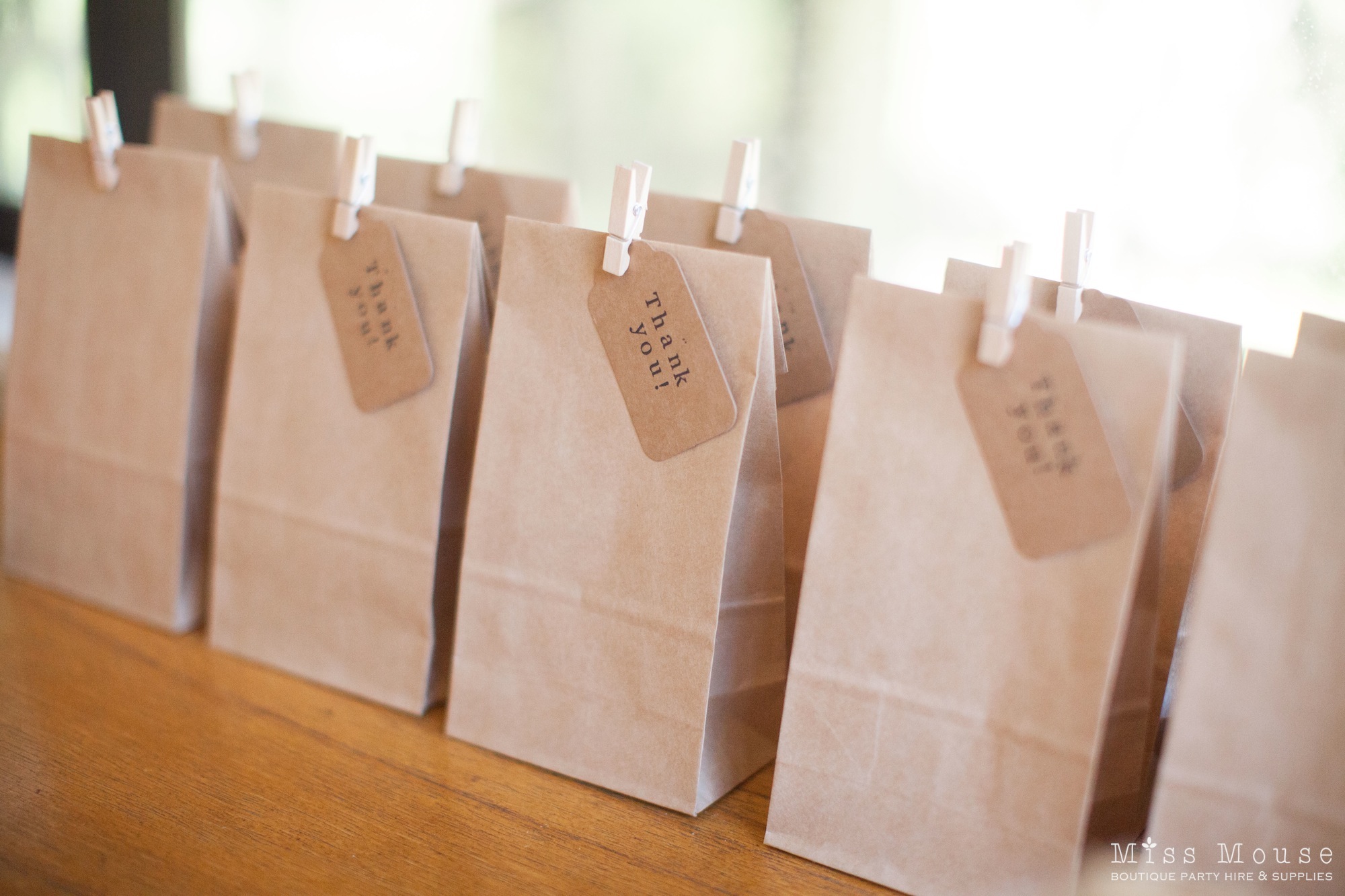 I made the tiger birthday cake and it was actually a lot of fun to do. I found a great birthday cake recipe online which had both a chocolate cake and orange cake of the same consistency which you could layer to achieve this (I omitted the orange rind from it though to keep it a basic chocolate and vanilla flavour combo); unfortunately the recipe and tutorial are no longer available online. The cake was decorated with a cake bunting which was made using leftover paper from the large bunting, some of Laura's white tigers and candles.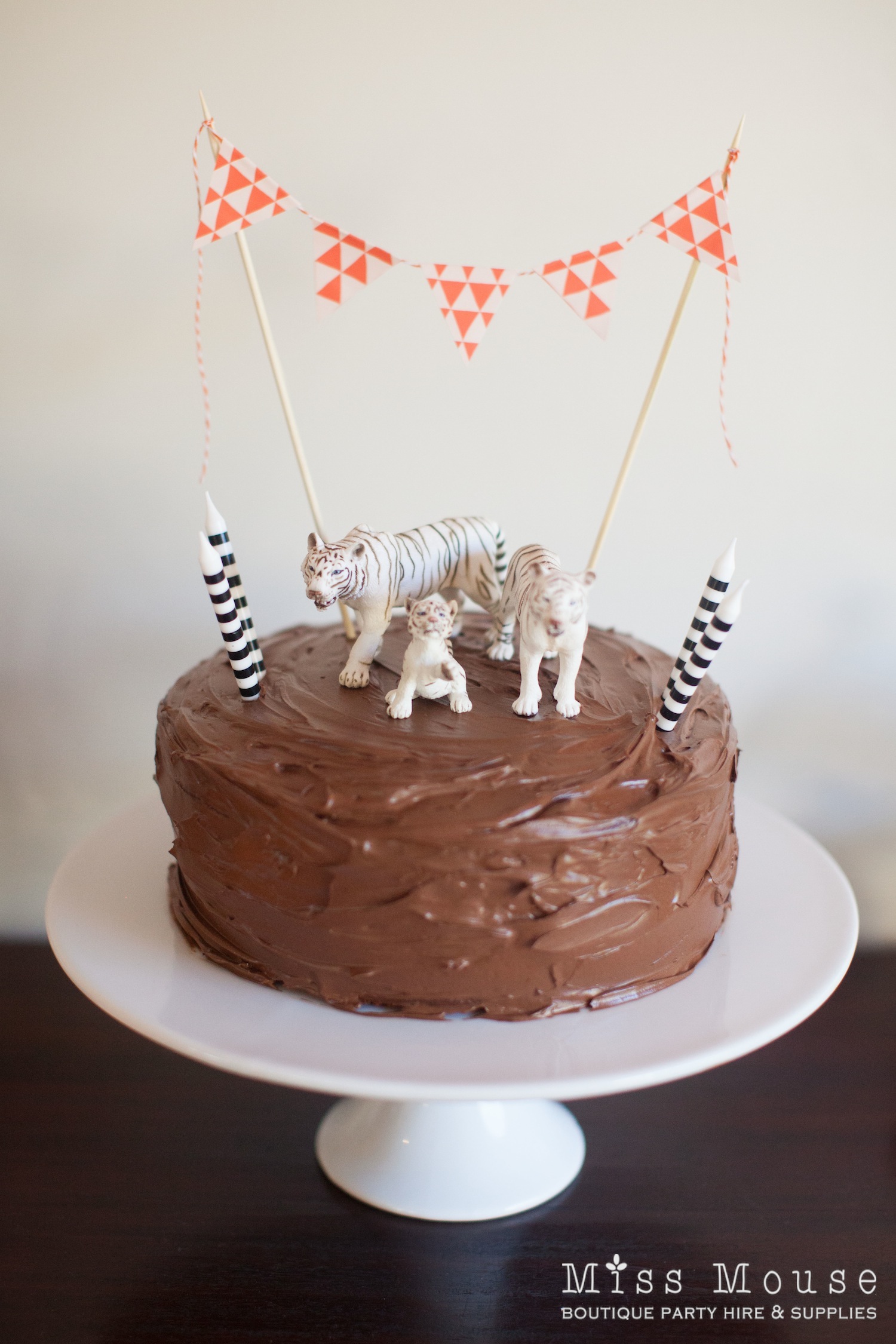 The inside of the cake looked fab!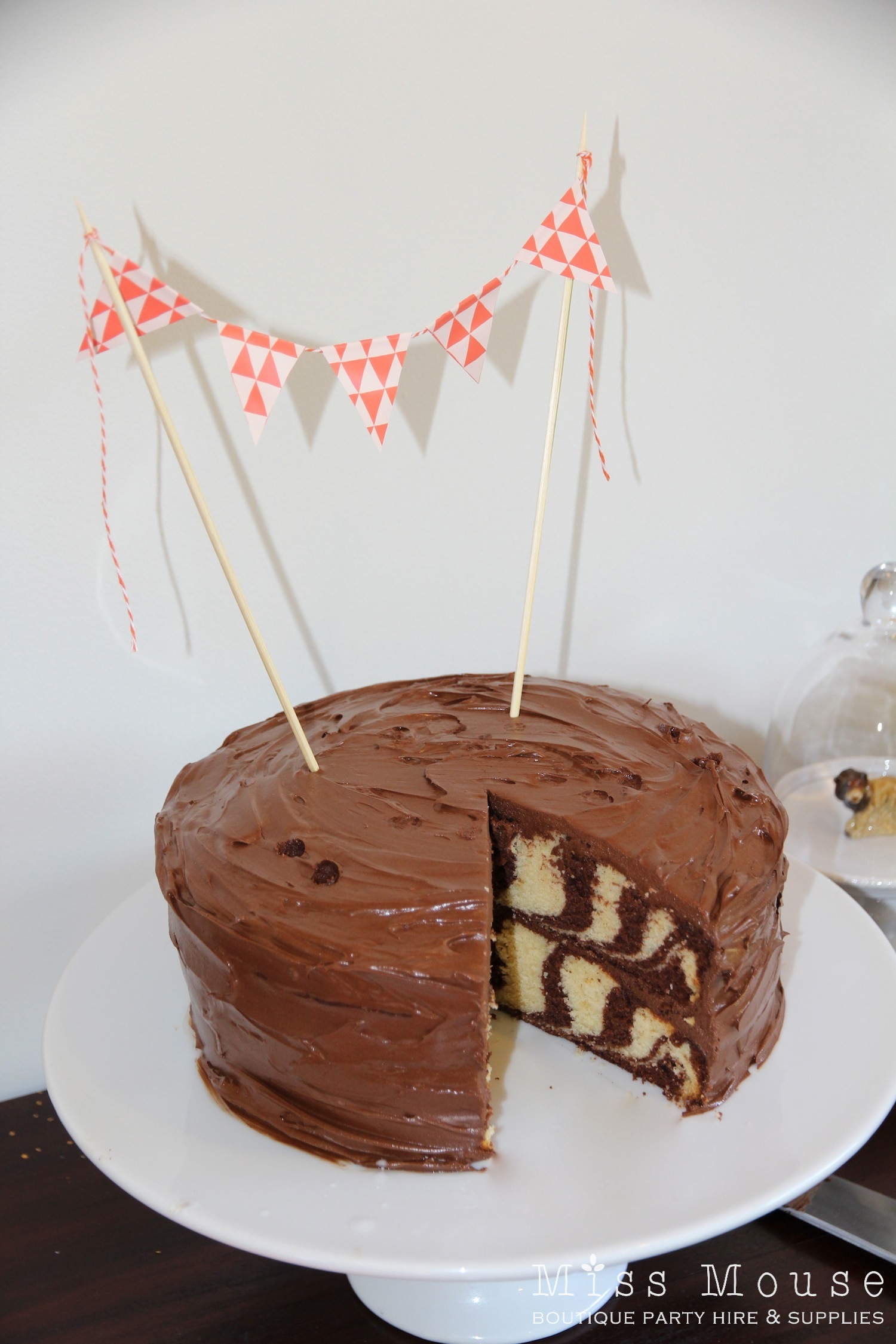 And that was Laura's tiger party. A collection of white, orange and black party supplies with enough stripes to feel tigery and some greenery to provide a jungle feel.
Credits:
Party Supplies: Miss Mouse
Photography: Dilworth Photography (excluding the image showing the inside of the cake which was taken by Miss Mouse).