Looking for a simple and easy party favour idea that doesn't have you scouring the dollar shops for party bag fillers? Cellophane treat tubes are a great option and our Facebook community had lots of great ideas for filling these recently. Lots of the ideas below were inspired by their wonderful suggestions and we love how well these treat tubes can be made to coordinate with your other party supplies.
The first is probably my favorite! Halloween party favours using orange and brown M&Ms. I made the bats from black card and tied on with some orange and black bakers twine. You can just imagine these looking fab amongst your orange and black party supplies.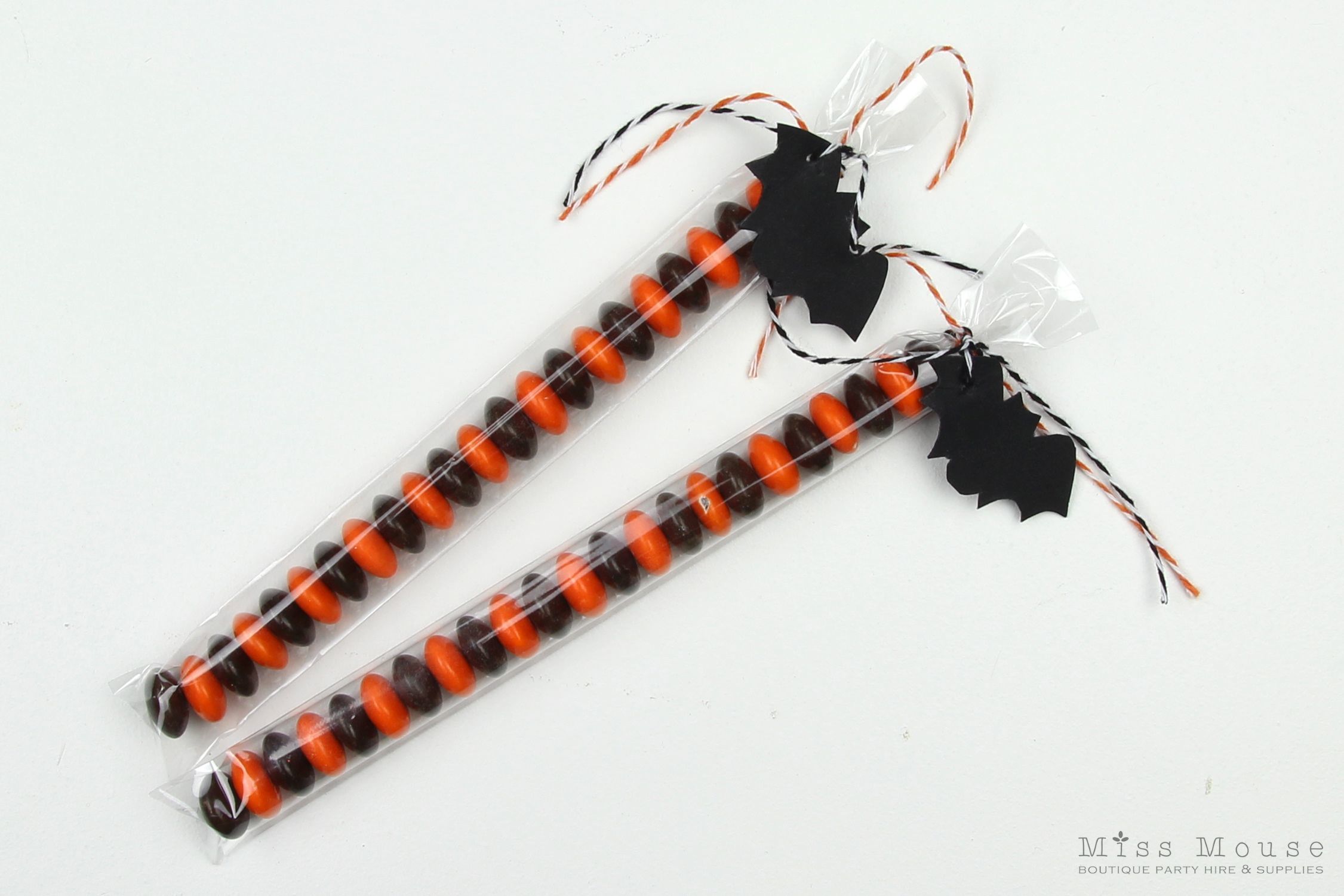 Frozen inspired parties still rein at present. A treat tube filled with blue M&Ms is a nice idea. You could also do alternate blue and white M&Ms or be a little quirky and just include one random white M&M amongst the blue. How cute does the mini milk bottle look too! Very Frozen!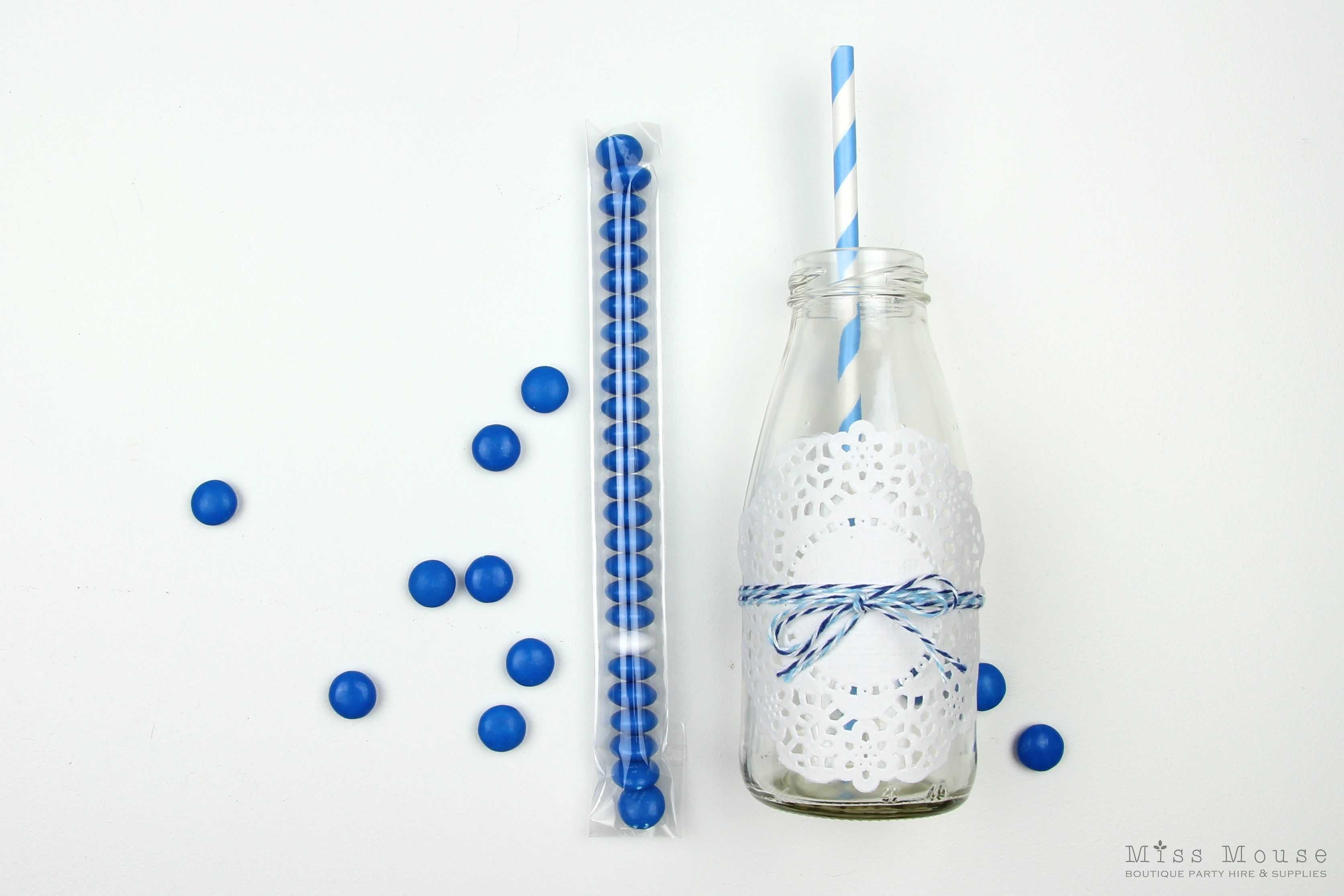 Rainbow parties are always popular and these party favours would be just the ticket! Good enough to find at the end of a rainbow.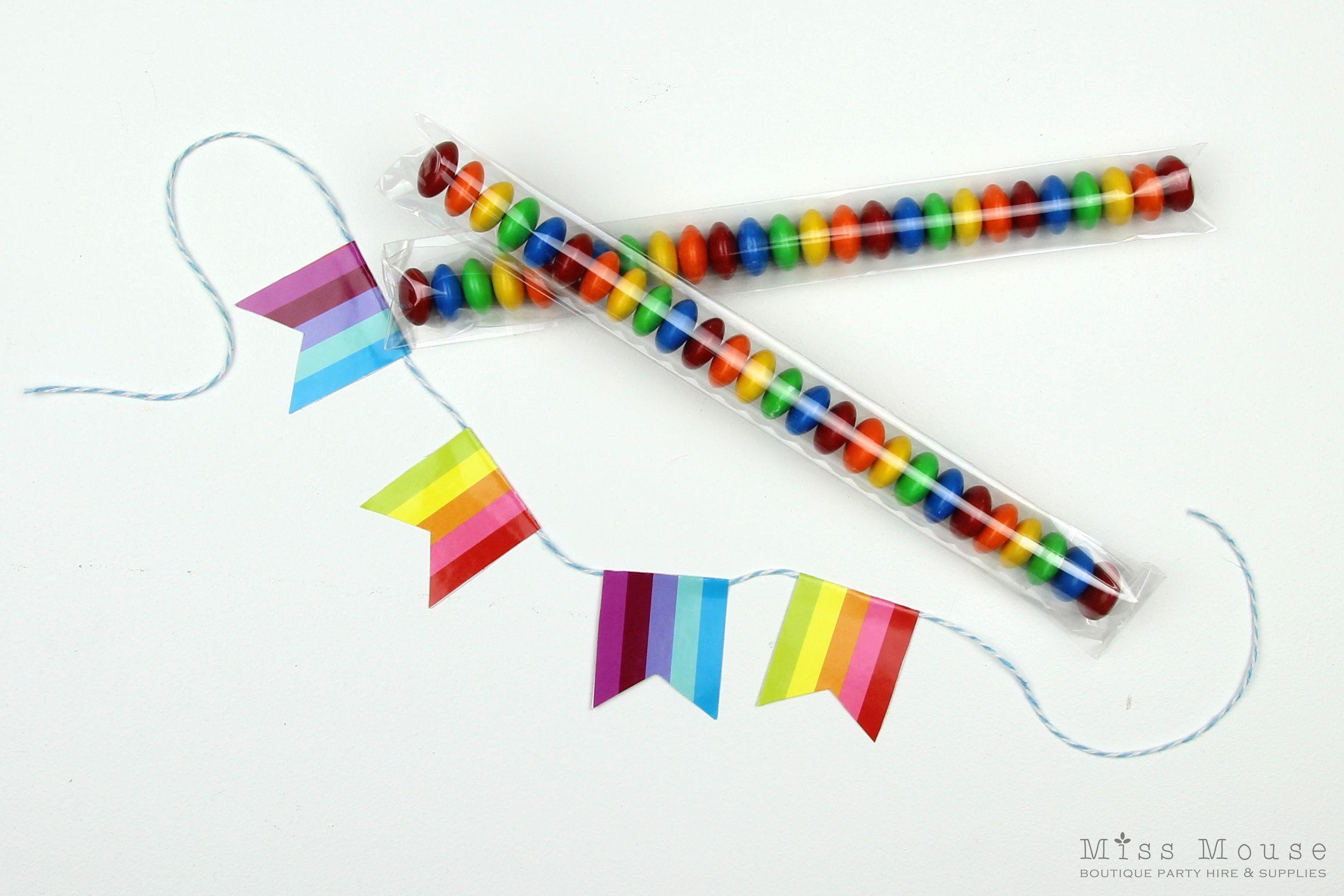 Lots of our Facebook likers suggested using the cellophane treat tubes as Christmas stocking fillers, treats at the Christmas table or to pop on top of a Christmas present. Great idea!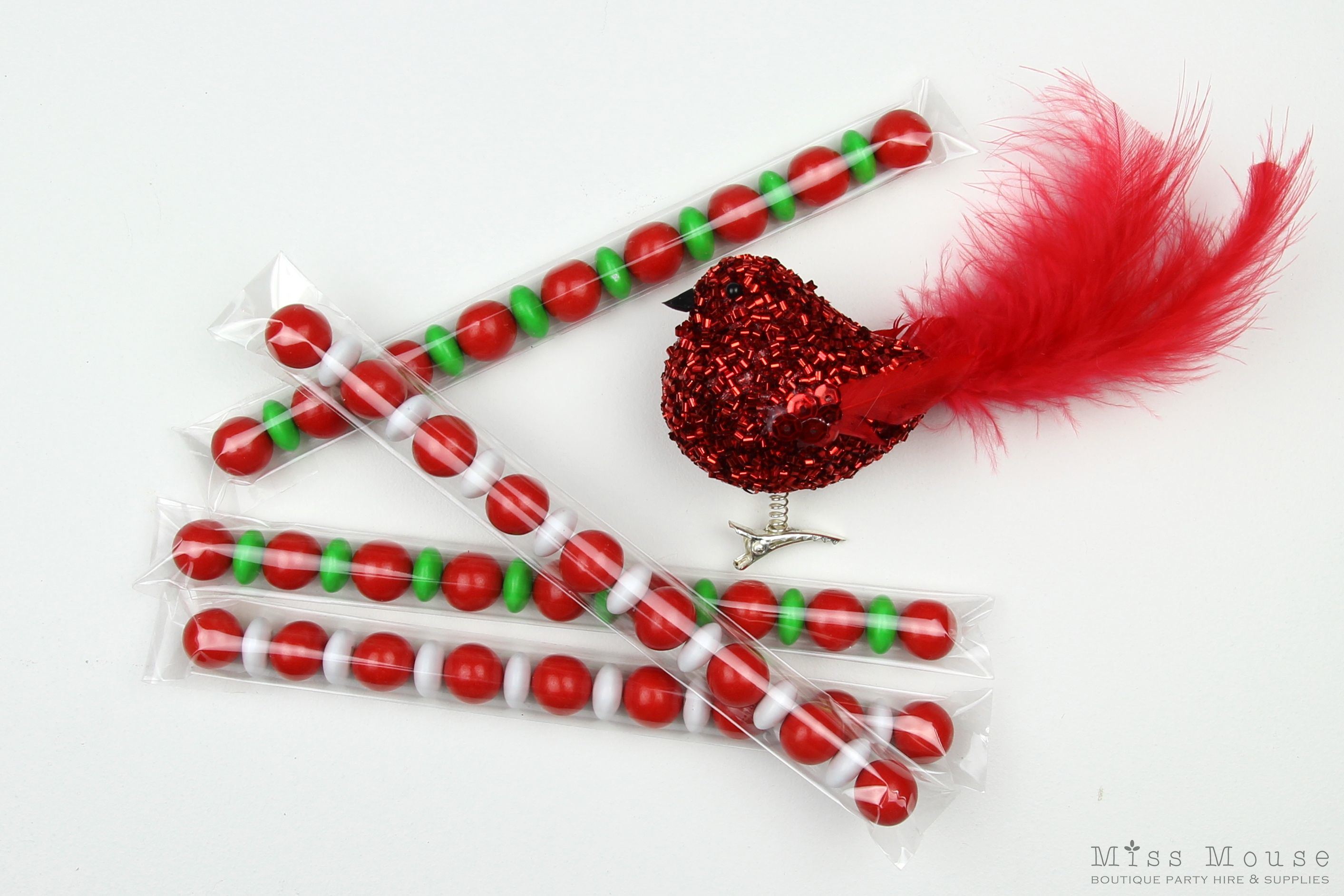 And lastly, we had lots of Mums and Brides suggest using these to give to guests at their Baby Shower or Wedding. Here I have styled a few treat tubes in single colours with tags attached. These could also substitute as place names at a wedding too.
And here we have some simple treat tubes where we alternate a single colour with white. My favorite is the yellow. I love how you can be very basic with how you fill these and have them coordinate with your party supplies with ease.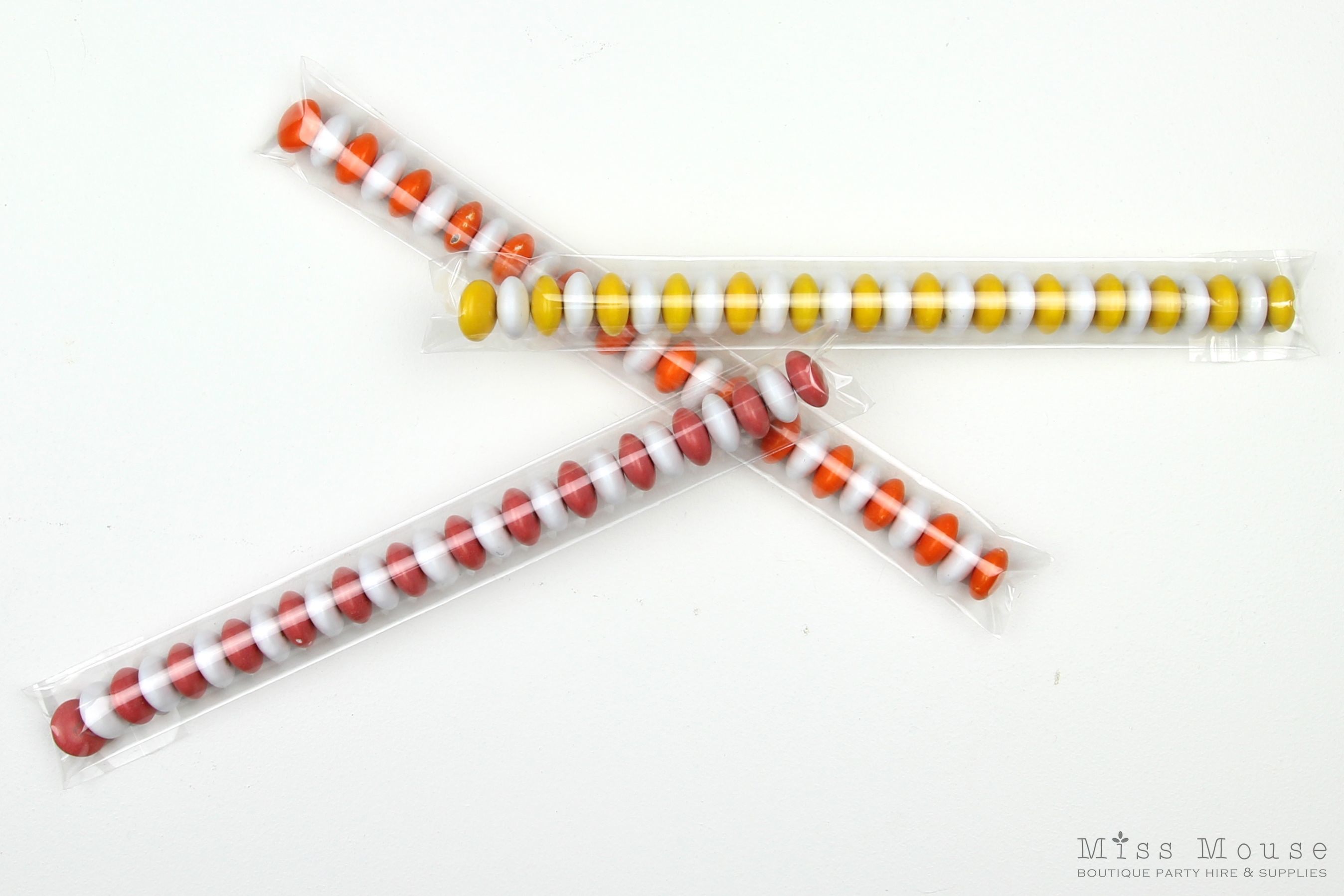 All of the ideas above only require a few choice purchases of sweets from your local supermarket. Alternatively, there are many online sweet shops where you can purchase single colours of your select sweet. Jellybeans, M&Ms, Skittles and Jaffas all work well.
We have some other non-confectionery suggestions too:
~ single serves of hot chocolate with mini marshmallows on top (ok, this is still a sugary option!). We have tested this out and you can fit one tablespoon of hot chocolate powder into the treat tube (use a small funnel) and about half a dozen or more mini marshmallows.
~ a few pens to go with some colouring pages.
~ beads for making a bracelet (you can include the elastic in there too).
~ loom bands…. who doesn't love loom bands!
I hope that has inspired you and gives you some simple ideas for party favours for your next event.
Credits:
Party Supplies: Miss Mouse
Photography: Miss Mouse