Little girls love princess parties! Here we share some princess party ideas to help with your party planning. This gorgeous party was created by one of our fab customers, Anna, for her daughter's 3rd birthday party. Anna used a range of our princess party supplies and she did a fantastic job!
A princess party tends to be… pink! The more pink, the better! Tiaras, pink tulle, pink ribbon and other pretty details will always wonderful princess party ideas. For this princess party, a soft yellow was also teamed up with the pink. Purple is also another popular colour for princess parties now due to the popularity of Sofia the First.
Anna created a gorgeous buffet to display their princess party food. The tulle wrapped around the outside of the table created a stunning effect and the blackboard at the back with a pink boa draped around it was a really nice idea which I am sure Princess Chloe would have loved. The vase of flowers at the back was another great finishing detail; it always works well adding some natural elements such as flowers to a party. There was a great spread of princess party food, all displayed beautifully using a range of serve ware. Our Martha Stewart Doily Lace Cupcake Stand and I'm a Princess Cupcake Kit were perfect for this theme.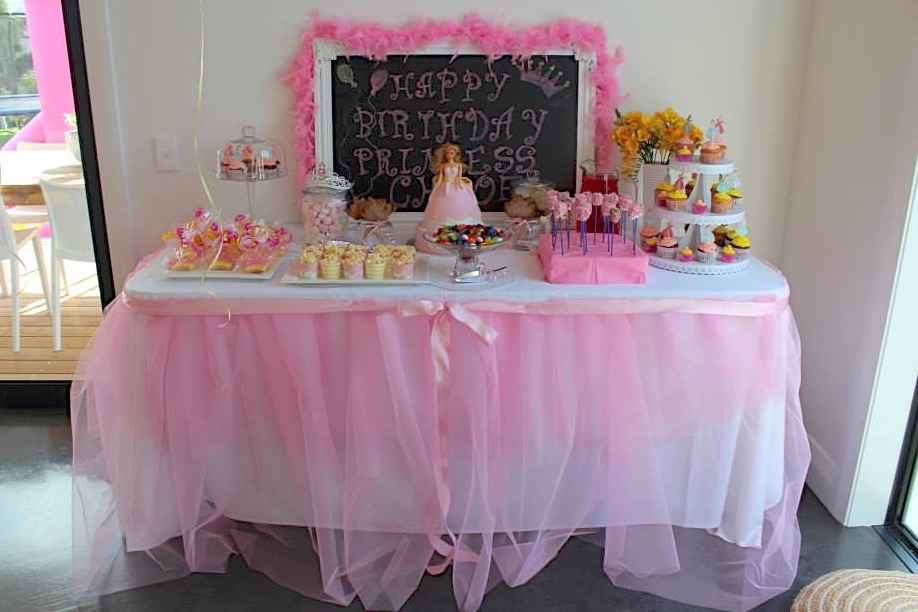 The princess party cupcakes were so cute and would have been a hit with the party goers. The I'm a Princess Cupcake Kit comes with pretty floral cupcake cases and princess toppers. Cupcake toppers are great as you can ice your cupcakes quite simply, add the topper and they will always look fantastic. When looking for princess party ideas, take note of the princess party food and ideas for serving the food as it is a great (and often simple) way to add some princess flair and you can often use serve ware that you already have at home.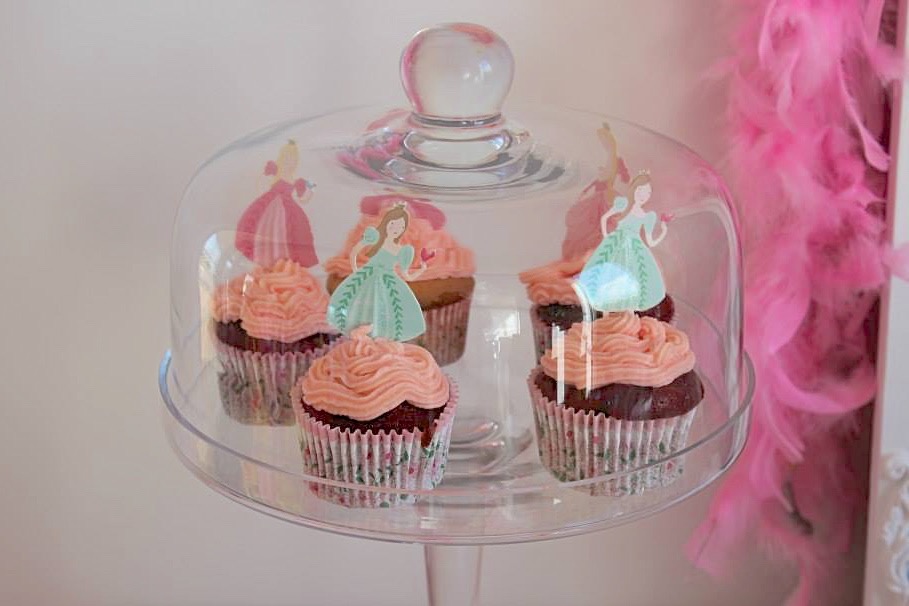 Marshmallows in a jar topped with a crown is such a simple and effective princess party idea. You can pick up these crowns quite cheaply at dollar shops and they make great party decorations too.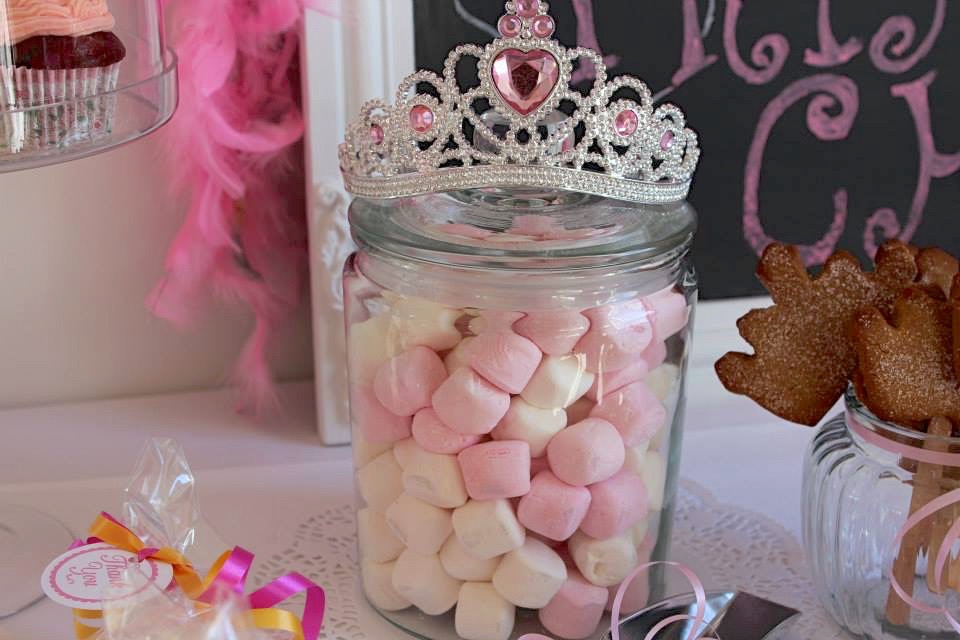 These crown biscuits were such a fab idea and each guest had one created just for them! What a great way to make your guests feel special.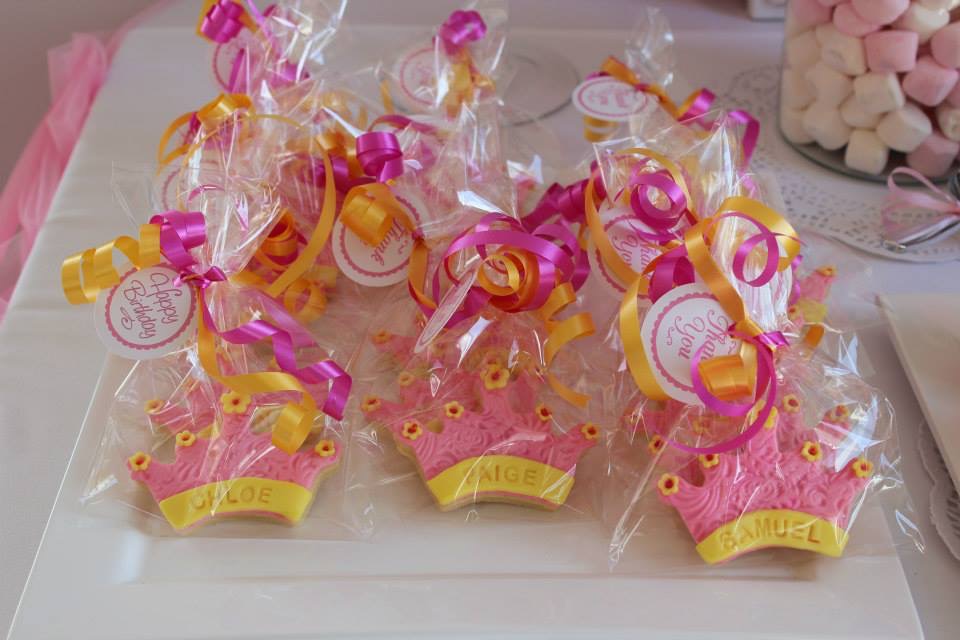 The princess party table was equally impressive and such a fun party space for the kids to sit down and eat. Anna hired some tables and chairs locally to create a long party table. This was covered in a pink table cover and laid with pink plates, our cute I'm a Princess party cups, pink paper straws and I'm a Princess paper napkins. Anna used our Paper Eskimo party hats which come in a range of colours per pack and are reversible. The I'm a Princess paper napkins are really sweet with their delicate floral details; a favourite here at Miss Mouse. So many great princess party ideas here!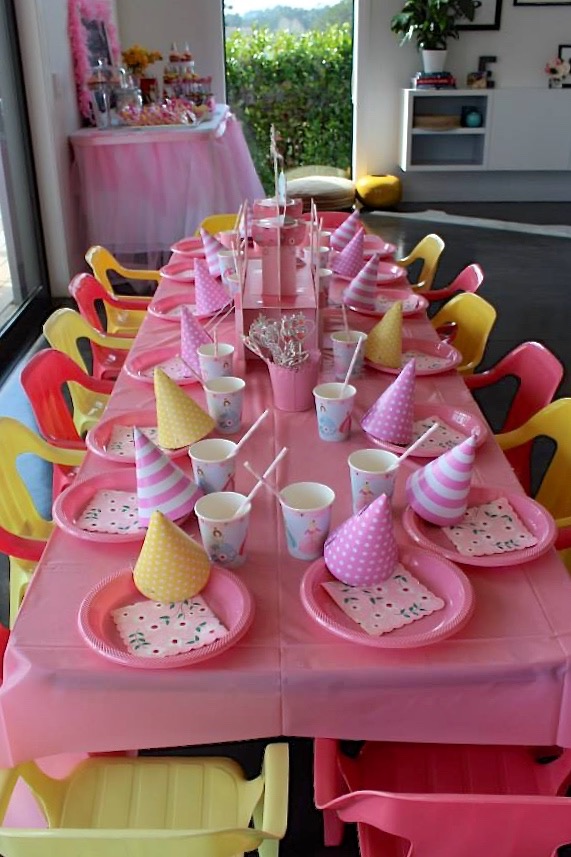 An I'm a Princess centrepiece was placed in the middle of the party table and a bucket of wands to one side. The wands are another inexpensive item which you can pick up packs of from dollar shops quite easily. They make great party bag additions too.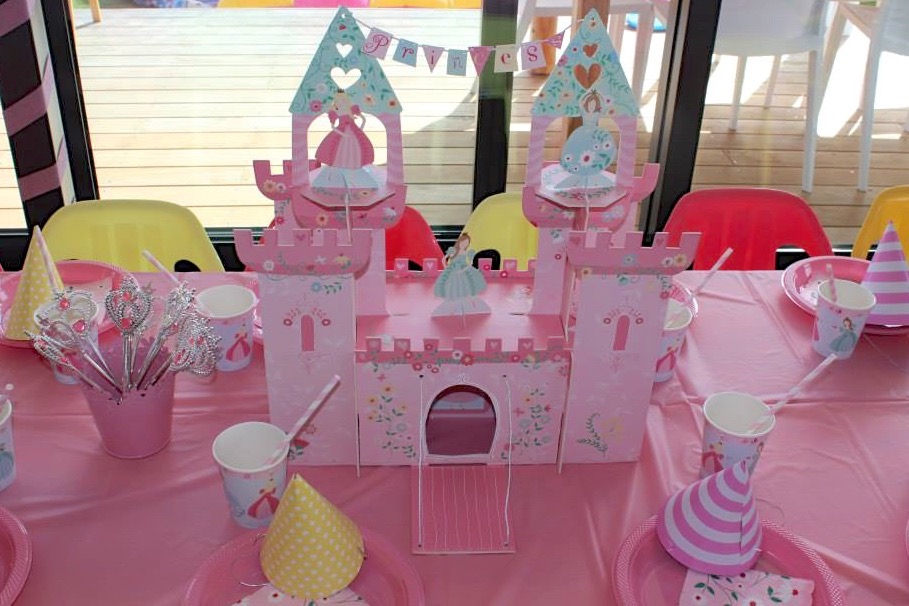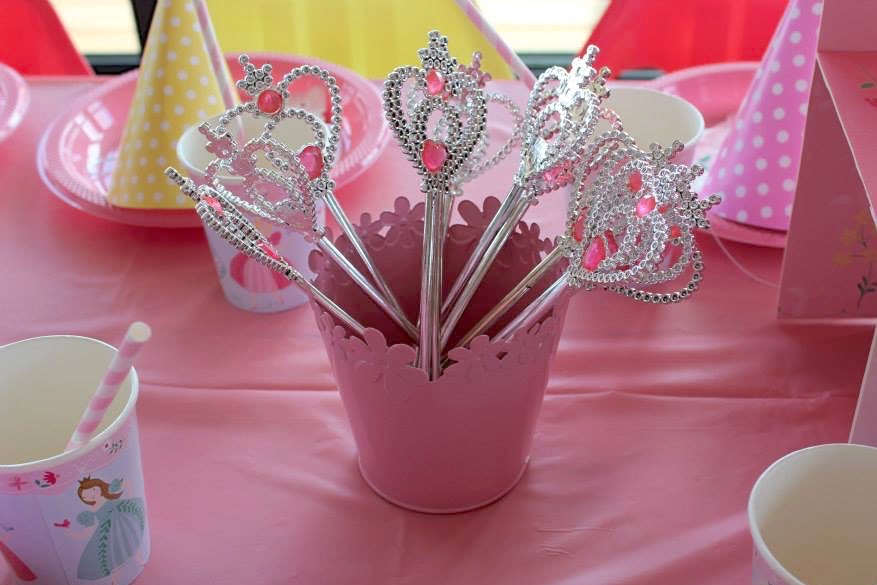 The I'm a Princess garland was teamed up with balloons in pearl pink and pearl yellow. Due to the princess party food buffet and party table being so beautifully decorated, only simple additional decorations were required in the party space.

The princess party favours were simple pink paper bags, topped with white doilies, white scallop edge tags and mini wooden pegs.
The I'm a Princess range by Meri Meri is very popular for princess parties and the party crowns in this range would have been a lovely alternative to the paper hats. We have a large range of princess party supplies so have a browse and feel free to contact use if you'd like some help with your princess party. For more princess party ideas, you can also look over our princess party board on Pinterest.
We hope this has given you lots of princess party ideas which you can use to create a birthday party fit for your princess!