Ahoy, matey! Avast! We have a real treat for you! Our lovely friend Jenna from The Little Carousel has shared with us this amazing pirate party that she created for a little buccaneer who was turning 4. Blimey! She's a beauty so grab a cuppa, sit back and enjoy! We will share lots of the details with you so you can create something similar in your own home.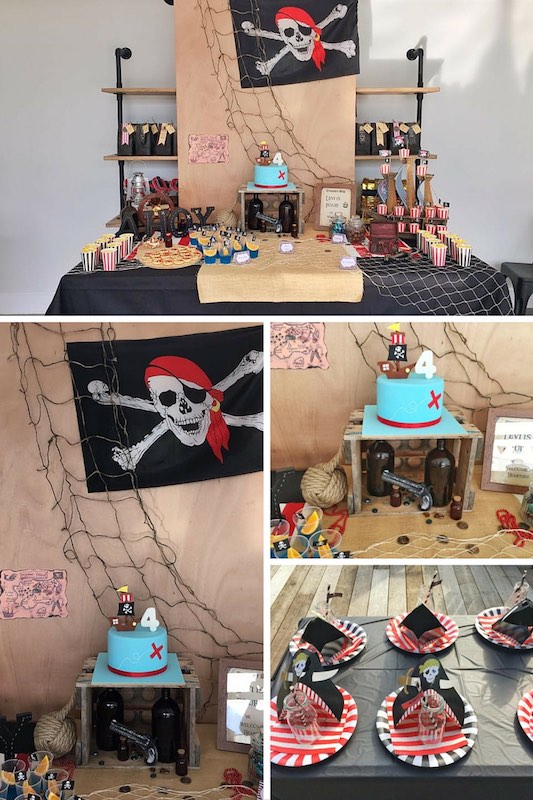 Image copyright: The Little Carousel
Jenna used the classic pirate combination of black, red and white. The addition of the natural kraft brown tones was really nice as it brought out a rustic treasure map feel which every authentic pirate party needs. A plastic black table cloth was used and then layered with hessian and some of our natural fish netting. Black fish netting was used alongside a Jolly Roger flag to dress the board behind the buffet. The very cute pirate birthday cake took centre stage and was elevated by a rustic crate. Party food was placed around the birthday cake along with a collection of pirate and nautical inspired decor items… ropes, a treasure chest full of bounty, guns, bottles, a helm, lanterns…
A separate party table was set for the lads and lassies to enjoy their feast. Jenna made great use of the Black Tie and Candy Cane Red ranges by Paper Eskimo. The Black Stripes and Candy Red Stripes paper plates were alternated and the Red Polka Dot & Stripes paper napkins by hiPP Australia were then placed on top with the striped reverse side showing. On top of each plate was a mini milk bottle with a black and white stripe paper straw (each decorated with a black flag) and a pirate party hat. Jen also used these two Paper Eskimo ranges on the buffet. Black Stripes and Candy Red Stripes paper cups were filled with popcorn and the Red Stripes baking cups were used for cupcakes.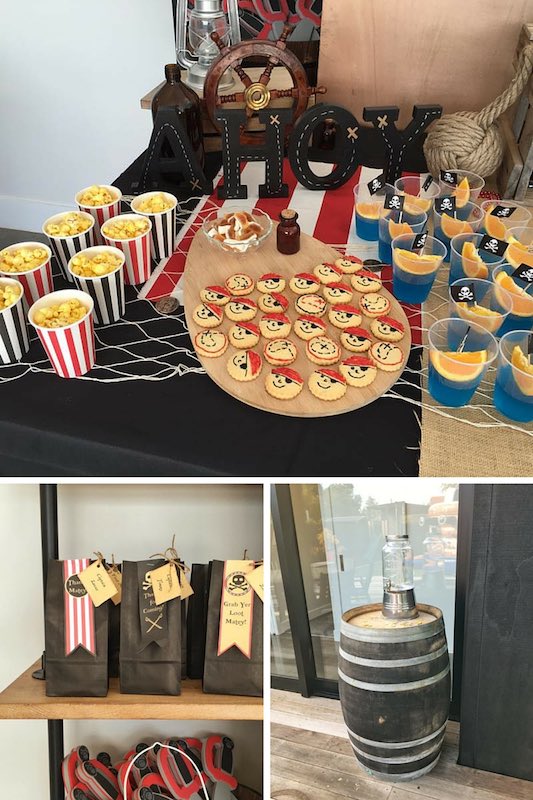 Image copyright: The Little Carousel
We love the pirate party food! The little pirate iced cookies were spot on along with the orange wedge boats on blue jelly. The pirate food picks really completed the look. If you have an old wine barrel in your back yard then this is certainly the party theme for you. They are great dotted around your party space and perfect for your party drinks (or grog). The Lancaster drink dispenser is a really good option as the bucket style stand gives it a nautical feel.
At the end of the party, your First Mates will love to head home with their own booty. Your wee Captain might like one too! Our black paper bags are a really good option and you can add your own personalised party tags.
Arrr! We hope you love this pirate party as much as we do. Aye! A big thanks to Jenna from The Little Carousel for sharing it with us. Jenna offers a party planning service in Christchurch so be sure to check her out!
If ye be lookin' for more pirate party ideas then feel free t' browse our pirate party category in our online shop. Ye will find our favourite ranges for pirate parties along with a great collection o' pirate decorations. So, before I set sail, tell me, how many pirate terms and phrases did ye spot in this ole blog post? Let me know in the comments below!