Ok brides, we all know that you have spent many hours trawling through Pinterest board after Pinterest board collecting lots of ideas for your wedding. Planning a wedding can be totally overwhelming especially when you start looking at your budget. Doing some wedding DIY is a great way to reduce costs but it can certainly add some extra stress, particularly if you are not a natural crafter or DIYer. Here we share our top 5 tips to help you create a stylish and budget friendly wedding with a bit of DIY. The images shared throughout this post were provided by Sian from Cobalt Heights who DIYed many elements in her wedding.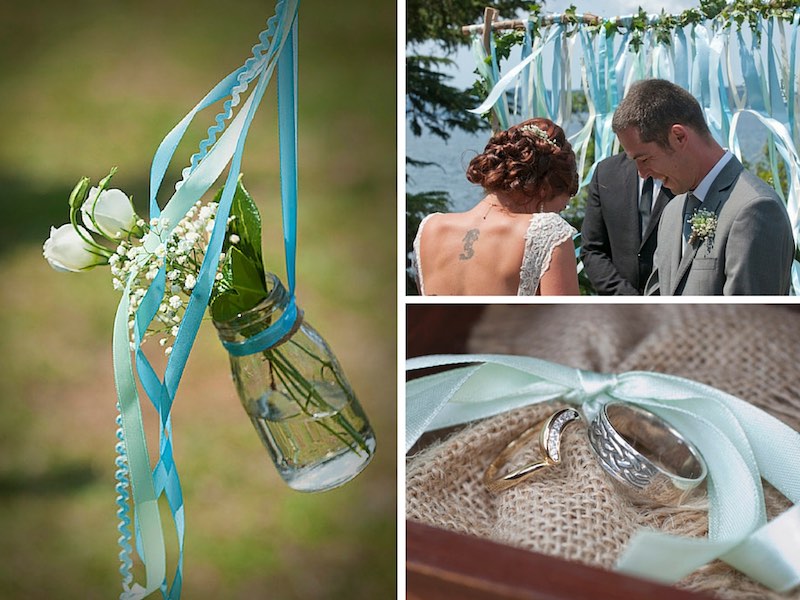 1. Decide on a theme for your wedding
After hours of pinning, you will soon realise that you need to pick a theme for your wedding. Once you do that you can start narrowing down your pins. You don't want to lose all of the AWESOME pins you've already collected though so create a new board that you can move your favourite pins to which work with your theme. This new board then becomes a consolidated inspiration board which you can use without feeling quite so overwhelmed. Pinterest is great for collecting wedding ideas and many couples are going with very non traditional themes these days meaning that Alice in Wonderland or Carnival theme you always wanted to have could in fact be a reality.
2. Create a theme board
Once you have your theme sorted, you will then need to make some decisions about key colours and materials that you want to use throughout. If you are a DIYer and have lots of ideas floating around (thank you Pinterest), it can be really tempting to try to execute all of them. Unless there is a way to tie is all together, the end result with not be the polished and stylish wedding you have in your head. If you stick with those key colours and decide on some continuous elements that you will use throughout (e.g. mason jars and glass elements for a vintage or rustic inspired wedding, drift wood and other natural elements for a beach inspired wedding, black vases for an Mad Hatters Tea Party themed wedding…) you will find that it looks a lot more cohesive overall. You can see with the images shared in this blog post that Sian used, aqua, mint, white and an off white throughout all of her decorating along with some kraft brown elements. The hand stamping on name tags and rustic nature of the ribbon arch and flowers in milk bottles were consistent with a rustic theme.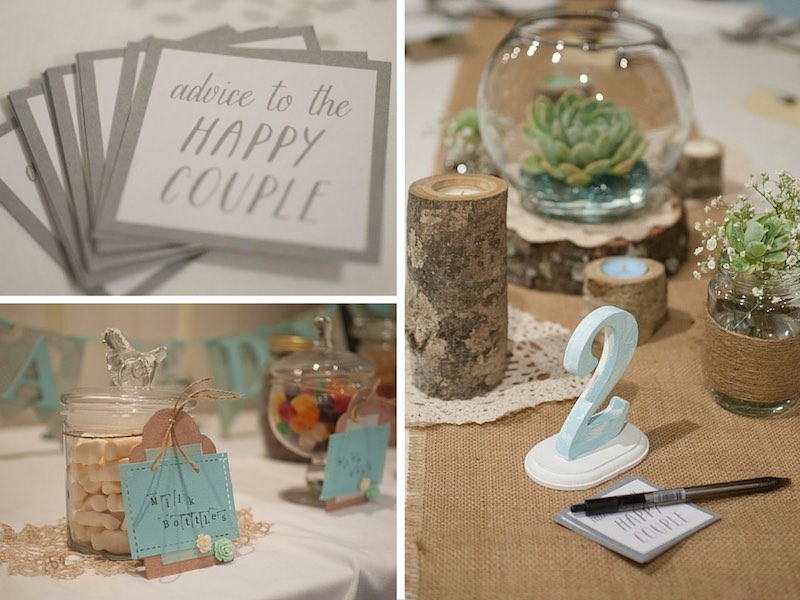 3. Decide what you will and won't DIY
For the chronic DIYer with a touch of control freak thrown in (ok, this could just be me), it is really tempting to try to do it all… DON'T!!!!! You simply cannot do everything. Below is a list of things brides and grooms often DIY at a wedding, don't try to do all of it!
Save the date cards and invitations
Wedding programs
Thank you cards
Table numbers, seating charts and place names
Table centrepieces (floral or other)
Wedding arches to decorate your ceremony venue or location
Mason jar flower holders (for decorating your ceremony or as centrepieces)
Ceremony and reception venue decorations
Setting up your ceremony venue or location which may require the hire of chairs, an arch, table and chair for signing the legal documents (some celebrants will provide the table and chair or have other items available to hire)
Setting up your reception venue which may require the hire of tables, chairs, crockery, cutlery, glassware, linen and more and then the setting up on the day or day before
Photo booth (you can use some fab gift wrap to create the backdrop and add some props and a polaroid camera)
Making your wedding favours (many of our brides and grooms will use our glass milk bottles and small glass jars to present honey from their own family hives, infused olive oils, sauces and other preserves)
Assembling your wedding favours (if you are going with store bought confectionery or other items, they will still need to go into a jar, bag or box and often with a name tag attached)
Wedding signs and blackboards
Wedding flowers, corsages and bouquets
Wedding cake (I made my own and a friend who is a florist did the flowers for me)
Sweet station
Hairpieces and veil
Ring holders
Hair and makeup
Signature cocktails served in a mason jar or other glass suited to your theme which may require you to source the drinking vessels
4. Enlist the help of friends and family
Once you know what you will DIY, get a core group of friends and family around to help you. Here are some ways they may be able to help (I know I've helped with many of these in the past):
tasseling your tassel garlands
fluffing pom poms
prepping any of your other wedding decorations
stamping thank you onto favour gift tags (our thank you stamps and alphabet stamp sets are popular for this)
creating name cards for your candy buffet or place settings
making and/or assembling your favours
collecting items you need for your theme (interesting vases, vintage china, linen, old books, driftwood, shells….)
helping to set up your ceremony and reception venues
collecting rose petals for your ceremony
making flower arrangements and bouquets
making or setting up table centrepieces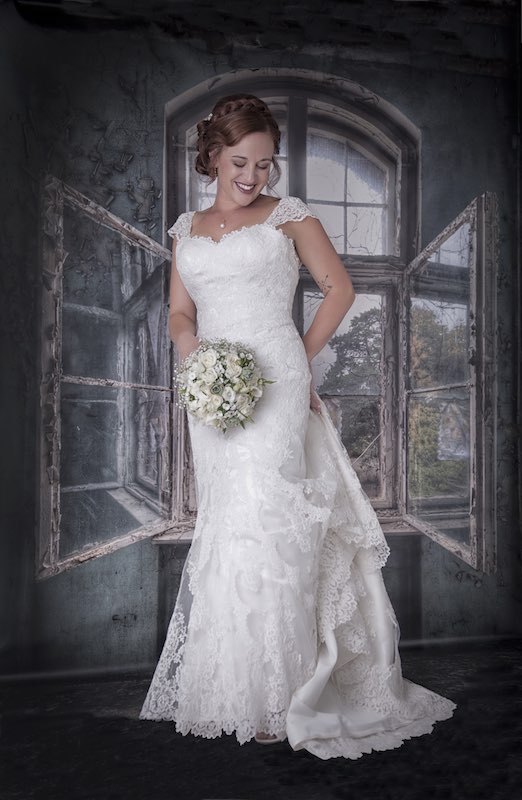 5. Get a professional to help with the fine tuning
Did you know that wedding planners can be hired to just help with certain elements of your wedding? It might be that you just want someone to set up and style your reception venue. Or, you may want someone to set up the ceremony location and wait to greet guests as they arrive (a great idea for an outdoor location in a fairly public place). There may be other things that you just want some external help with so that you, your friends and family can focus on relaxing and getting ready for the day ahead. Wedding planners often also have a small range of items available for hire too so they can end up being a one-stop-shop for those final stages of styling your DIY wedding. Hannah from Alare is a wedding planner and celebrant in Hamilton and offers many different wedding planning and styling services including a "Cut and Paste" service which allows you to add or delete items from any of their packages so that the service they provide is tailored to your needs. Planners like Hannah are passionate about what they do and aim to make the day as stress free as possible.
Many thanks to Sian for sharing her wedding photos with us! You were a stunning bride!
We hope that this blog post helps take some stress out of your own wedding DIY and planning. If you have any DIY tips and tricks, please comment below as we'd love to hear about them.
All photography by Tracey Robinson, Rotorua.