Lots of new tassels arrived last week and they are all so stunning that I just had to share! Here are some of my new favourite tassel garlands which I have teamed up with some of our other party supplies so that you can see how you might incorporate them into a complete look.
Navy blue and gold styles
I simply LOVE our Indigo tassel garland! These tassels have such a sophisticated look and are perfect for more grown up events. It features navy blue, turquoise, an off white (oatmeal) and metallic gold and looks amazing alongside some of our royal blue or gold tableware.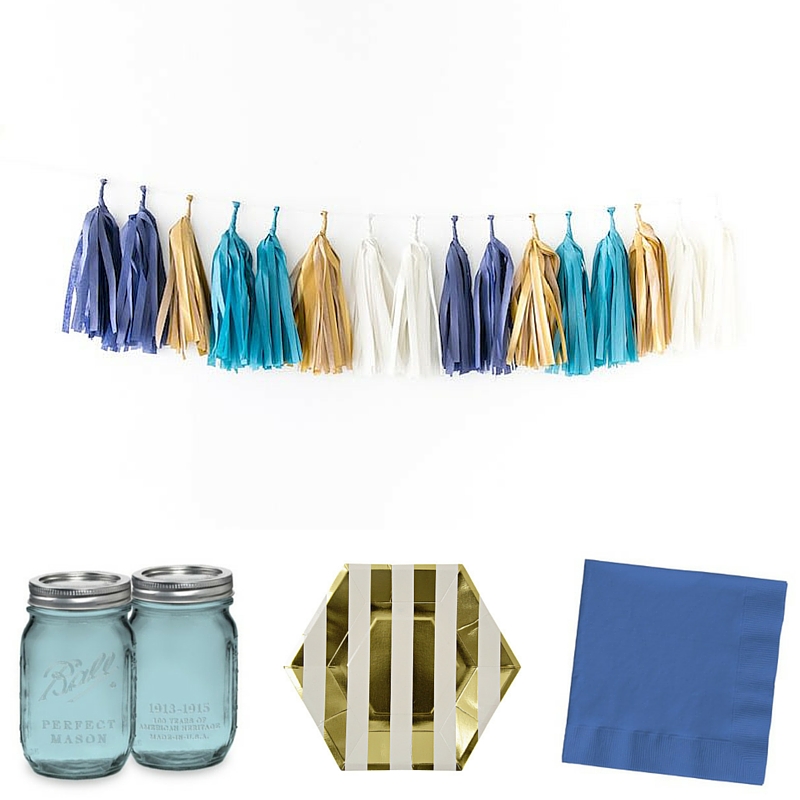 Get the look: Indigo Tassel Garland, Heritage Blue Pint Mason Jars, Toot Sweet Gold Stripe Plate, Royal Blue Paper Napkins
Bright colours and fiesta styles with a difference
Fiesta party themes are very popular at the moment so it is great to have another party decor option. Our Fiesta tassel garland features bright pink, purple, aqua and mint tones. Whilst you could add this to a typical fiesta theme, you could also use some less obvious options such as the Toot Sweet Mint range by Meri Meri alongside some pink or purple party supplies. You don't even have to make up a tassel garland with these gorgeous tassels, they look amazing when you cluster a couple of tassels together and tie them onto the backs of your chairs. This creates a fun and vibrant party space that your guests couldn't help but have a great time!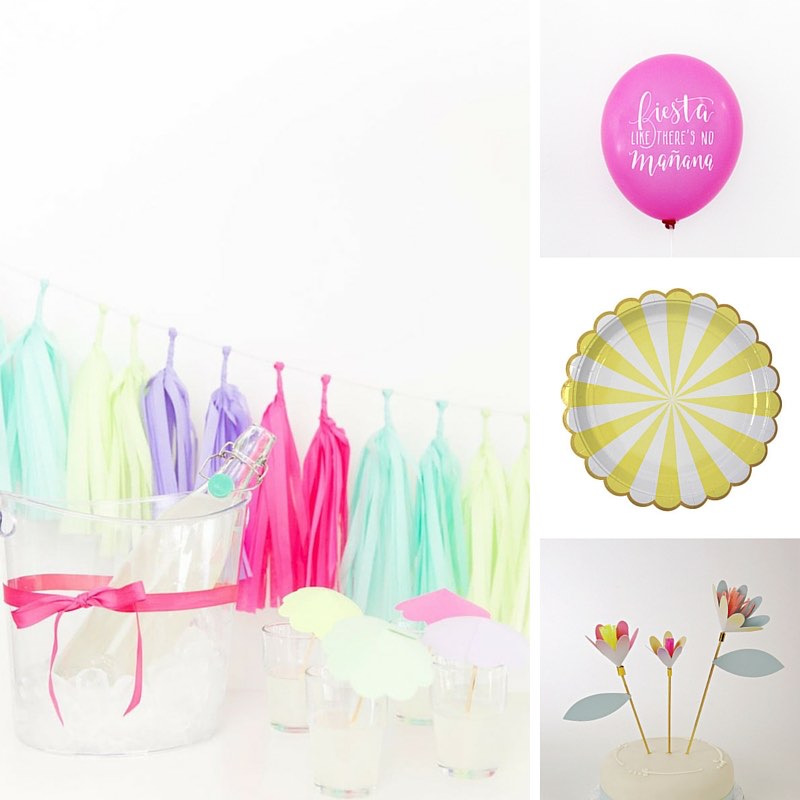 Get the look: Fiesta Tassel Garland, Fiesta Like There's No Mañana Balloons, Toot Sweet Yellow Paper Plates, Flower Cake Toppers
Soft pink and silver styles for a pretty baby shower
Our Pink Quartz tassel garland is quite subtle and delicate but strong in style and flair. This is a beautiful option for a baby shower or 1st birthday as it feels fresh and very pretty. Coordinating this range with more silver and light pink makes for a beautiful Twinkle Twinkle Little Star or Winter Wonderland party theme; both perfect 1st birthday ideas.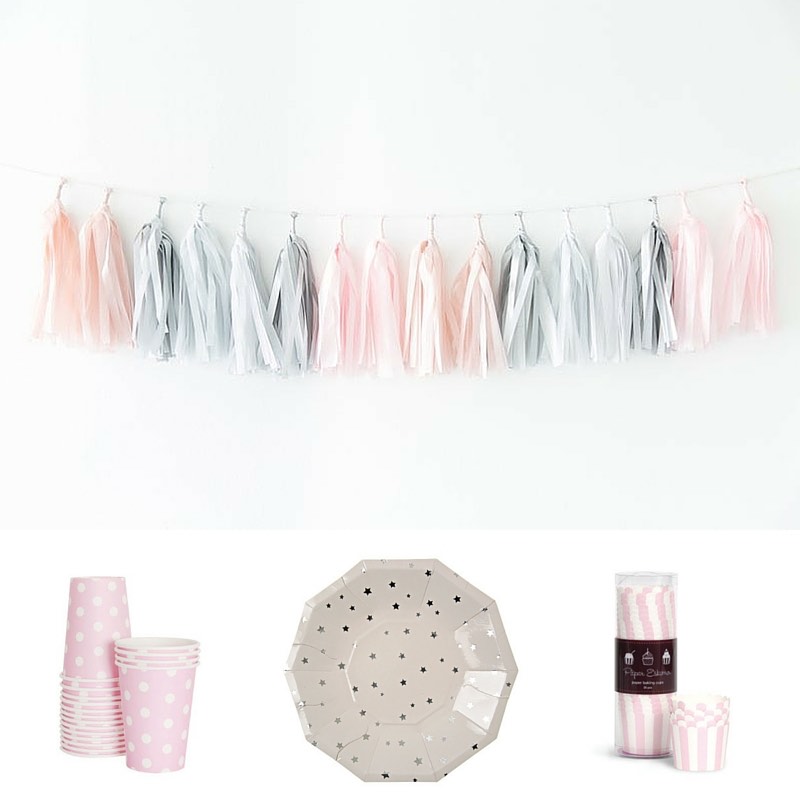 Get the look: Pink Quartz Tassel Garland, Marshmallow Pink Paper Cups, Toot Sweet Silver Stars Plates, Marshmallow Pink Stripes Baking Cups
Rainbow sprinkle styles
The new Rainbow tassel garland features pinks along with blues and greens. We love this garland with the Sprinkles range by hiPP Australia. This is a great option for a confetti, sprinkles, ice cream, popsicles or cupcakes party theme… any theme that needs bright colours. Another fun option it to bring out a mix of the colours in other elements within your party space which we have done below using some of the Powder Blue and Apple Green ranges by Paper Eskimo.
Get the look: Rainbow Tassel Garland, Powder Blue Stripes Baking Cups, Apple Green Paper Napkins, Pink Spotty Printed Balloons
Monochrome styles for the inner superhero
Our Hip tassel garland is the perfect party decor item for a batman or monochrome themed party. For a truly Gotham feel (think Batman), you can team this up with tableware in silver, black and white and our batman balloons. Our favourite range to use alongside these tassels is the Toot Sweet Black range by Meri Meri.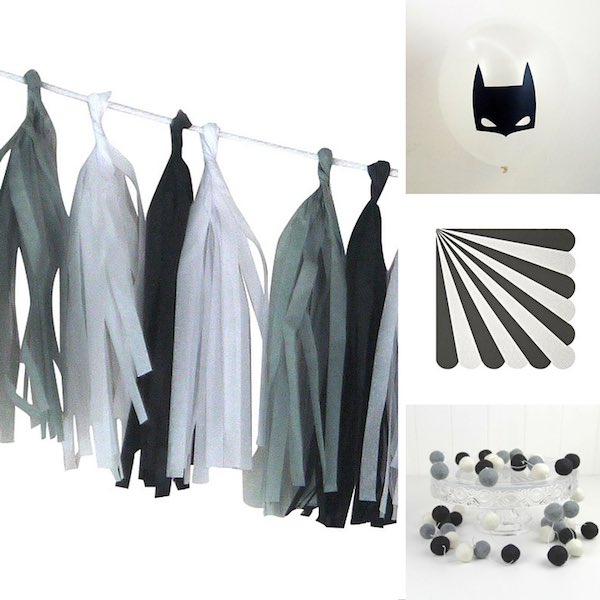 Get the look: Hip Tassel Garland, Batman Balloons, Toot Sweet Black Paper Napkins, Monochrome Felt Ball Garland.
We hope you have enjoyed seeing the latest tassels to arrive here at Miss Mouse HQ.
Tell me, do you have a favourite?