Valentines day is almost here and you may well be looking for some Valentines Day ideas. We have put together some of our favourite party supplies and party decorations for you to use to create your own Valentines gifts for him, her and your loved ones. With Valentines day being on a Saturday this year, this allows for many Valentines day ideas to come to fruition. The ideas we present below are all simple and cheap Valentines day ideas that you can create yourself and can accommodate kids if required too.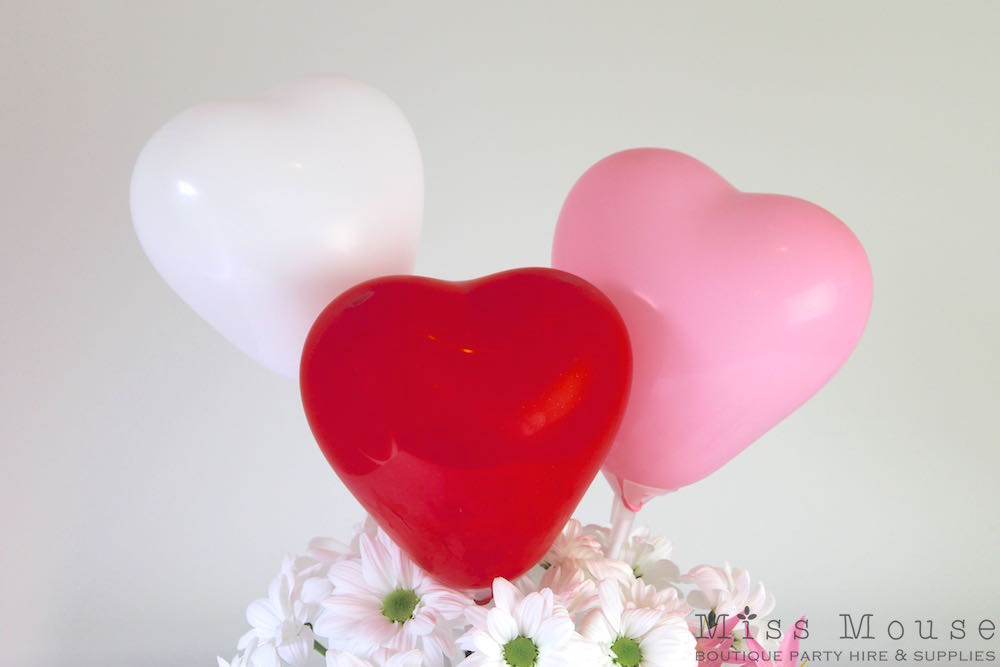 Get the look: Mini Heart Balloons, Balloon Sticks ~ White.
Beautiful cupcakes
Apparently, the best way to a man's heart is through his stomach, so with this in mind, yummy homemade treats are a great option. I think this works well with kids too and the images below were styled with kiddies in mind but can be easily adapted to please the main squeeze in your life.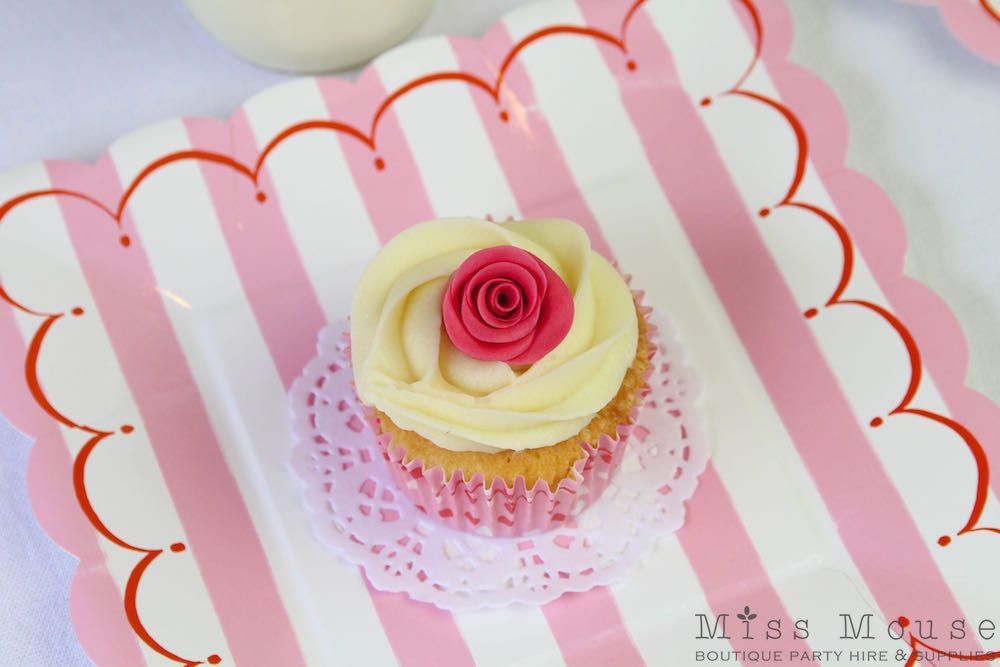 Cupcakes can be beautifully decorated by baking them in a pretty baking cup and then decorating them with lots of swirly buttercream icing or chocolate ganache, pretty sprinkles and even a heart cupcake topper. This is a really nice option if you have young children as they will just love helping in the kitchen and will do a great job mixing the batter and decorating the cupcakes. Serve your cupcakes on a pretty cake stand or on some lovely china and enjoy with your loved one's favourite hot beverage. These are Chelsea Winter's Vanilla Cupcakes recipe with white chocolate ganache icing which are one of my favourite vanilla cupcake recipes.
I used our new coloured fondant in red, fuchsia and pink to make mini hearts and roses for decorating the cupcakes. Don't the decorative flags look cute too!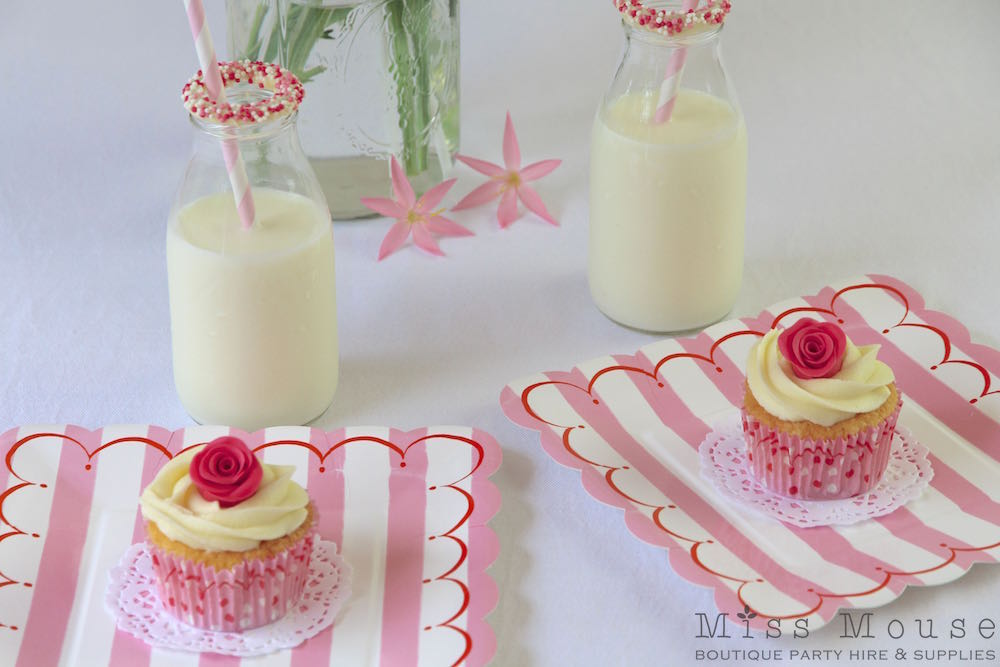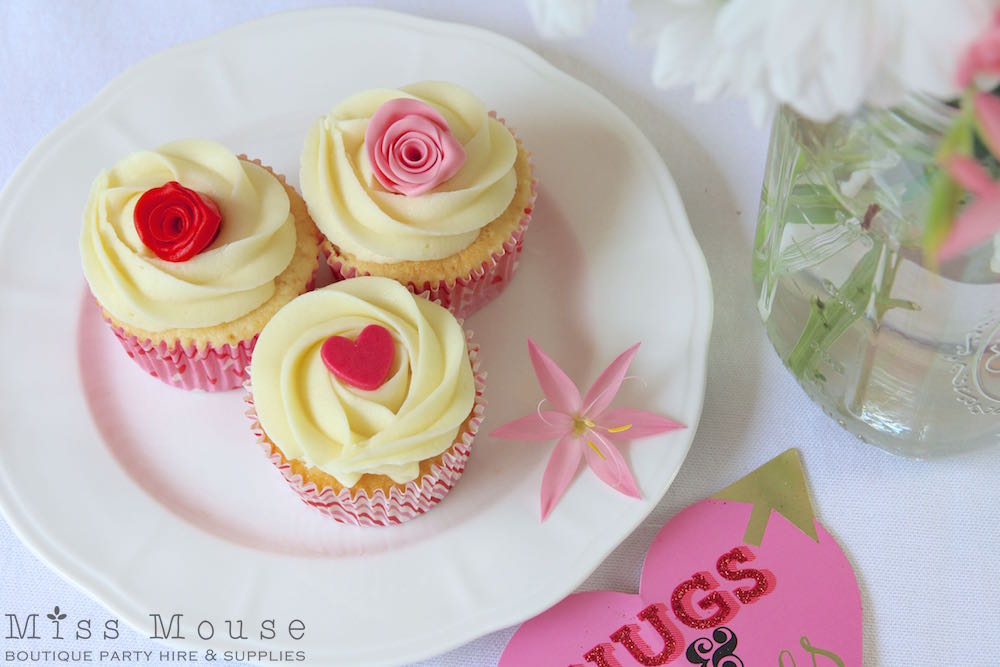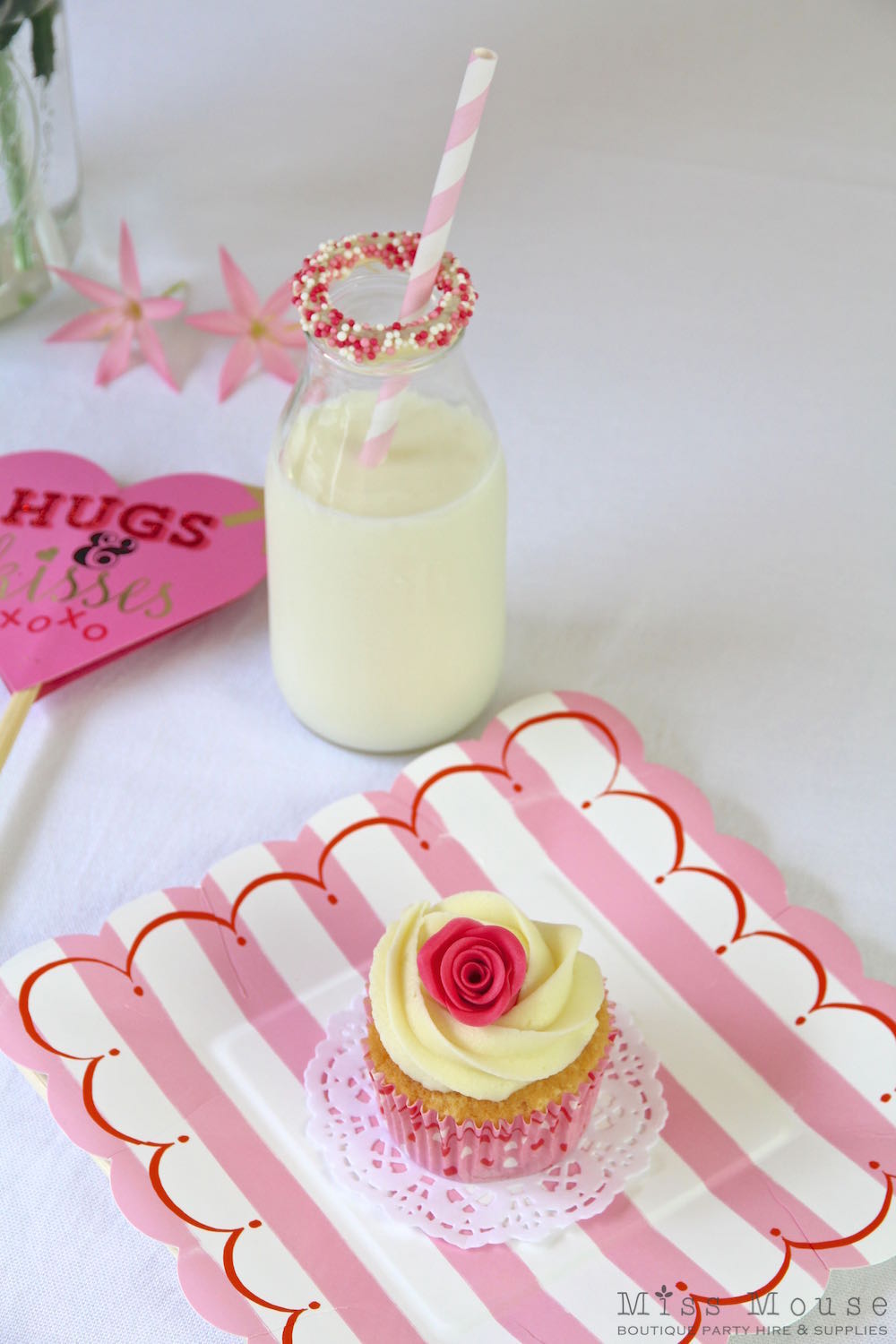 Get the look: Paper Plates ~ Toot Sweet Pink, Cupcake Cases ~ Toot Sweet Pink, Fondant Icing ~ Fuchsia, Fondant Icing ~ Red, Fondant Icing ~ Pink, Mini Fondant Cut-Outs Set ~ Hearts, Mini Glass Milk Bottles, Paper Straws ~ Pink & White Stripe, White Paper Doilies ~ 90 mm, Natural Sprinkles ~ Red, Pink & White 100s & 1000s, Decorative Flags ~ Hugs & Kisses, Mini Heart Balloons, Ball Mason Jar ~ Wide Mouth Quart.
Picnic
Looking for romantic Valentines day ideas? Picnics always scream romance and this is a great one for those who are looking for Valentines day ideas for her. You can easily package up some yummy treats (make yourself or buy them from your local supermarket or takeaway outlet), a picnic blanket, a bottle of bubbles and glasses and head to your local park or beach. Sit back, relax and chat as you watch the world go by. Some pretty paper plates and paper napkins are a nice way to add some special details. Our white and kraft window boxes and whitewash wooden crates are also a great way to package up your yummy treats. You could take a few of our mini heart balloons along too… too cute!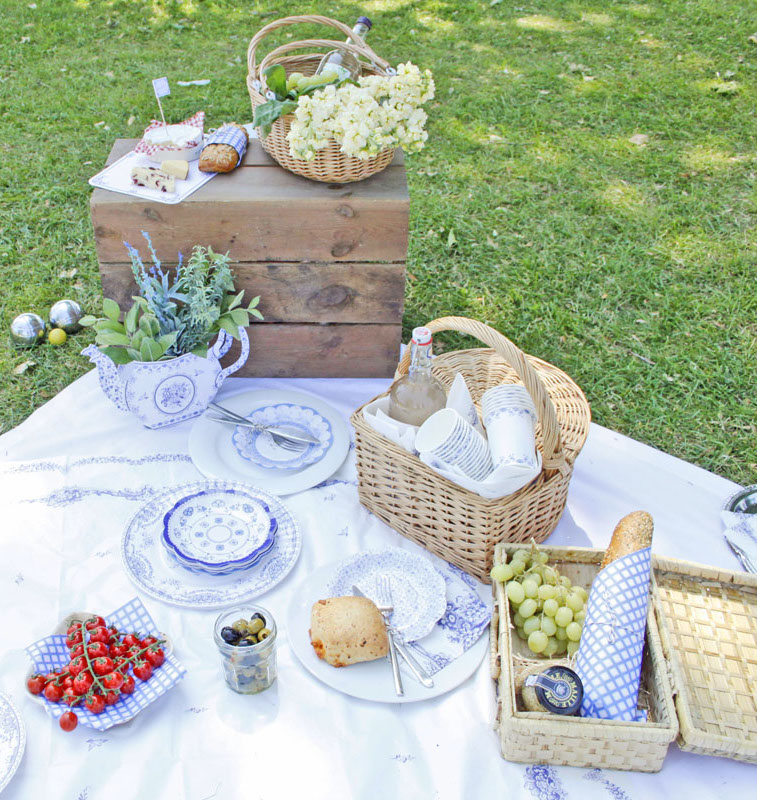 Image credit: Talking Tables
Get the look: Paper Plates 17cm ~ Porcelain Blue, Paper Plates 27cm ~ Porcelain Blue, Paper Napkins ~ Porcelain Blue, Paper Cups ~ Porcelain Blue, Greaseproof Paper & Twine ~ Porcelain Blue, Whitewash Wooden Crates.
Movie night with a special dessert
Mr Mouse and I love movie nights. It doesn't matter whether it is a new release or something we saved on the Freeview box, it is nice to just sit back, relax and immerse yourself in a movie. We quite like to enjoy a nice dessert at the same time (who doesn't?). One of my favourite desserts are these divine Molten Chocolate Puddings from NZ House & Garden magazine. I make them up in our 230mL glass jars, put the lids on and pop them in the fridge to set so they are ready to go (which involves popping them into the oven, once set, for only 12-15 minutes!). You don't really need to add anything to these beauties but you could dust them with some cocoa powder or icing sugar and add some raspberries or strawberries. Too yum!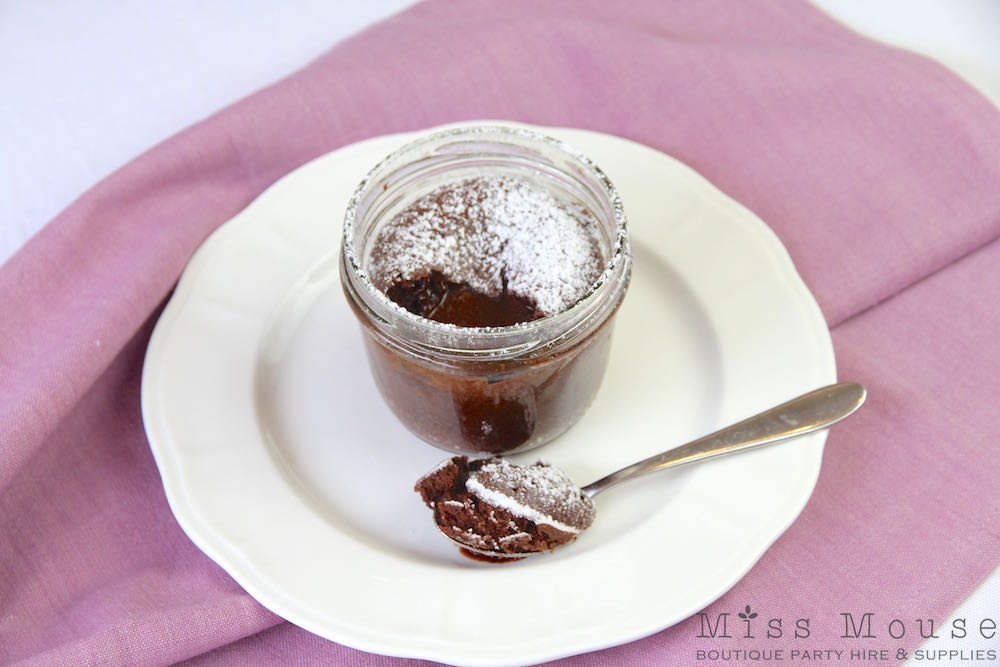 You can also serve them out of the glass jars too (just slide a knife around the edges and then turn out onto a plate).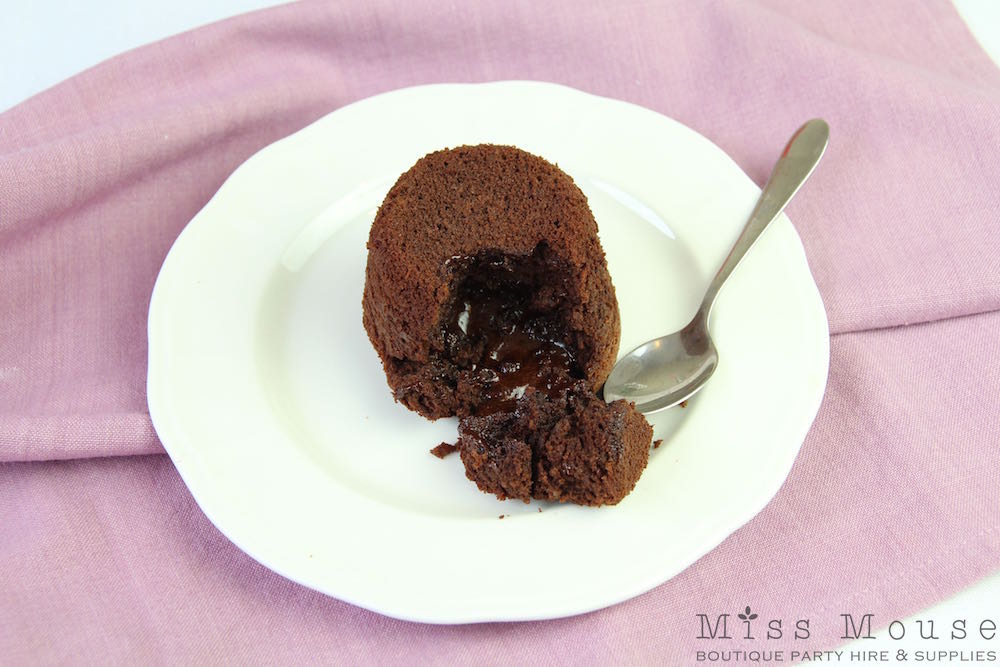 Special breakfast or brunch
Everyone loves to be treated with a special breakfast or bunch. You can take your loved one out to a cafe or create the same in your own home. Freshly brewed coffee, a delicious hot chocolate, crepes with lashings of cream, fresh fruit salads, bacon and eggs, fresh bread with butter and preserves…. Set the scene with a nicely laid out table, your best china and a few pretty little details. Our new Mini Heart Balloons on balloon sticks look great in a vase or place one of our decorative flags next to your loved ones plate. The Paper Napkins ~ Pink Hearts & Stripes make a nice, romantic addition to your table too.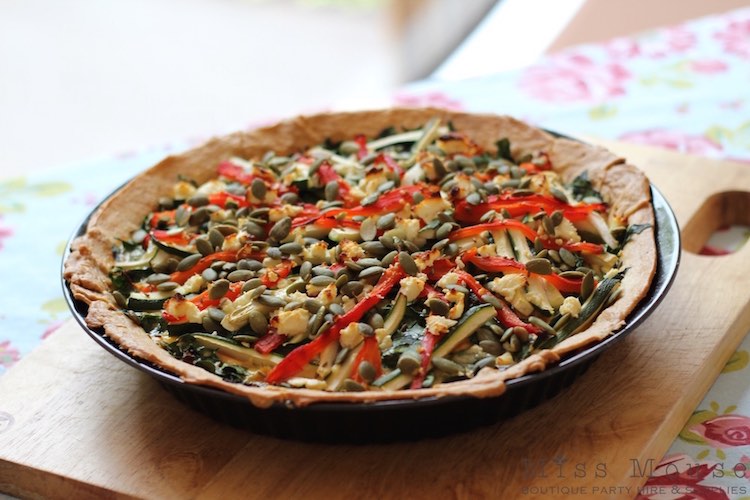 Happy Valentines Day everyone! We hope you have a great day with the loved ones in your life.
Credits:
Photography & Image Copyright: Miss Mouse Limited except where noted above.