In the words of Taylor Swift, "We found Wonderland". Well, some party supplies at least! Here I share with you my youngest daughter Laura's 5th birthday party. What a milestone! Laura wanted an Alice in Wonderland party with a bit of a dark feel (like the Tim Burton movie) and featuring the Cheshire Cat.
The foundations were set with a red table cover and a black and white polkadot table runner. We used some of the new black geo plates from hiPP Australia and a basic turquoise napkin. Mini glass milk bottles were placed on a white paper doily and our white scallop edge tags were trimmed down a bit at the sides and "Drink Me" stamped onto them. They were tied off with some turquoise bakers twine. It was a real mix of party supplies from various ranges.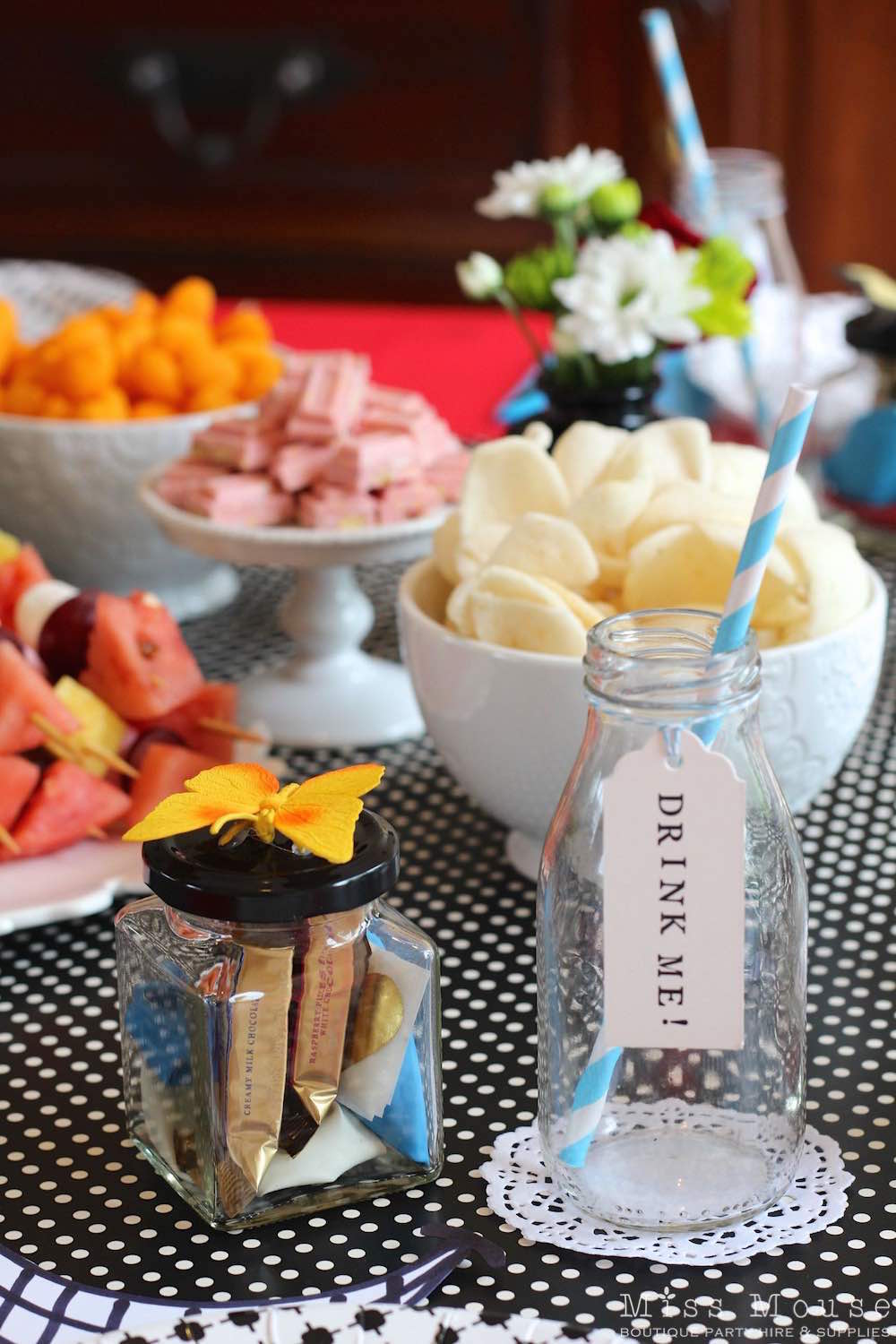 On each paper plate was a delicious cupcake with lots of swirly buttercream icing, some fondant icing hearts and a red heart cupcake topper. These were the Chelsea Winter Vanilla Cupcakes recipe, so good! I used the Wilton Open Star Tip 1M to create the swirls; it is probably my most favourite decorating tip. The mini fondant hearts were made using the Mini Fondant Cut-Outs Set ~ Hearts.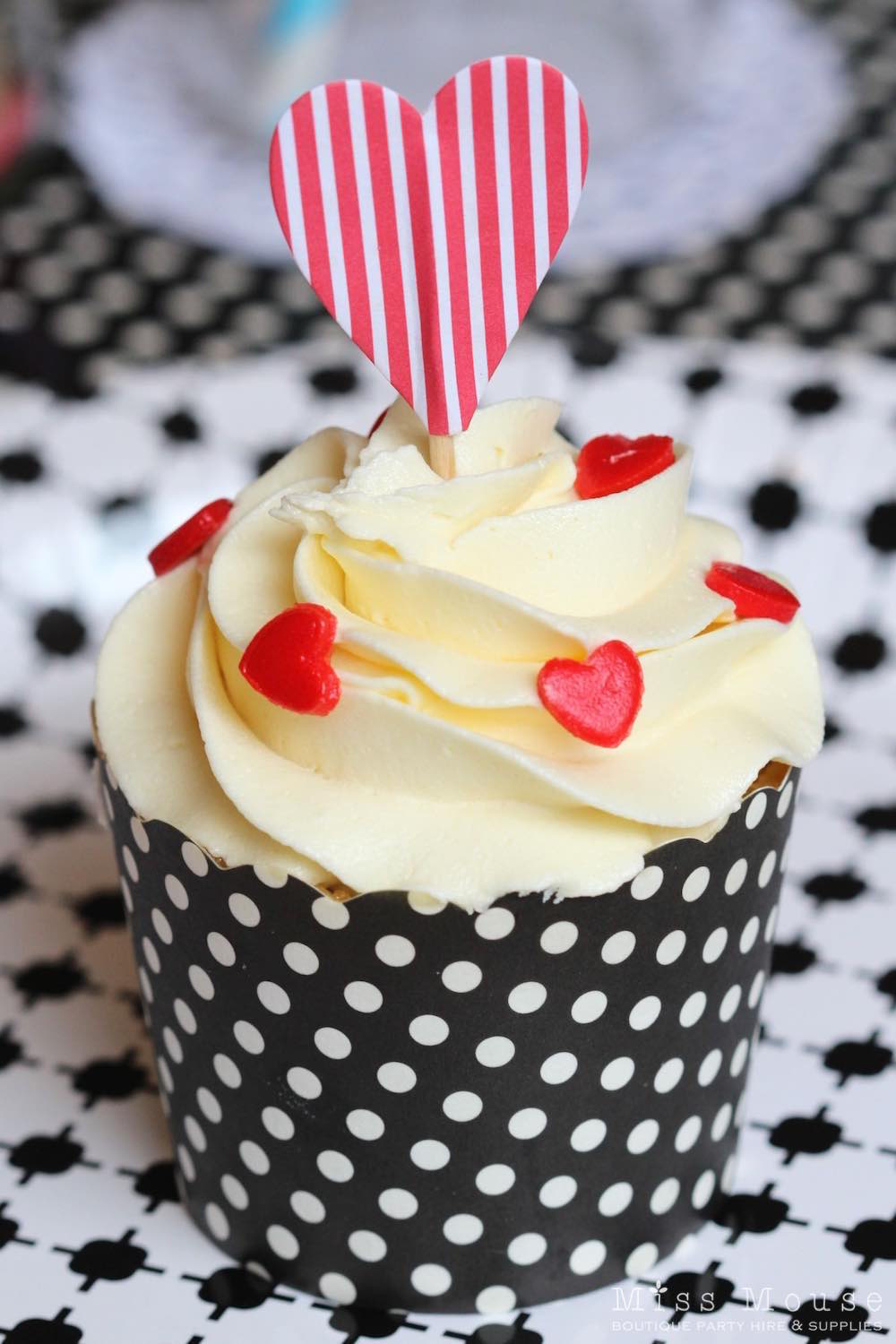 The party table was laden with food along with some "Eat Me" signs and bunches of flowers arranged in small milk jugs and sugar bowls. Party food consisted of cupcakes, mini pies, sausage rolls, cheerios, potato chips, cassava chips, Twisties, fruit kebabs and chocolate. The food was presented in a mix of serveware including white mini cupcake stands, stacked black cake stands and white bowls and platters. The cupcake toppers looked great in the mini pies too and our Styling Tags ~ Black Tie made the perfect little signs. Our Alphabet, Numbers & Symbols Stamp Set was used for the stamping.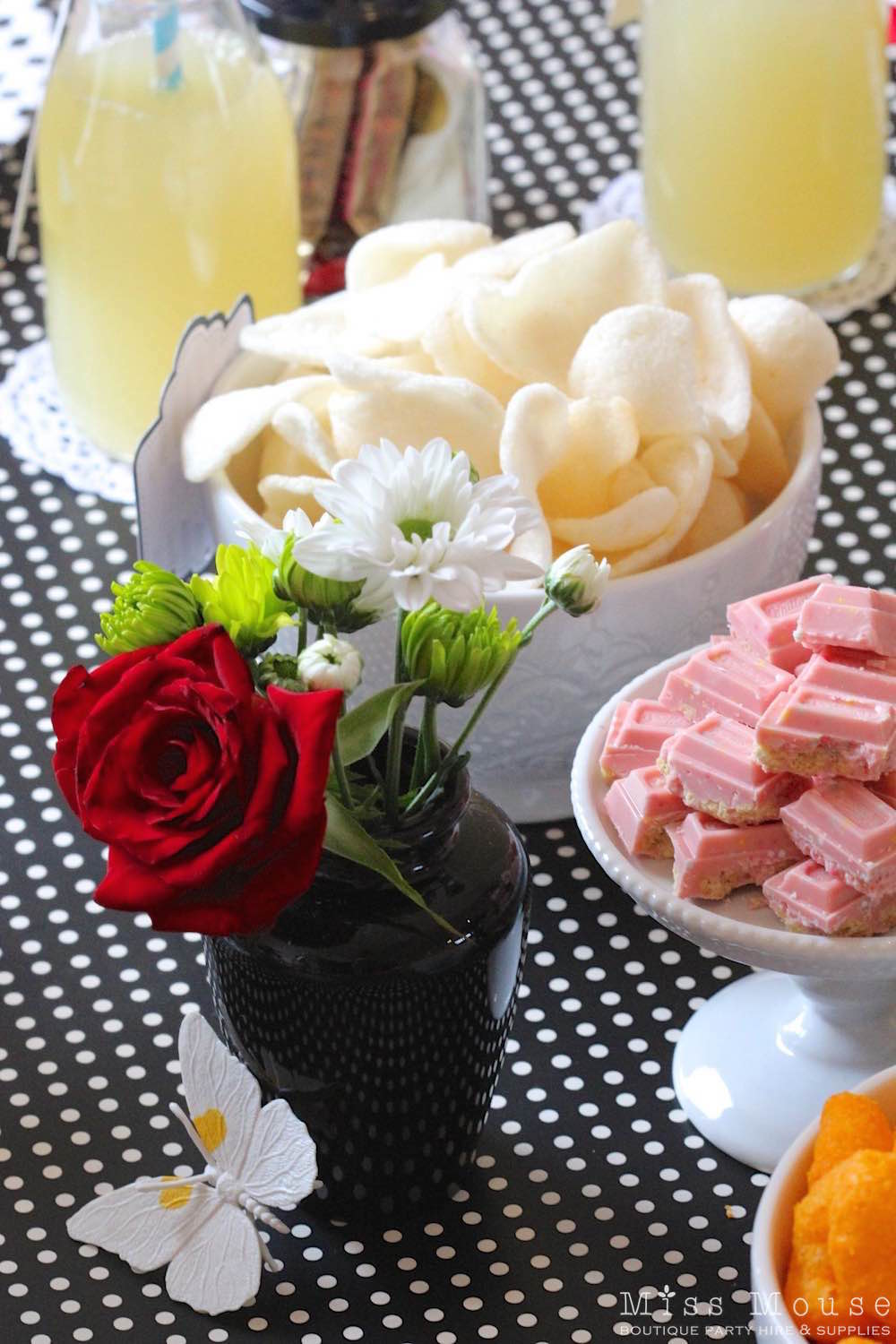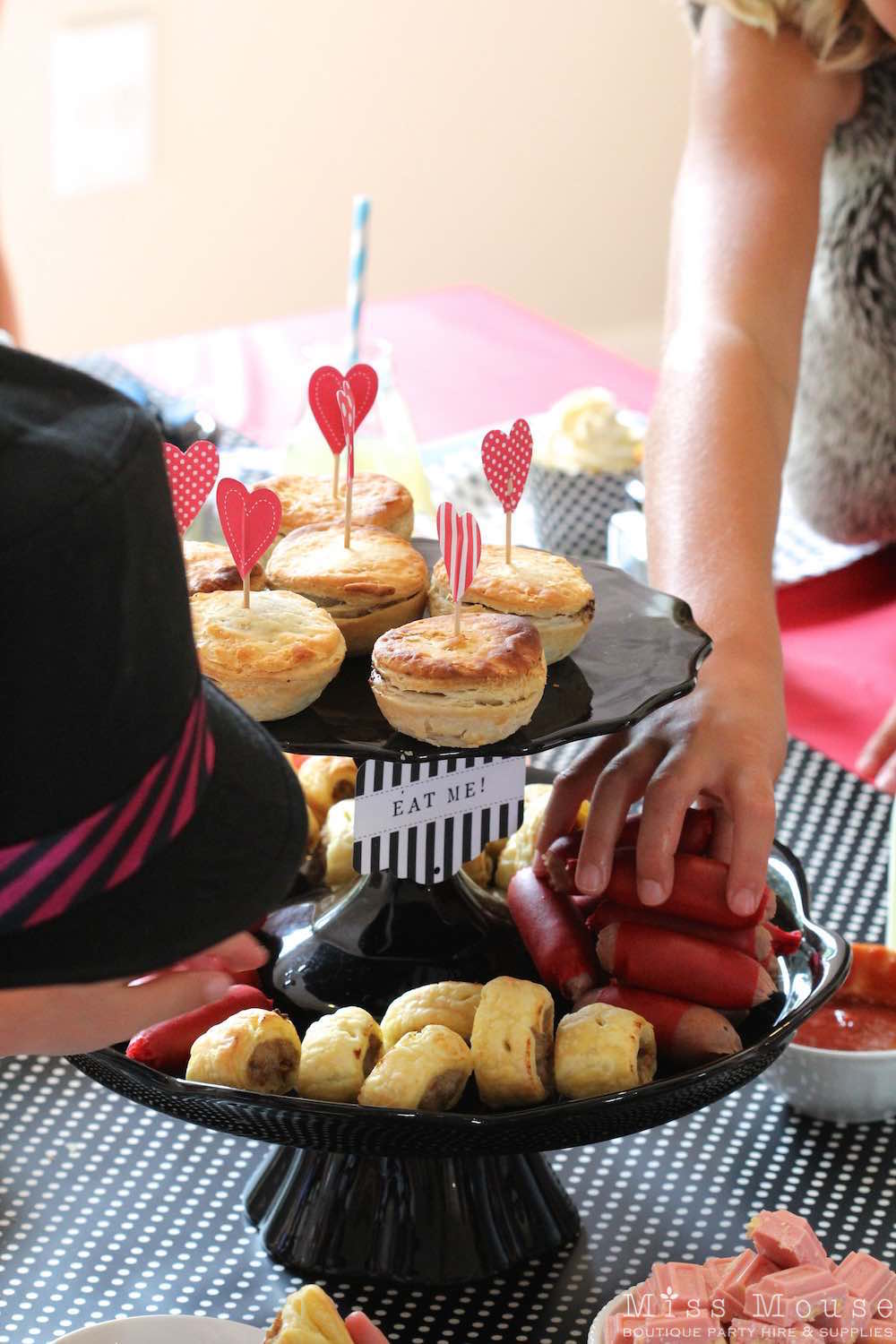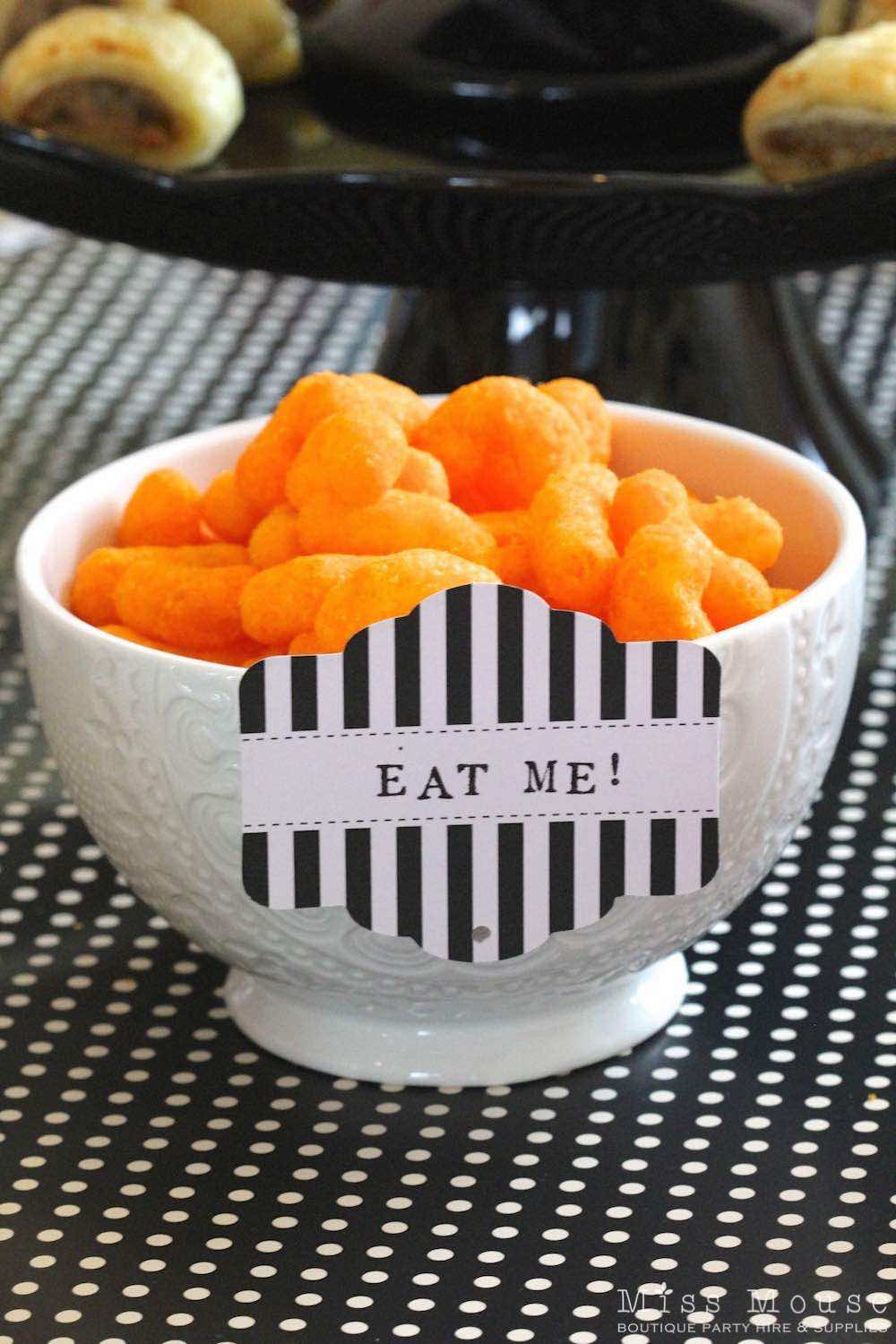 We also had an adults table which was dressed with our black check table cover and a red polkadot bunting behind. Here we had much the same party food as the kiddies but I also included some Anathoth lemon curd in the centre of the cupcakes, too yum! I used a mix of the Baking Cups ~ Black Polkadot and Baking Cups ~ Red Spots.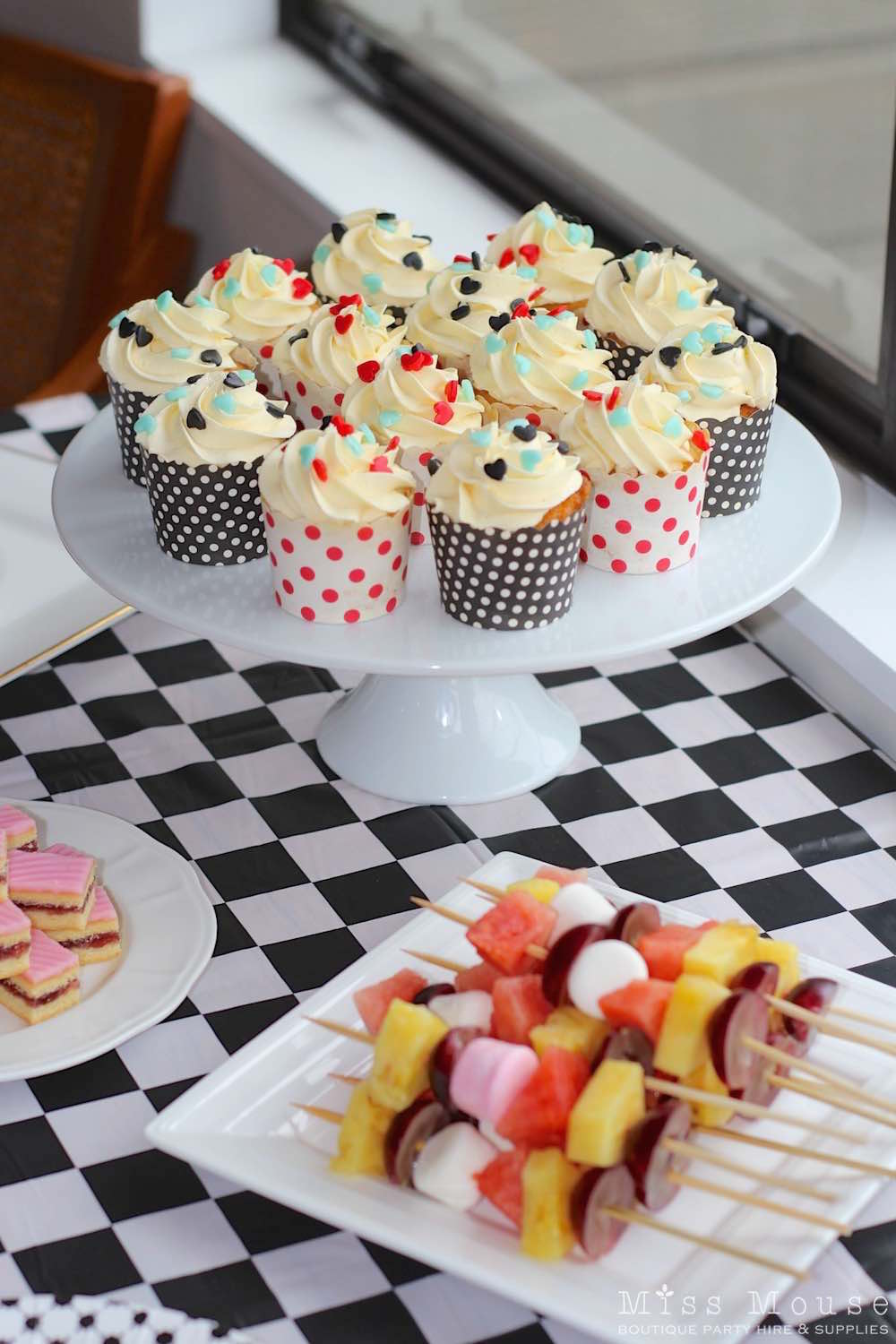 How cool is the "We're all Made Here" print from Urban Signature!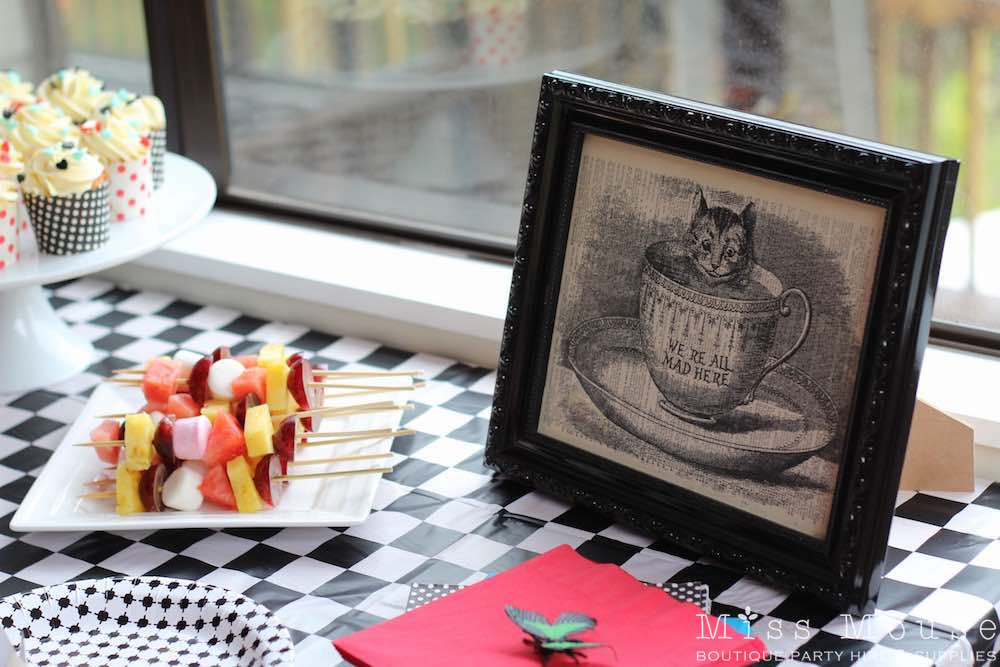 I made Cheshire Cat smiles for each child which were placed next to their plate. Party favours were our 190mL square glass jars with a butterfly glued to the lid. They were filled with balloons, chocolates and stickers.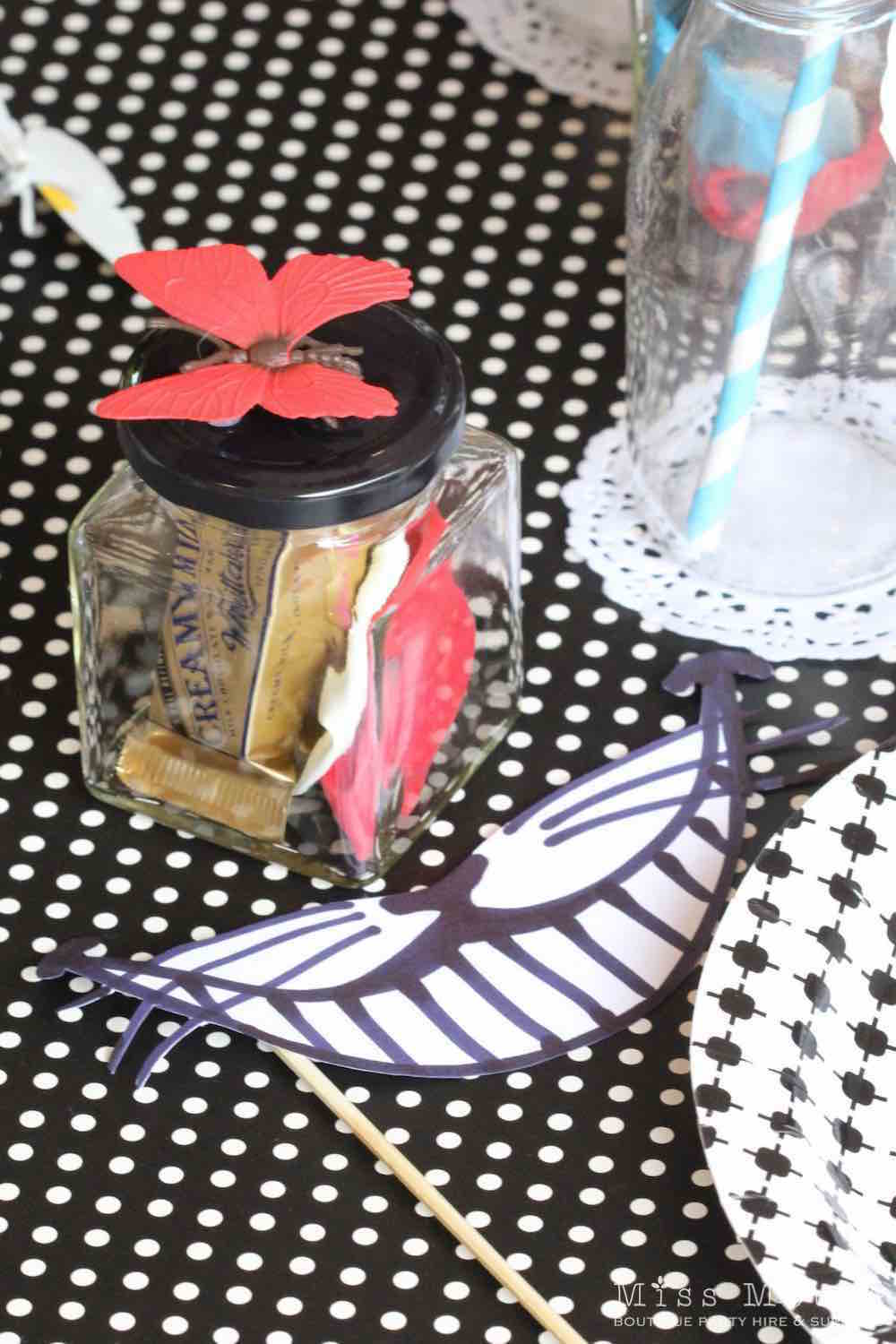 Party decorations were kept really simple as initially we had planned to have the party outside but the weather was not cooperating. We had lots of flowers in teapots, teacups, milk jugs and sugar bowls and I made a simple red heart and black diamond bunting the evening before the party and hung that behind the birthday cake. Flowers are one of my most favourite party decorations.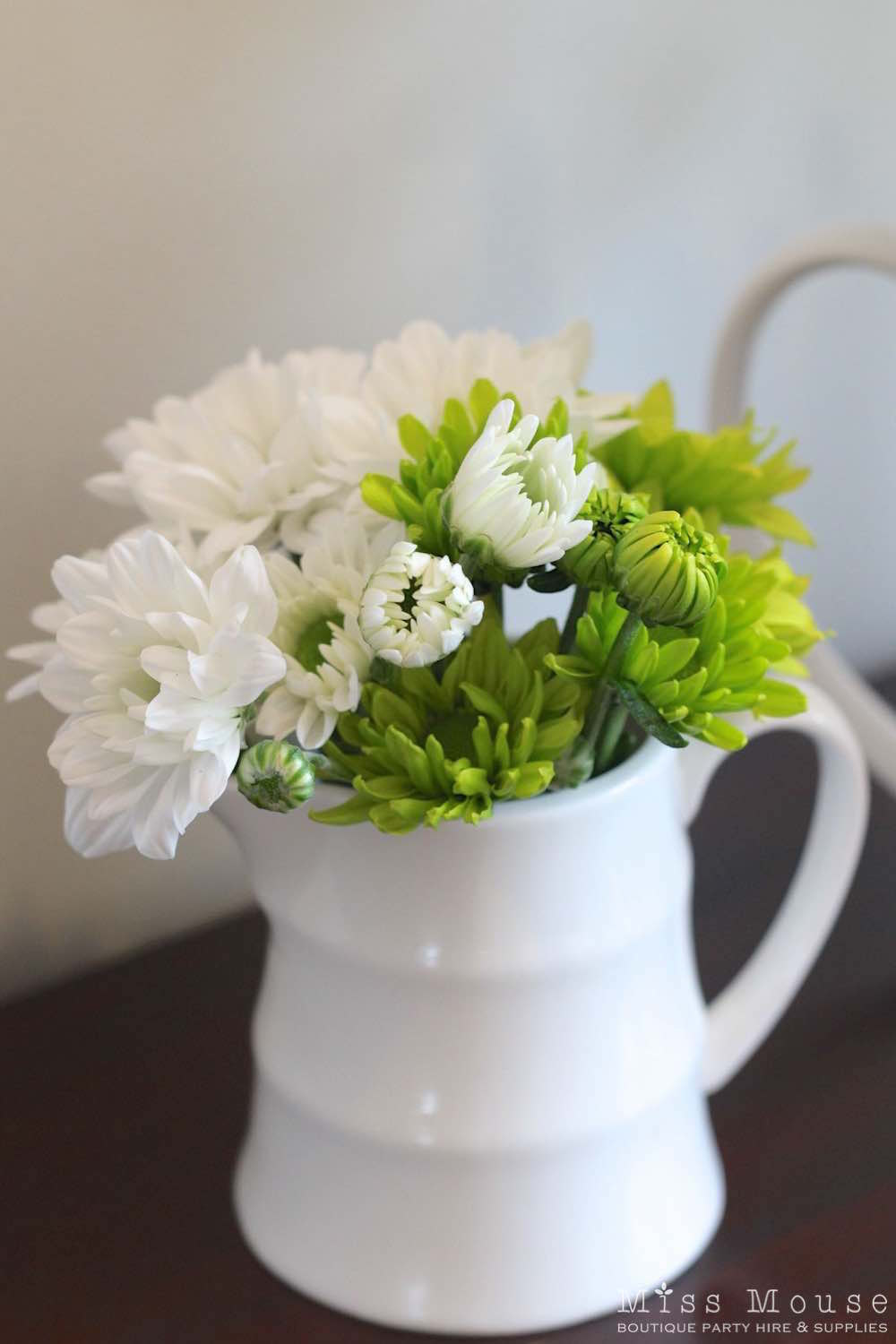 The gorgeous Cristina Re tea cup was from The Pressie Box.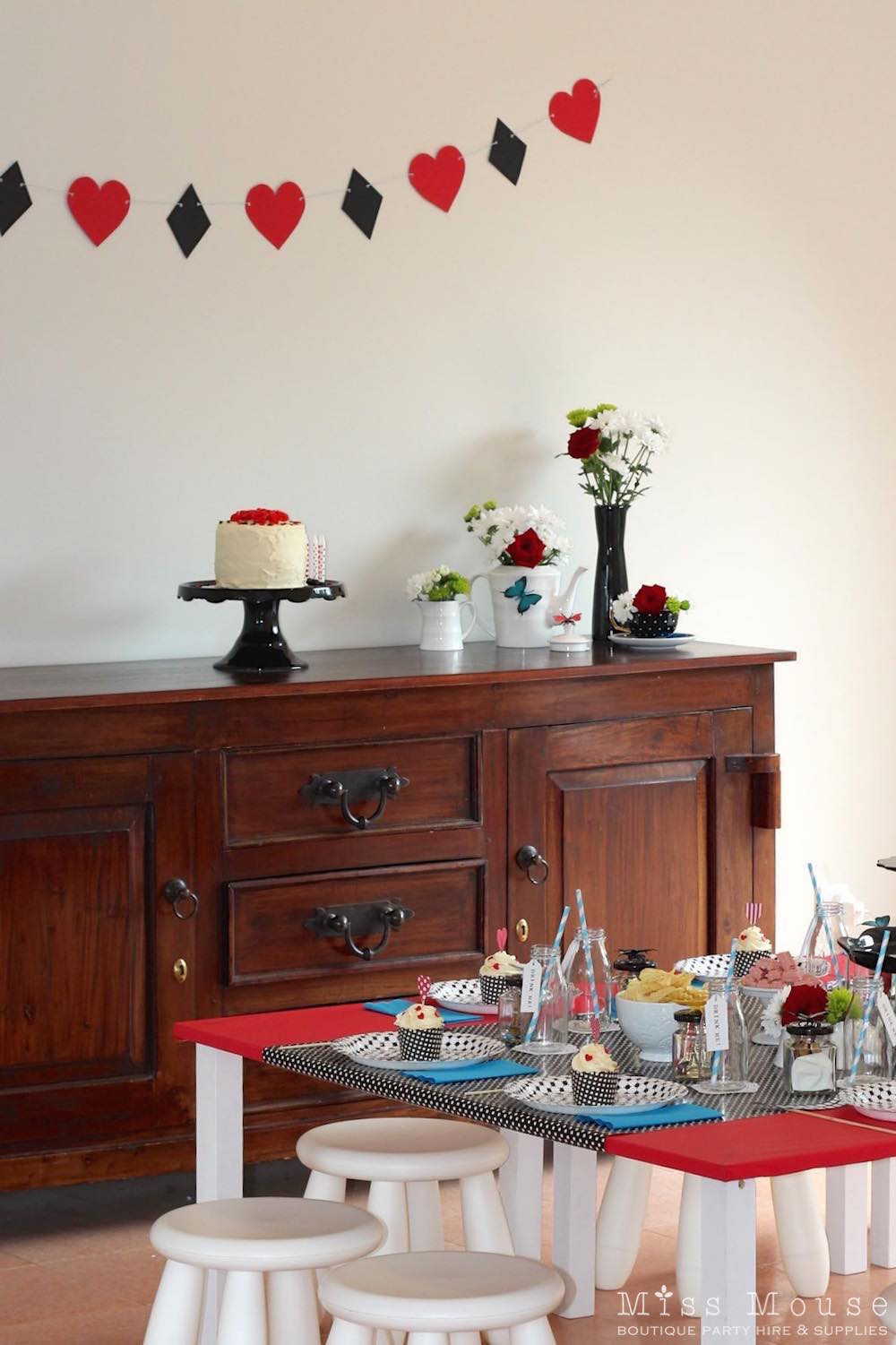 One of the activities we set up for the kiddies was to make tiny crowns reminiscent of the crown on the very big head of the Red Queen. We had rolls cut up and ready to go, washable gold glitter paint, lots of jewels and fabric roses for sticking on the crown, glue, brushes and elastic which we put on after they had dried. It was a nice activity for the kids to do and they got to take home their crown at the end of the party.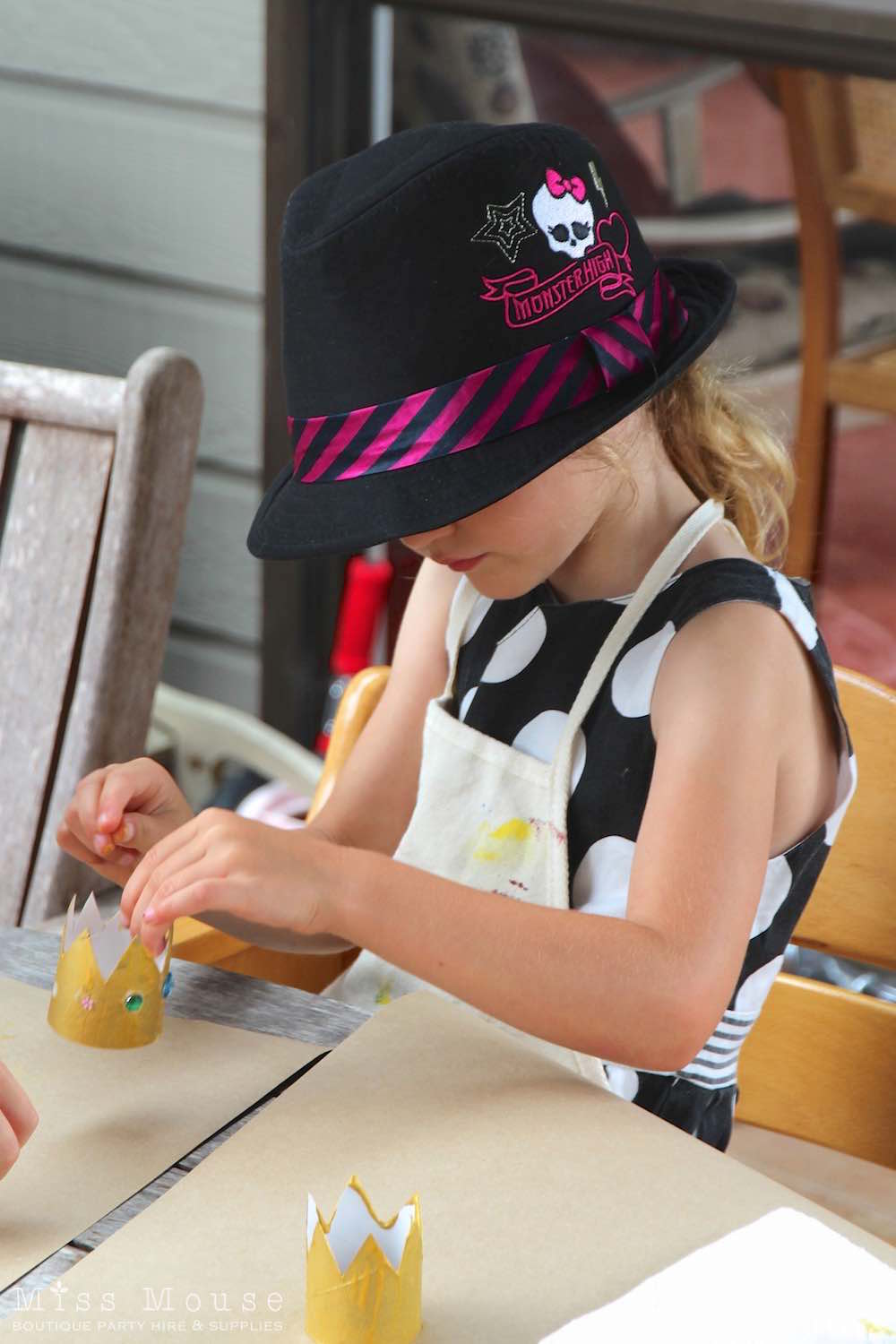 I had very grand plans for the birthday cake but ended up deciding to keep it simple as we were away camping the whole week before. I used our 5 Layer Cake Pan Set to make a vanilla cake (same recipe as the cupcakes just because it is so delish) with Anathoth raspberry jam and a scraping of white buttercream icing between the layers. The entire cake was covered in white buttercream and then topped with some red fondant icing roses and a scattering of black and red fondant icing hearts. I find the 11″ square end cake spatula great for icing the sides of these tall cakes. The Candy Red Stripes & Spots candles coordinated perfectly.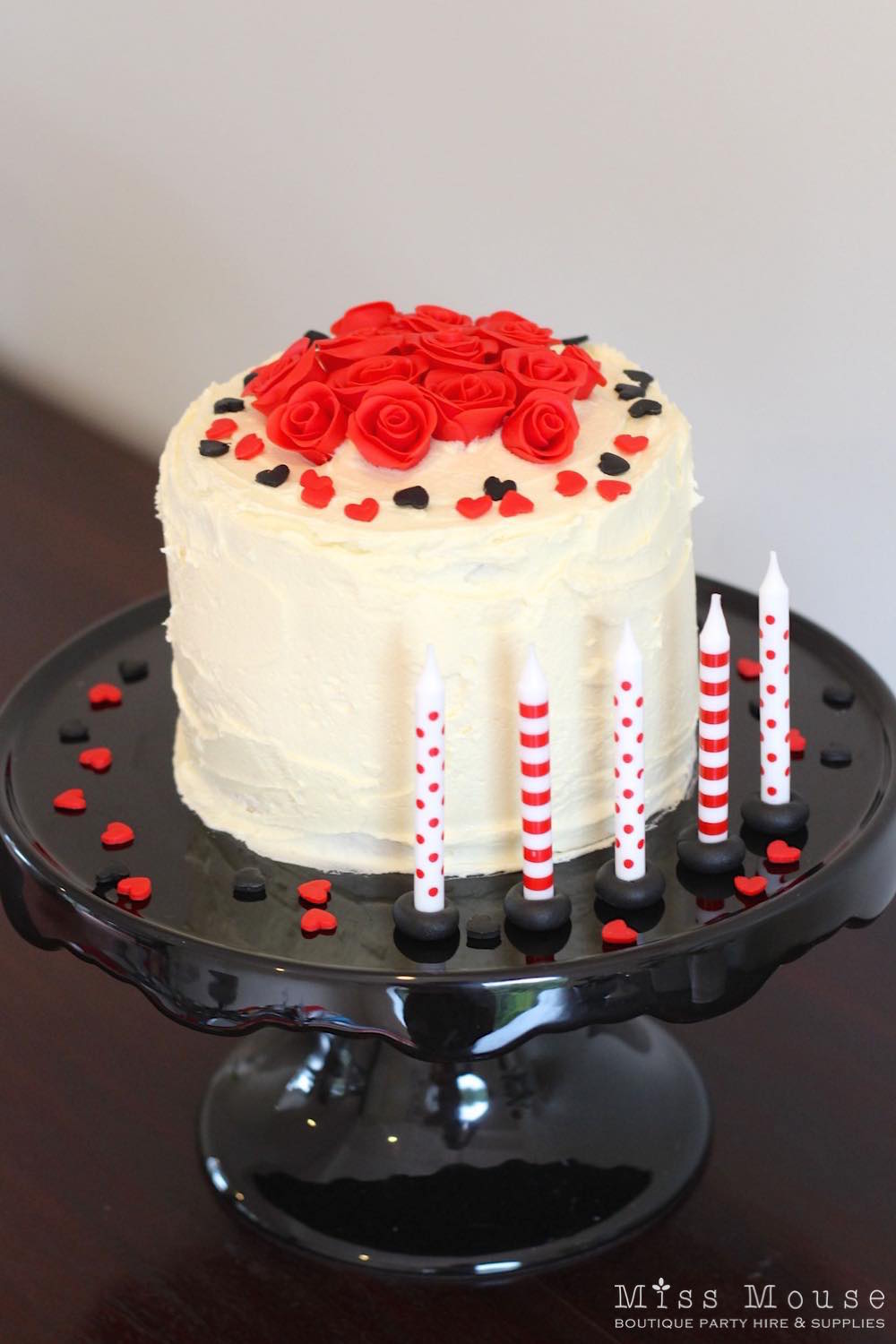 The fondant icing roses were made a few weeks in advance, dried and stored in an airtight container. They looked fab!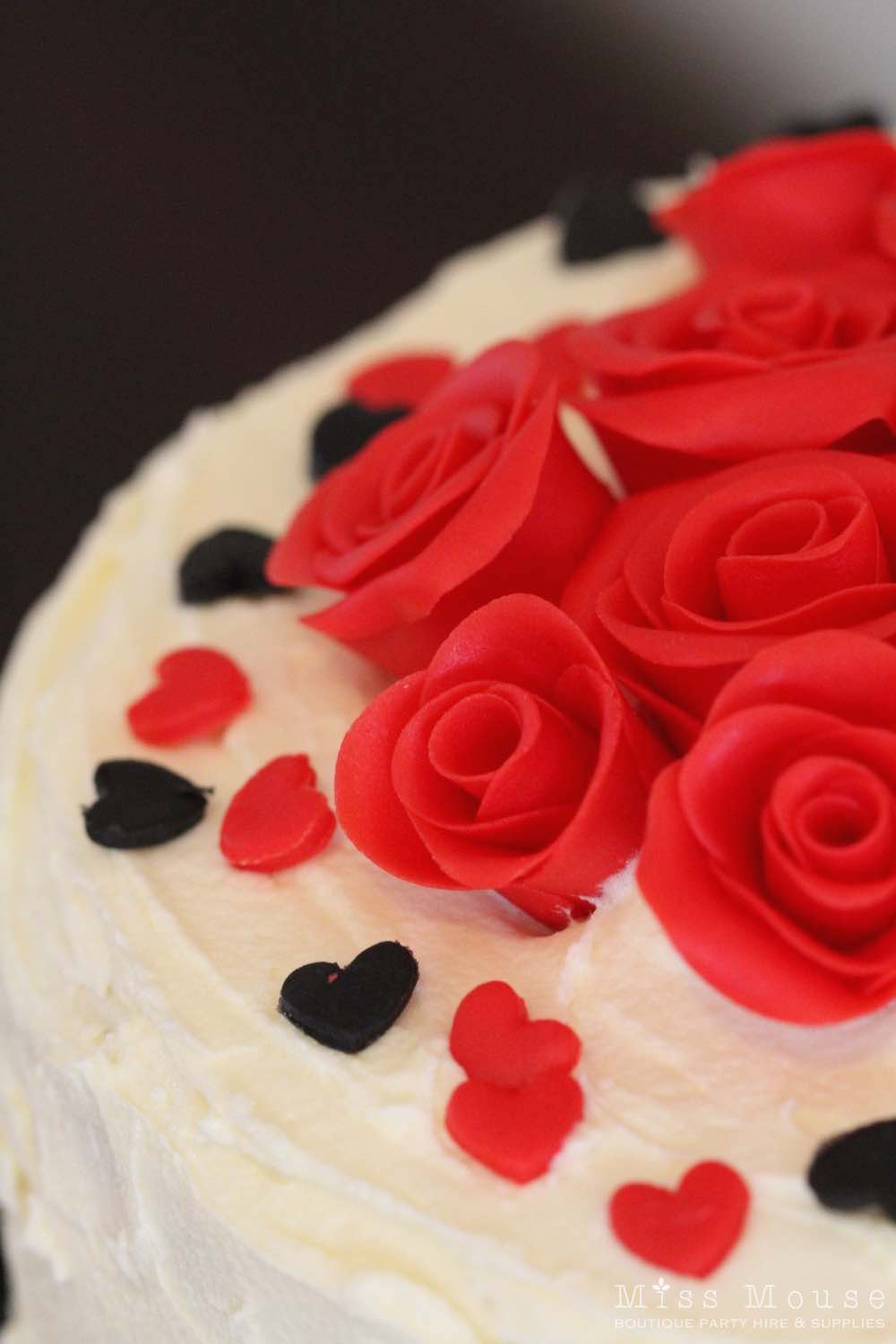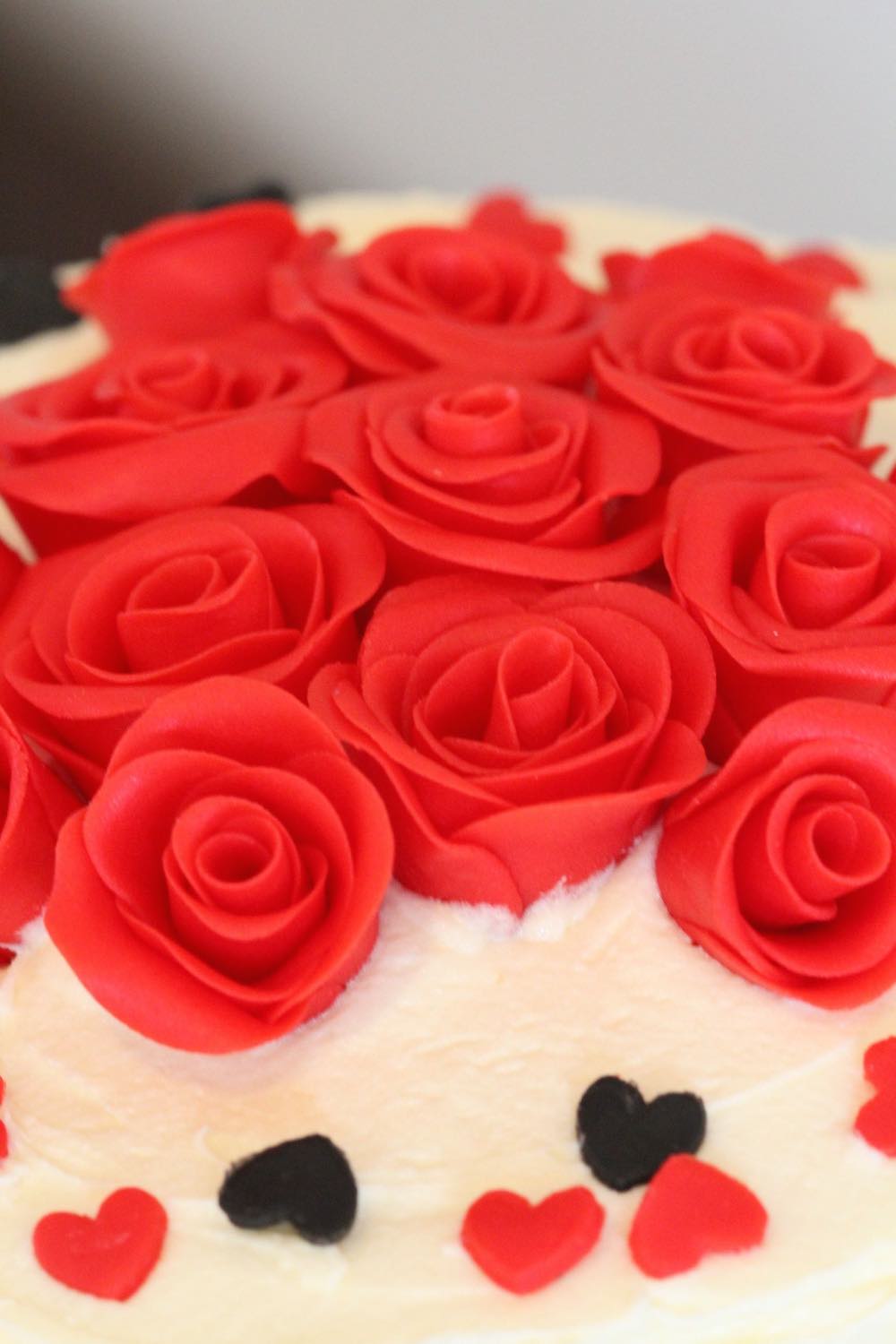 Get the look with these fab party supplies:
Paper Straws ~ Blue & White Stripe
Scallop Edge Tags ~ White (trimmed down to size)
Alphabet, Numbers & Symbols Stamp Set
Rococo Noir Medium Cake Stand (for the birthday cake)
12″ Disposable Decorating Bags
Mini Fondant Cut-Outs Set ~ Hearts
Candles ~ Candy Red Stripes & Spots
Cupcake Toppers ~ Candy Red Hearts
Credits:
Party Supplies: Miss Mouse
Photography & Copyright: Miss Mouse