Easter is almost upon us and it is time to think about some Easter activities for kids. One idea is to set up a little morning or afternoon tea for your children (and their friends) which includes some fun activities. You could start with an Easter egg hunt and follow this up with a snack with Easter cupcakes and other Easter treats followed by some Easter crafts for kids.
Last year, we set up this very cute Easter party for our girls which I thought you would all love to see. Hopefully there are some elements there to inspire you for this Easter. We used one of our girls craft desks and covered it with some thick wrapping paper as it was a bit tatty. We used Table Runner / Gift Wrap ~ Clover Aquamarine to cover the table but there are lots of our pretty papers that would look great too; you can see them all here.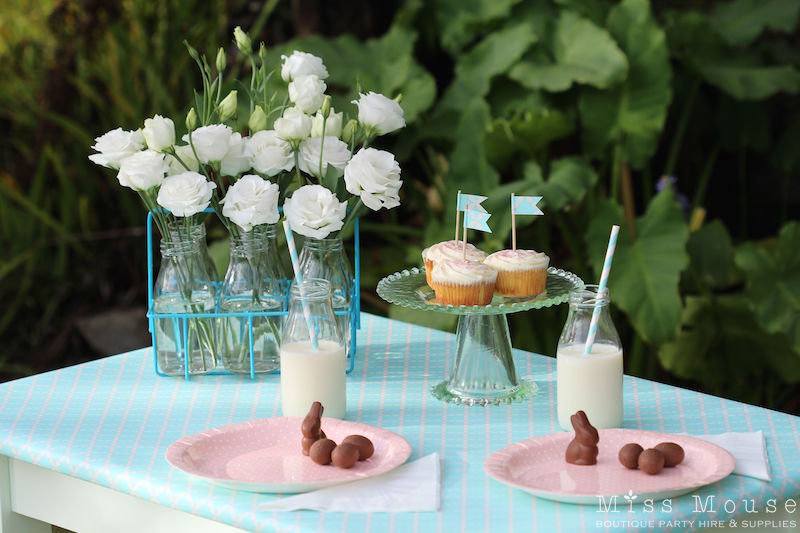 Onto the table went our gorgeous Paper Plates ~ Sweet Pink Dot, Mini Glass Milk Bottles filled with milk and our Paper Straws ~ Duck Egg Blue and basic Paper Napkins ~ White. The chocolate bunnies are unwrapped Lindt bunnies (LOVE Lindt chocolate) and some unwrapped Cadbury Caramello Cuties (also very yum!). How gorgeous are the flowers! We used mini milk bottles as vases and placed them in our Milk Bottle Holder ~ Turquoise.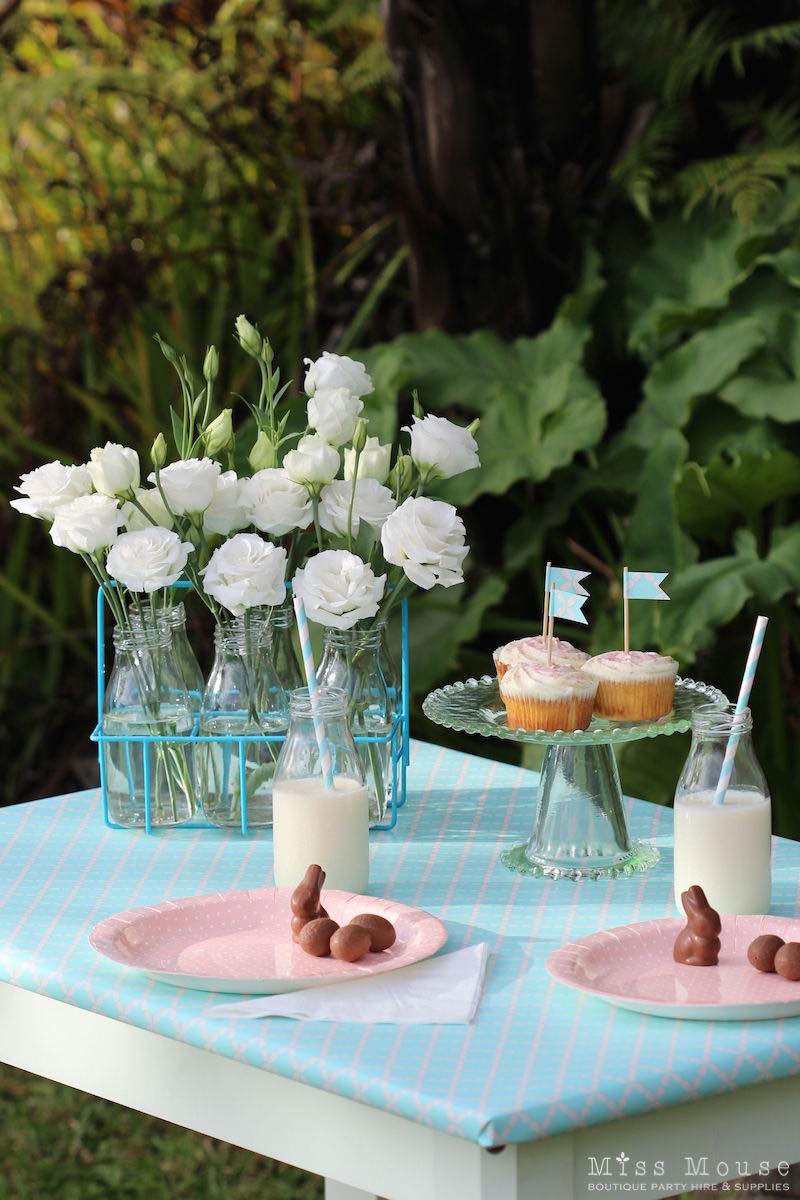 The Easter cupcakes were the very delicious Lemon Diva cupcakes with a cream cheese icing. These were placed on a green glass cake stand, decorated with pink sugar sprinkles and cupcake toppers that I made from small bamboo sticks and some left over wrapping paper. We have a full range of naturally coloured cake decorations so you can feel somewhat better about the sugar overload this time of year brings. It is a delicious cupcake recipe and they looked super yum.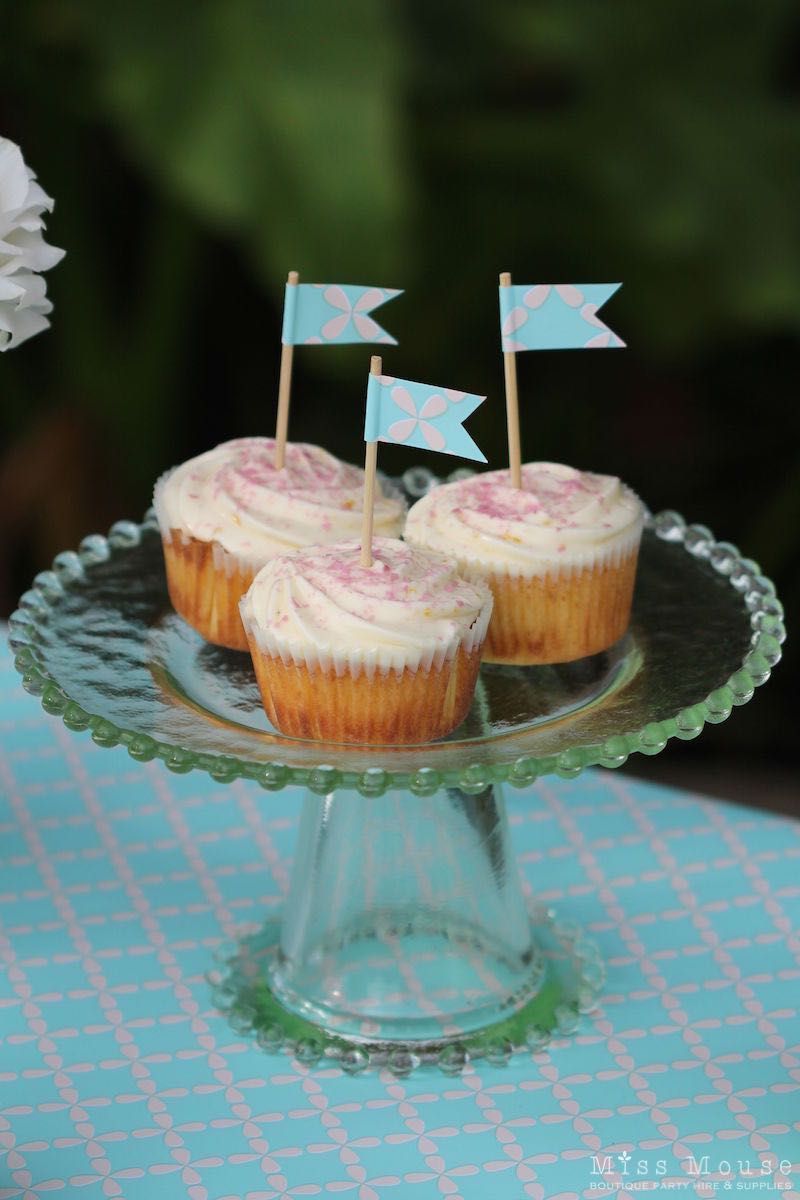 No Easter celebration is complete without an Easter Egg Hunt! We used our Easter Egg Hunt Kit and placed those around the lawn for our girls. When they had collected all the eggs, we stacked them up in our Whitewash Wooden Crates which were lined with our Paper Napkins ~ Sweet Pink Honeycomb & Dot. The Easter Egg Hunt Kit available this year is a bit different with lots of gorgeous neon tones ~ stay tuned as next week we will show you how to style our new style Easter egg hunt kit and provide you with some ideas for Easter egg hunt clues too.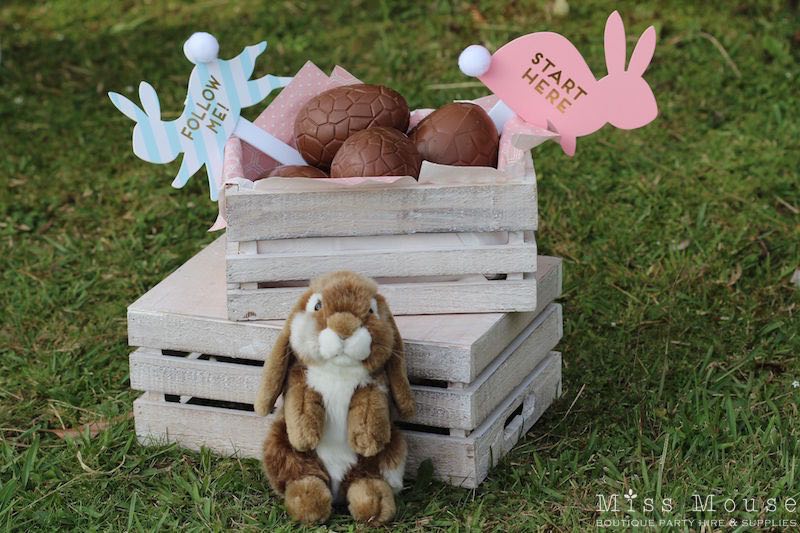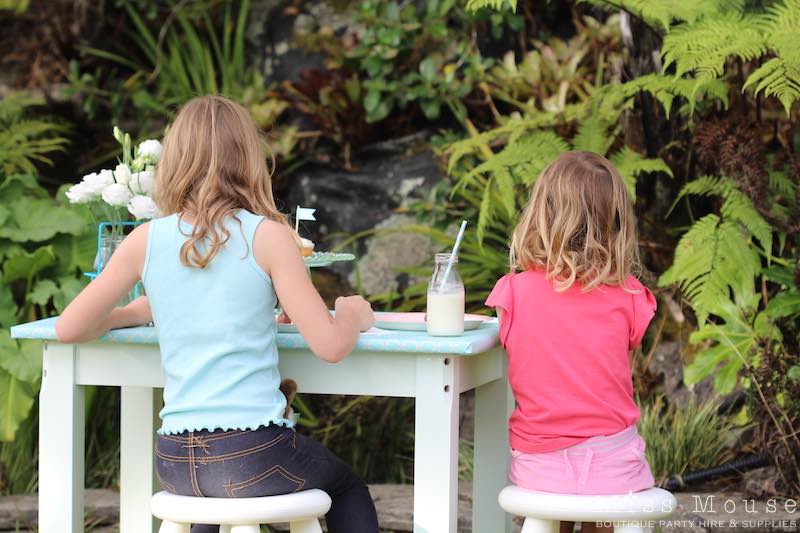 So, that was Easter 2014 and I still love the simple pink and duck egg blue tones. If you have a household of boys then I can highly recommend the Duck Egg Blue Houndstooth range. This range complements the Sweet Pink Dot range perfectly if you are looking to include some pink also.
Happy Easter preparations everyone!
x Kylie
Credits:
Photography, Image Copyright, Party Supplies & Styling: Miss Mouse Limited