Some easy ideas for cupcake decorating this St Patricks Day! St Patricks Day cupcakes are a fun idea as you can take them in to work for morning or afternoon tea or send your children off to school with special cupcakes for the day. Or, it might be a fun activity you can do with your kiddies after school.
A vanilla cupcake recipe is a great base as you can use this as is or add in some green food colouring to give you green cupcakes. You can also add green food colouring into a vanilla buttercream for lashings of green icing. If you would like to avoid food colourings then there are some neat ideas for cupcake decorating which will add a bit of Irish to your cupcakes. Here are some of my very simple cupcake decorations for St Patricks Day (you will need to forgive my buttercream swirls as I had completely lost my cupcake decorating mojo when making these).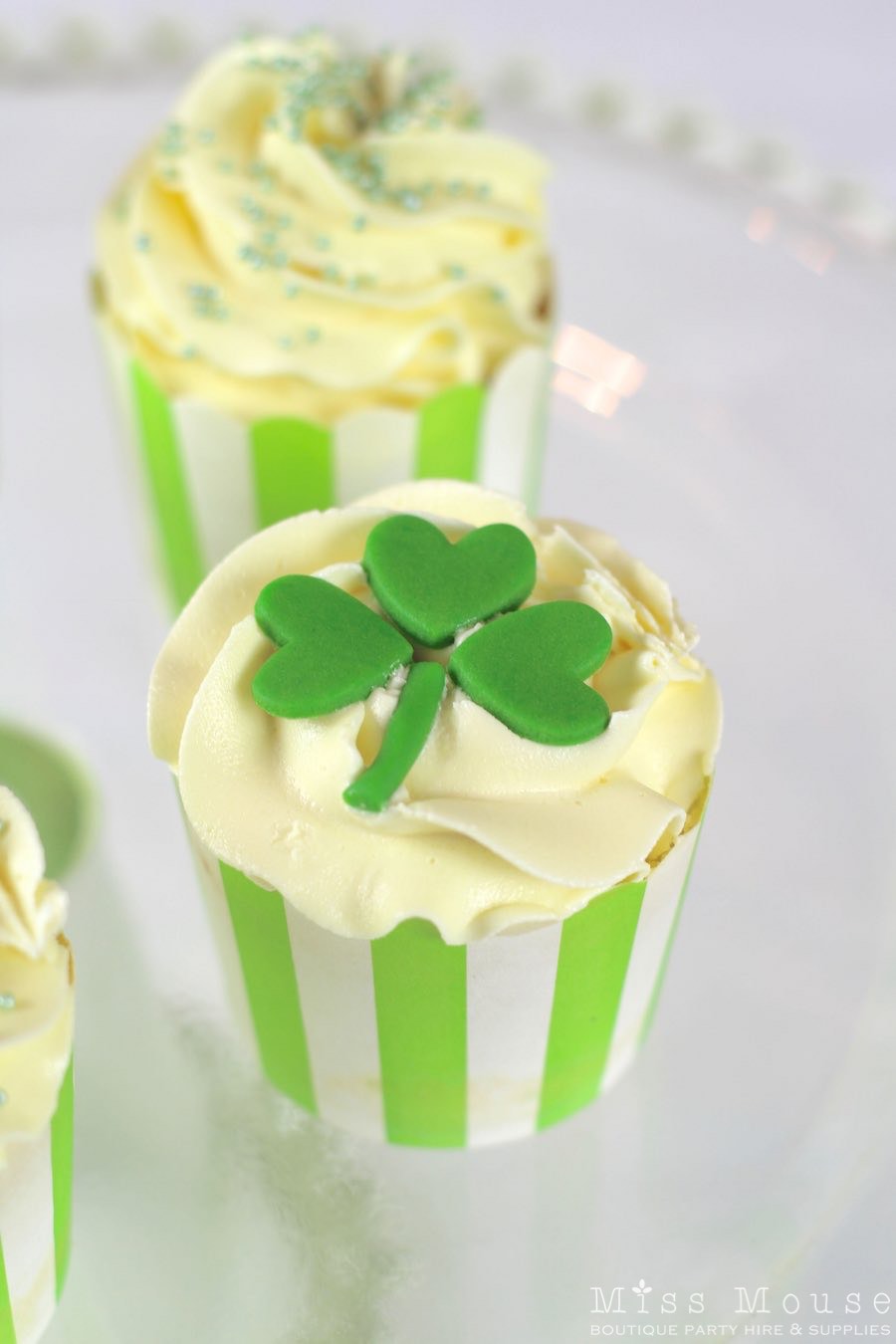 Image Copyright: Miss Mouse
I used our Apple Green Stripe baking cups to bake the vanilla cupcakes in. These are great as they are freestanding so you can pop all of your cupcakes onto baking trays and then into the oven at once. When cooled, I made up my favourite vanilla buttercream recipe and then added the swirls to the cupcakes. For the cupcake decorations, I used green sprinkles on some of the cupcakes and also made up some three leafed shamrocks using green coloured fondant icing and some mini heart fondant cutters. The heart cutters were perfect for creating the shamrocks. And don't the cupcakes look great on our green Glass Cake Stand!
My essential baking supplies for this cupcake decorating project were: Baking Cups ~ Apple Green Stripe, 12″ Disposable Decorating Bags, Wilton Open Star Tip 1M, Mini Fondant Cut-Outs Set ~ Hearts, Glitter Pearls, Fondant Icing ~ Green.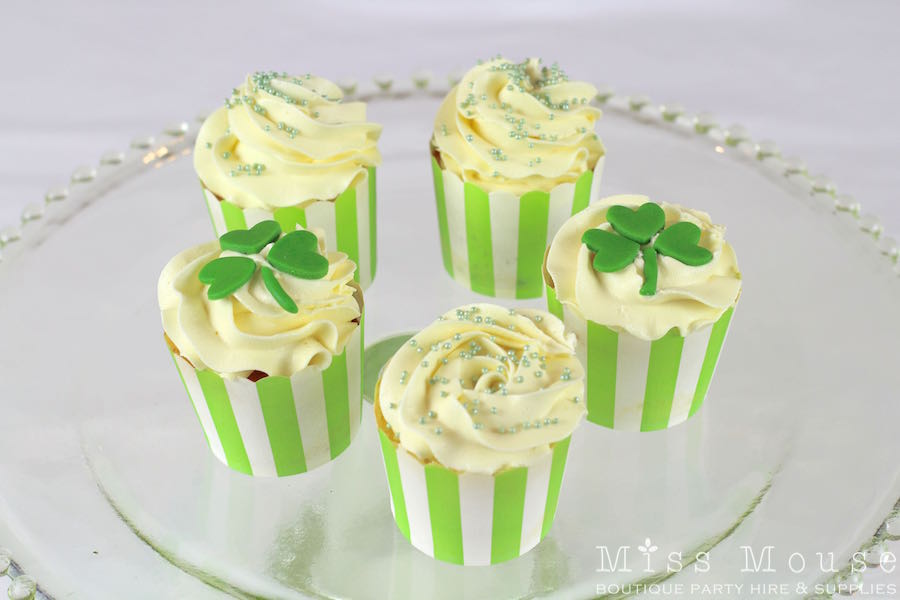 Image Copyright: Miss Mouse
These were delish cupcakes, best served with green serviettes and a Guinness (or a nice cup of tea)!
Looking for further St Patricks Day ideas? Green decorations, St Patricks Day food and drinks are always a hit. Here are some of my favourite green party supplies, some of which we will share with our children on Saint Patricks Day.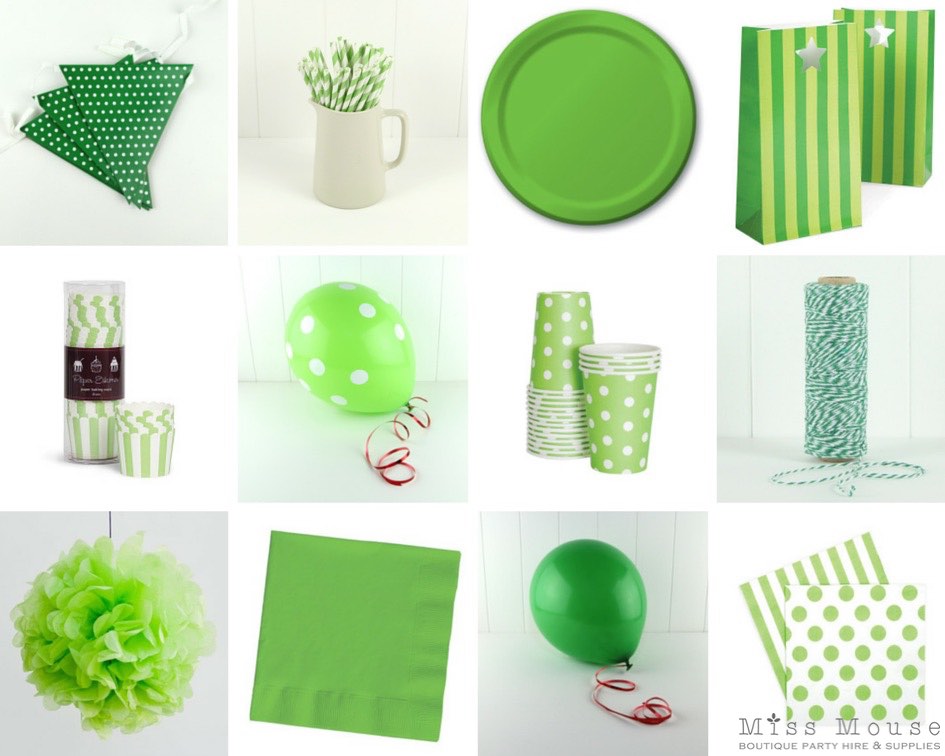 Left to right: Top: Polkadot Bunting Flags ~ Green, Paper Straws ~ Green & White Stripe, Paper Plates ~ Citrus Green, Party Bags ~ Apple Green Stripes. Middle: Baking cups ~ Apple Green Stripe, Printed Balloons ~ Green Spotty, Paper Cups ~ Apple Green Polka Dots, Bakers Twine ~ Green 90m. Bottom: Pom Pom ~ Citrine, Paper Napkins ~ Citrus Green, Balloons ~ Green, Paper Napkins ~ Apple Green Spots & Stripes.
Happy St Patricks Day everyone! May the luck of the Irish be with you!