Spring has arrived which means summer is just around the corner! Summertime parties are so much fun as there is great scope for outside parties and summer fruits are in abundance making party food that little bit easier. We have some awesome party invitations which are perfect for your summertime celebrations be they for adult birthday parties and events or kids birthday parties. Some fun options for less traditional baby showers too! The watermelon and popsicle invites are very summery and they join our always popular confetti invites which we think embody all that is an NZ summer – hot, colourful and fruity! We have also included a great option for an outdoor movie night too!
Watermelon Party Invitations
We LOVE these watermelon invitations! They are so cute and, of course, perfect if you plan to serve up some of our beautiful NZ watermelon as your party food. A watermelon party is a great option for a summertime party! We've used our Preppy confetti and tassel garland to style with the invitations in the image below. You can view the full range under our watermelon party theme and you might also like to check out the watermelon party I styled for my daughter last summer.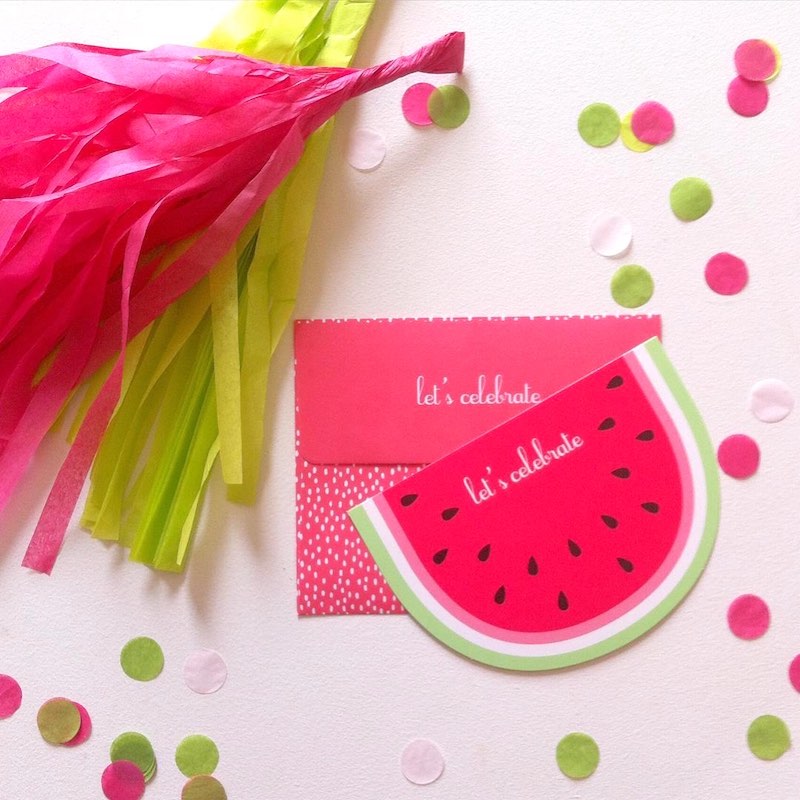 Popsicle Party Invitations
Who doesn't love a cold popsicle over these hot months! These popsicle invitations are so on trend featuring a mix of pastels, red, metallic gold and sprinkles. The invitations work perfectly with our Sprinkles range by hiPP Australia and our I-Scream-U-Scream table runner / gift wrap. You can view our full range under the popsicle party theme.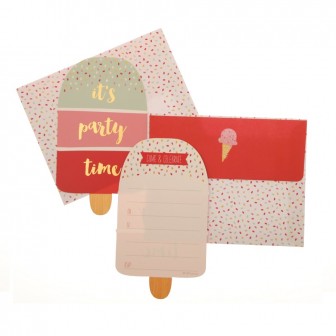 Confetti Party Invitations
Our confetti invitations are such a popular choice for a huge range of events. They feel bright and fun, everything that a summertime party should be. Confetti styles are always popular, you can view our range here. These are a really nice invite if you are planning a Mexican fiesta party.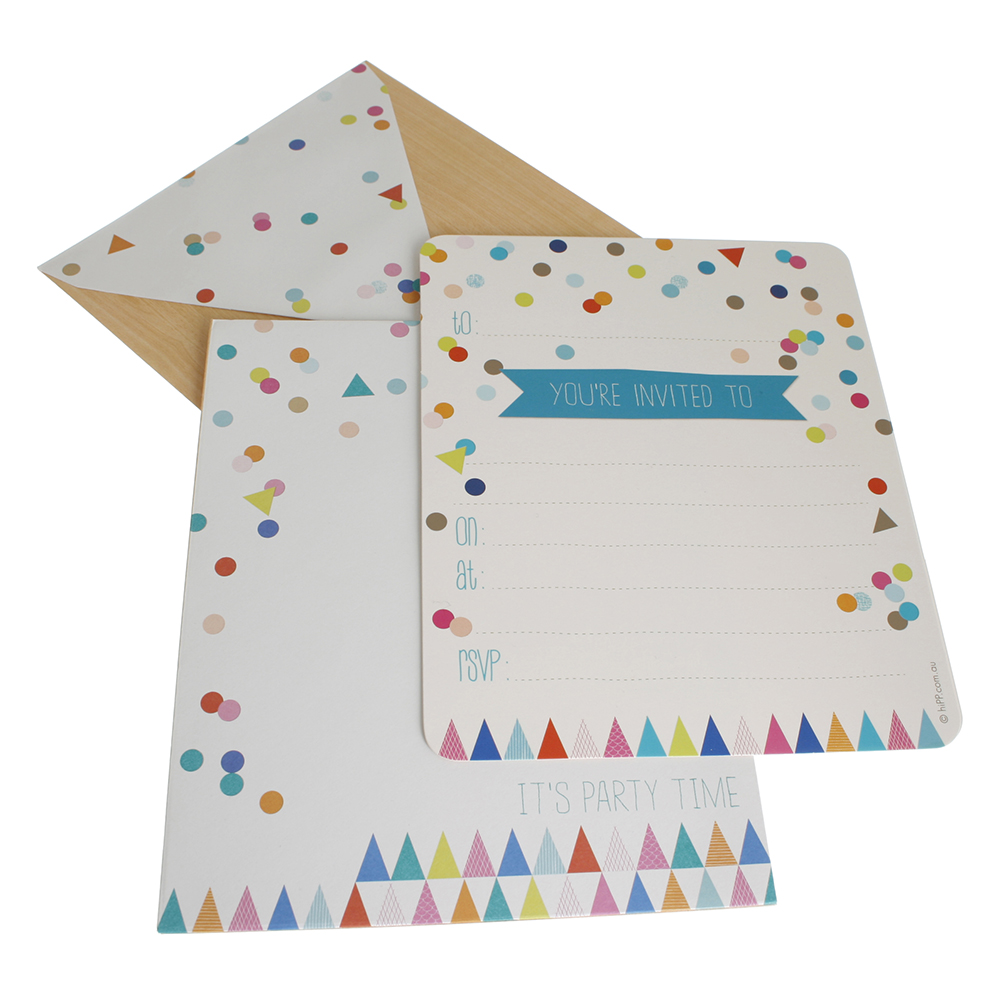 Movie Night Party Invitations
An outdoor movie theatre is a very cool option over summer when the evenings are warmer and longer. You can really set the scene with our black and gold confetti invitations. Your outdoor movie theatre could be filled with beanbags and comfy chairs, the smell of a great sausage sizzle and simply decorated with some black and gold balloons. Our Movie Night party theme is full of great inspiration! Another option would be to go for a bright Hawaiian Luau theme, in which case the watermelon invites could be a good option.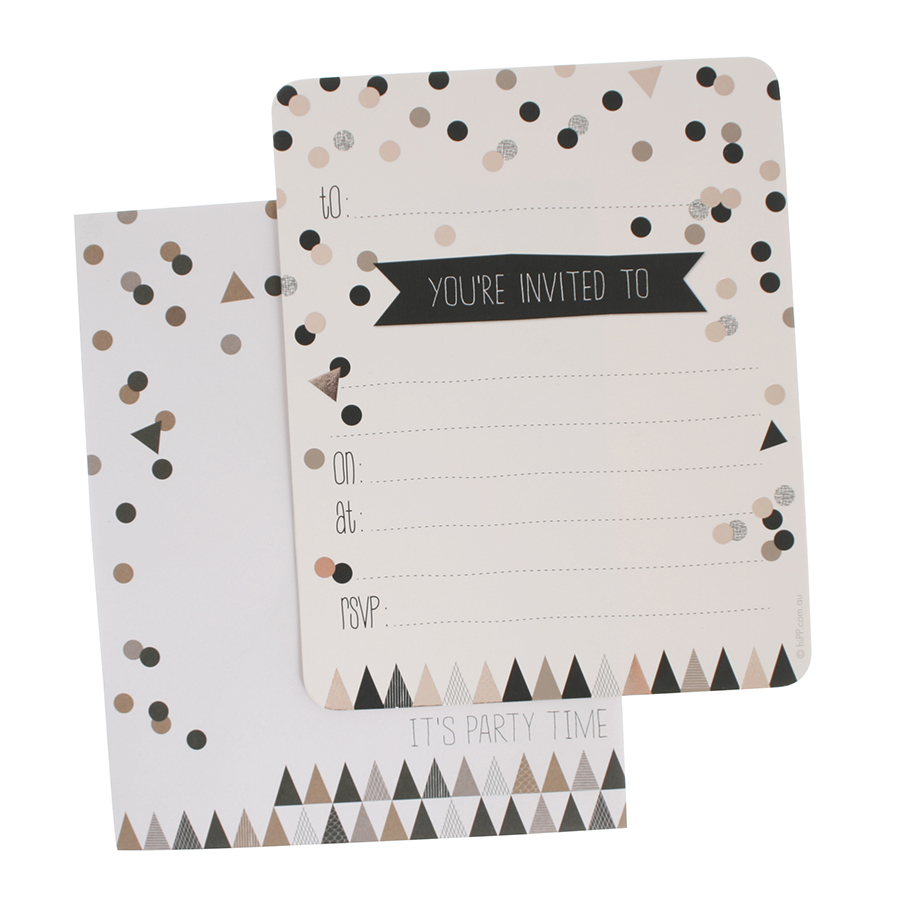 Summertime Party Tips!
Our top tips for summertime parties are:
Have a back up plan in case the weather turns for the worse.
SUNBLOCK! Regardless of whether it is a kids party or for adults, when the sun is shining, your guests need to have access to sunblock if they are going to be outside.
Have some shade available if you are going to be outside. This might be via umbrellas, gazebos or fabulously big shady trees. Local parks and beaches can be great places to have a get together as there are often big trees you can set up under. It's a good idea to let your guests know if you plan to be outside so they can bring a hat and sunglasses.
Lots and lots of cold drinks and plenty of non-alcoholic options.
Fruit makes great party food as it is full of water, just what you need on a hot day.
Take care with your party food options. From a food safety perspective, chicken pieces, cream and the like will not do well if they are out in the sun. Buttercream icings can also really struggle with heat and humidity too. Keep your perishable party food in chillers or chilly bins for as long as possible.
All of the party invitations we've shown above are available from our online party shop. You can click here to view our full range of invitations. They all have the option of purchasing them singly too so you can purchase exactly what you need or mix and match various invites for your event.
Happy party planning! We have lots of party supplies arriving every week so check back in soon to see what great options we have available for your next event.
x Kylie