We all love to party but sometimes the kids birthday party ideas and budget don't agree… never fear, there are so many neat things you can do which will have your party looking super stylish regardless of whether it is a kids birthday party or grown up event. Here is our first example of a stylish party which you can create in your own home and is really gentle on the budget too.
This fiesta party was put together by Michelle for her 3 year old son and is the focus for our budget friendly kids birthday party ideas topic this week. When you enter parenthood and start on the journey that is kids parties, it is a really good idea to start putting together a few key items that you can use time and time again. One of our most recommended kids party staples are mini glass milk bottles. These sturdy little bottles can be used time and time again (reducing the cost of purchasing paper cups each party) and they can be decorated and named quite easily too. Another item worth investing in is a nice cake stand as these really make your homemade cakes look that bit more swish (and making the cake yourself is usually the most economical way to go). Alongside this, a collection of nice white platters and bowls will see you through many kids parties for years to come. Our last recommendation is to look after your party supplies. Get yourself some plastic storage containers and lay any unused party items and used party decorations in there as, chances are, you will have a reason to use them again over the coming years which will save you from repurchasing.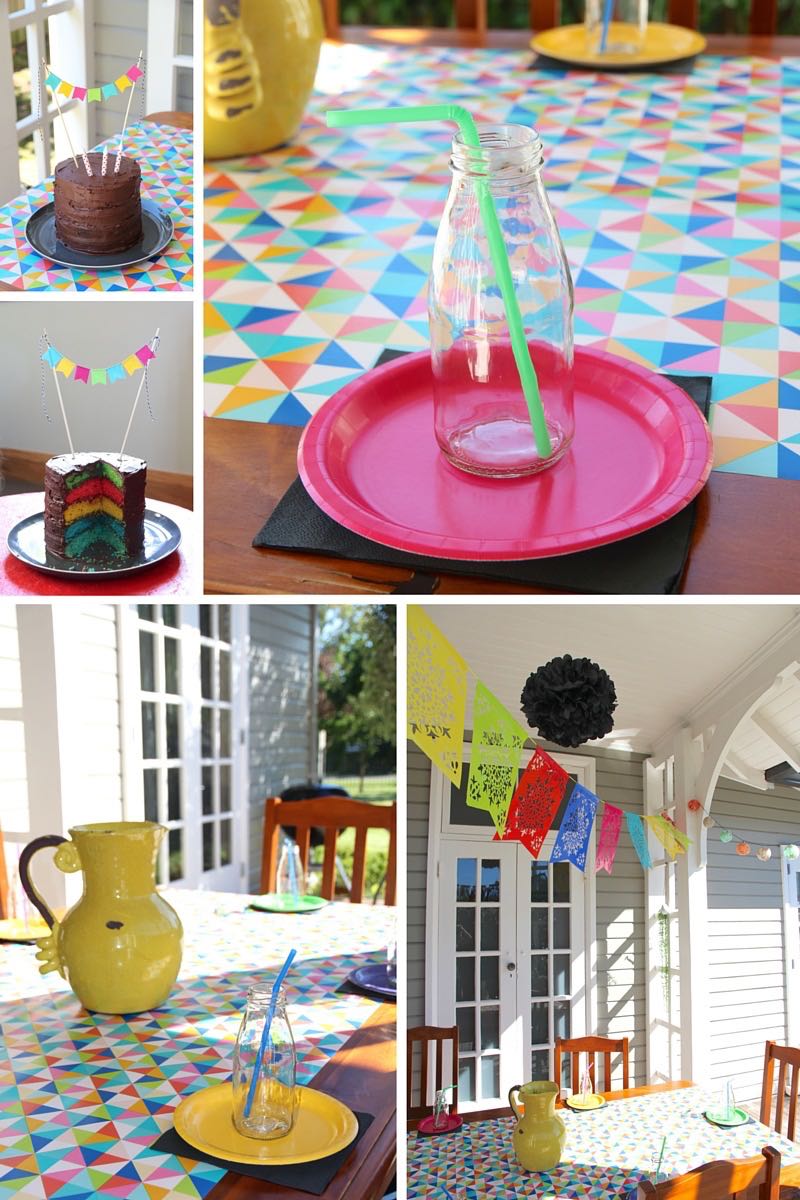 The fiesta party featured was for 6 party goers but the packs of plates and napkins come in bigger quantities so you could easily increase the number to 12 without much increase in cost (you would only require a few more mini milk bottles).
Get the look for a total cost of $70.85, prices accurate at time of publishing (only $58.05 if you already have mini milk bottles on hand which Michelle did; $50.10 if you do not need the bakers twine). Not included are 2 bamboo sticks which you will need to make the cake bunting but these can be picked up quite cheaply from any supermarket and often something you would have on hand.
A fiesta themed party is a great option for the budget conscious as it is essentially a bright mix of colours. This means you can use up many of the left over party supplies you've collected over the years and they will not look out of place. Bright, block colours work well for this theme so check your own stash of party products and see what you might be able to reuse before shopping. Lots of colourful party food will complete the look!
Many thanks to Michelle for sharing her fiesta party images with us. To see more options and kids birthday party ideas, check out our fiesta party theme in the grown up party ideas section of our online shop (clearly a great party theme for kids too!).
If you'd like some other budget friendly kids birthday party ideas to feature on our blog, let us know what party themes you would like featured in the comments below and we will do our best to provide some inspiration along with costings.
All imagery copyrighted to Miss Mouse.