You don't need to look too far to find gorgeous party supplies and inspiration for a mermaid party. The fabulous Melanie from Melanie Layton Photography created this absolutely stunning mermaid party for her daughter Chloe's 3rd birthday. Melanie used lots of our party supplies for Chloe's birthday party and she did such an amazing job! Here we share how you can create your own mermaid party.
It all starts with a beautiful party table with a very Under the Sea feel. Melanie layered a few of our table covers and table runners to create a base to the party table. Table Cover ~ Turquoise was placed over the table first, then our Table Runner / Gift Wrap ~ Teal Sketch was placed down the centre. A strip of our Table Cover ~ Pastel Blue was cut to fit and laid over top of the Teal Sketch table runner and lastly some blue netting placed down the middle. Table covers and runners are essential party supplies when setting a party table as they create a great base for which the paper plates, mini milk bottles and party food can be placed.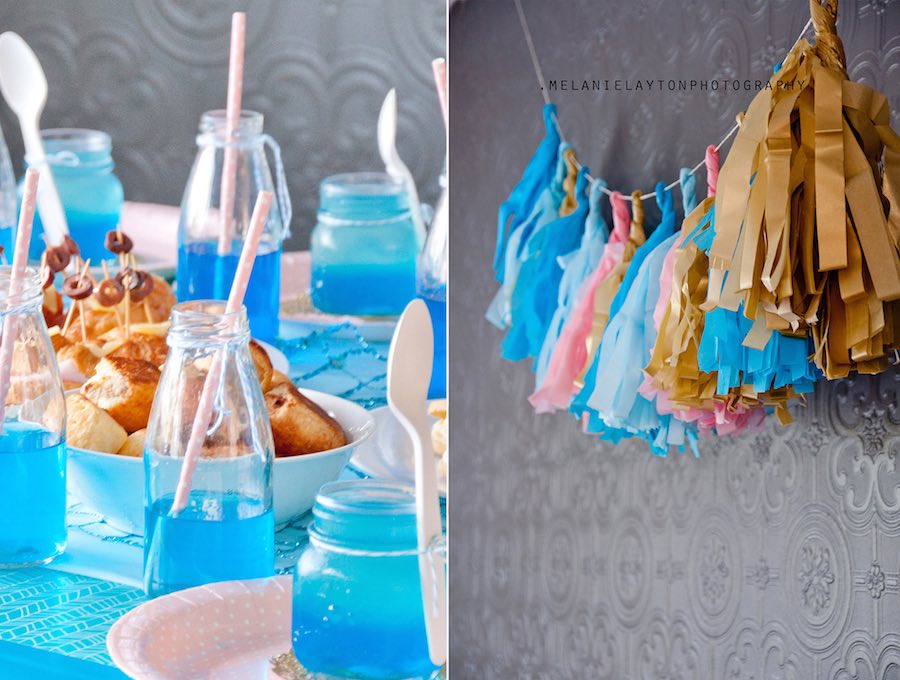 Our Paper Plates ~ Sweet Pink Dot looked amazing against the blues. A gold paper doily was then placed in the centre of the plate and a glass jar filled with blue jelly was placed on top. You can use any small glass jars that you have around your home, otherwise our Ball Mason Jar ~ Half Pint is a great size (and it has pretty embossed detail on the glass too). A spoon was tied to the glass jar using some blue and white bakers twine. The mini glass milk bottles looked great filled with blue juice and a paper straw which matched the plates perfectly.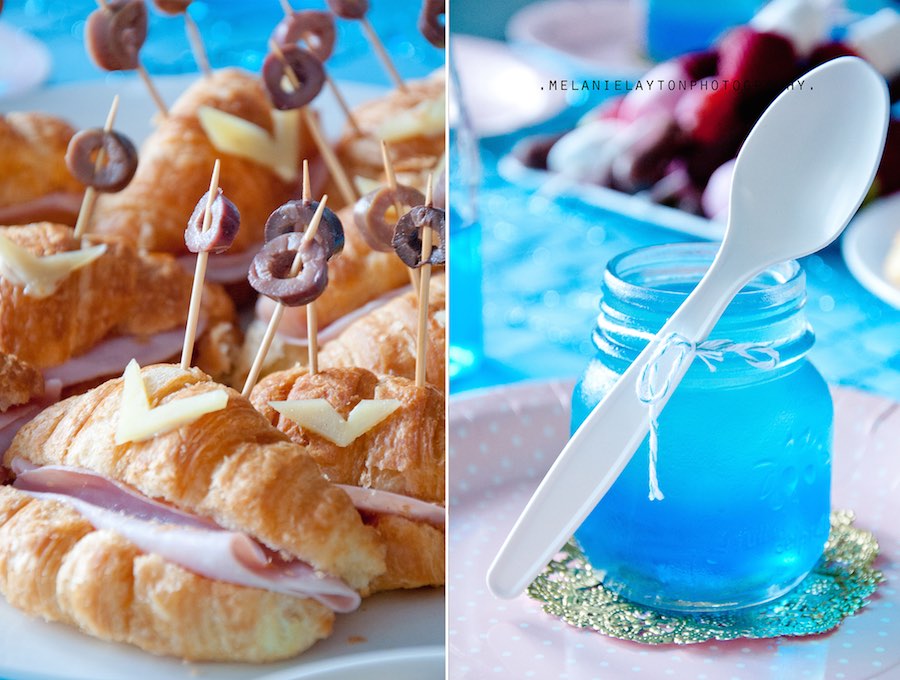 The party food looked amazing. I really love the ham and cheese croissants which were decorated to look like crabs, so cute! And how cute are the fruit kebabs with the chocolate fish on the ends! If you look closely, you can also see clam shell biscuits in the image to the right below.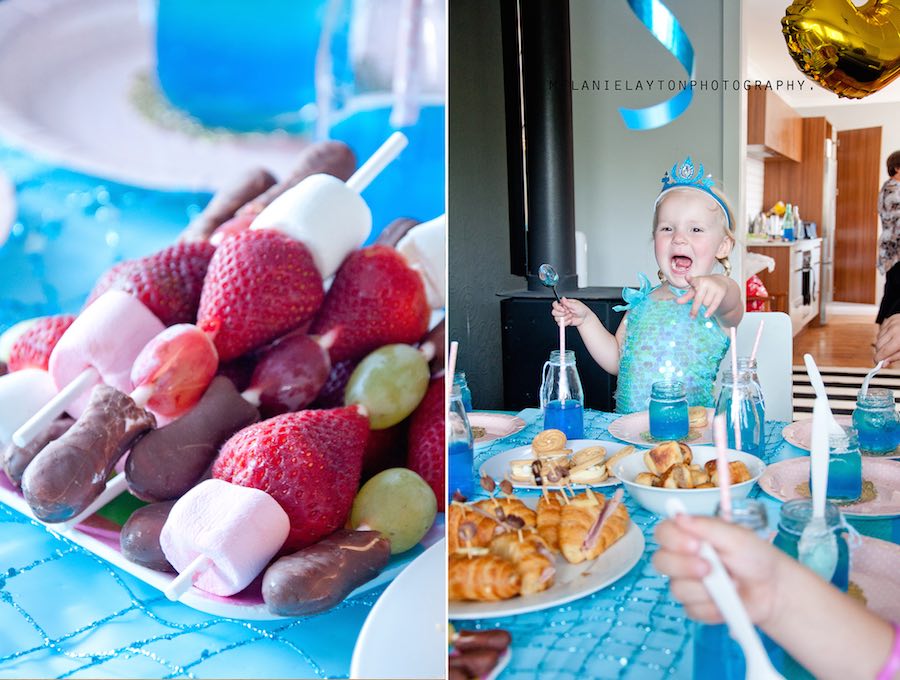 One cannot neglect to mention the birthday cake as it was so lovely. I love the ombre scallop detail on the cake and the pretty mermaid on top (made by Melanie's sister) with the simple gold candles. Melanie also made all of the favour jars herself. The lids were painted various pale blue tones and decorated with under the sea creatures and gold glitter. Each favour jar was filled with shark sweets.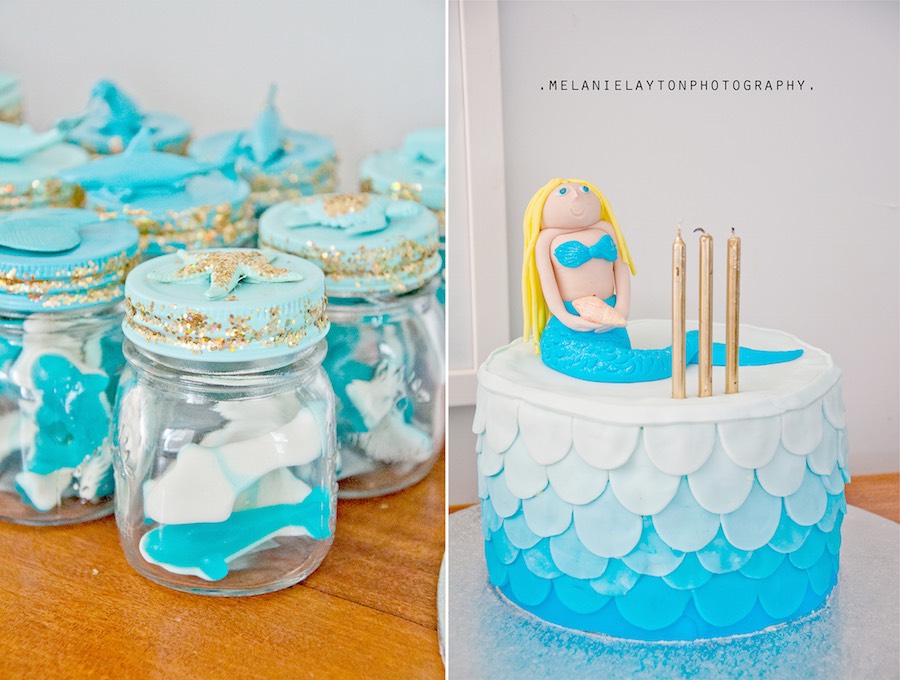 Party decorations were kept stylishly simple with a tassel garland and large gold foil balloon. Melanie made the tassel garland herself so that she could coordinate the colours perfectly. The whole party came together beautifully and the kiddies looked to be having a great time too.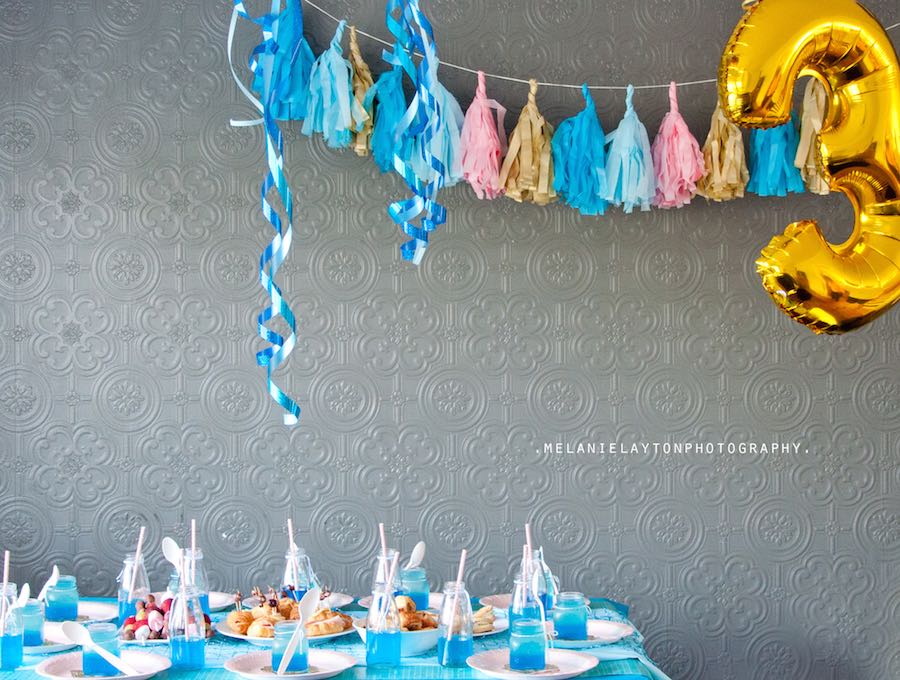 I hope you have loved this party as much as I do. I really liked the mix of bought party supplies and party items which were hand created to suit the theme.
Credits:
Party Supplies: Miss Mouse
Photography: Melanie Layton Photography