A rainbow party is a very popular party theme and we've had a few rainbow party supplies arrive recently so thought it was a good time to share some rainbow party ideas with you!
A rainbow party needs lots of colour and these are typically red, orange, yellow, green, blue and purple. Stripes and spots are both popular as are blocks of those key colours. Because rainbow party supplies can be very bright, it is a good idea to use a white table cover as the base for your party. You can then add a rainbow themed table runner through the centre and layer your tableware on top. Our Rainbow Stripe table runner is one of our most popular rainbow party supplies but the Madame Butterfly table runner is also a popular option too. Another lovely option is the Table Cloth ~ Toot Sweet Spotty with its rainbow confetti styles on a white backdrop.

We have a fantastic range of high quality (and wallet friendly) block coloured rainbow party supplies nz. Note that these block coloured items do not contain any pink as we know that lots of boys like rainbow parties too but don't want pink! Paper Plates ~ Rainbow, Paper Cups ~ Rainbow and Paper Napkins ~ Rainbow are great choices. If you'd like a bit of pink in there then our block colour Fiesta packs are a great option too.

If your rainbow party ideas are tending more towards stripes or spots then the Carnival Spot range by hiPP Australia is fantastic. This is a popular choice for a rainbow party! Paper Plates ~ Carnival Stripe look amazing on top of the rainbow stripe table runner and you can team these with mini glass milk bottles decorated with rainbow coloured bakers twine and some Paper Straws ~ Rainbow. You could also use our Stickers ~ Rainbow Colour Bar to decorate your mini milk bottles too. One side of the Paper Napkins ~ Carnival Stripes & Spots shows rainbow stripes which perfectly match the plate and table runner (they are from the same range).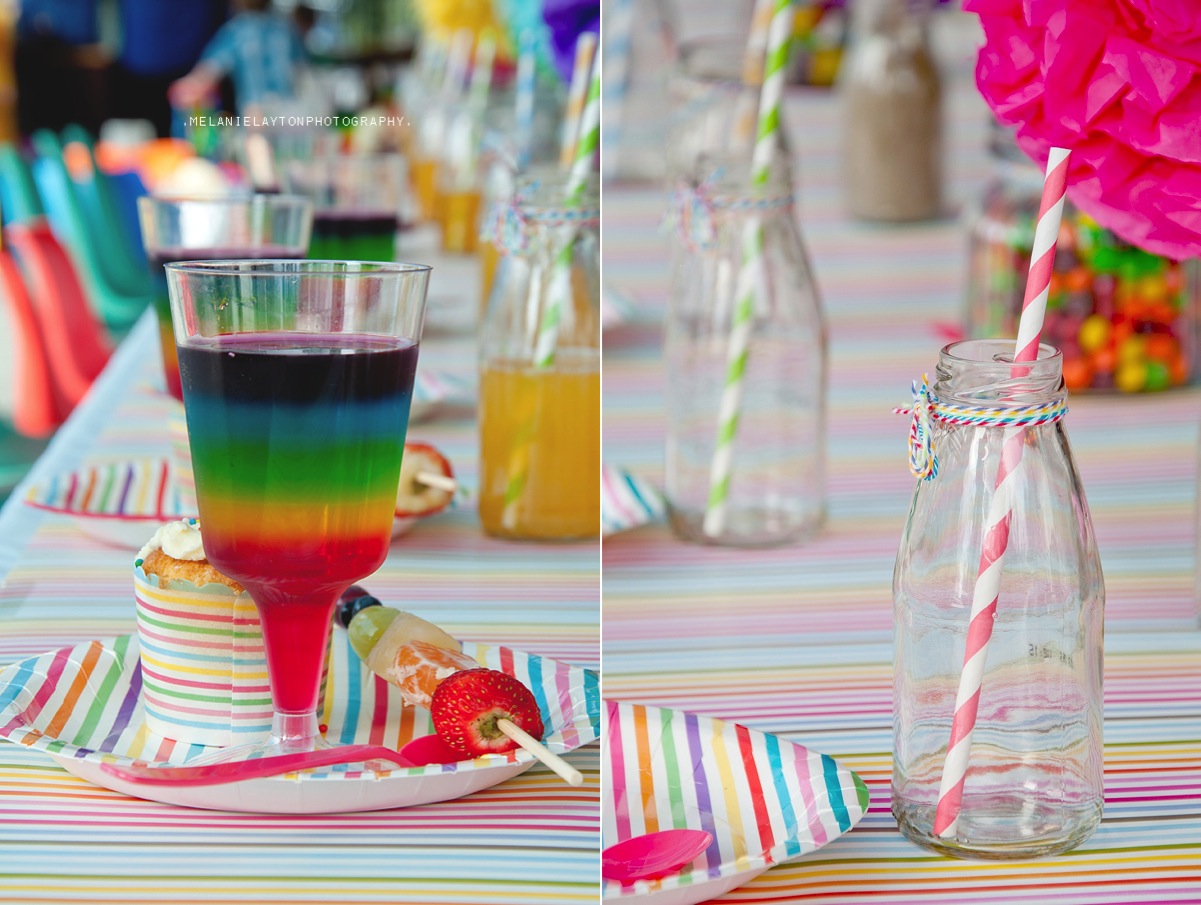 Image credit: Melanie Layton Photography
If you would like a little bit of a carnival flair with your rainbow party them I highly recommend the Toot Sweet Spotty range by Meri Meri. The scalloped details on the plates and napkins add a gorgeous carnival touch but still have a lovely rainbow feel. How neat are the Platters ~ Toot Sweet! They are great serving trays at a rainbow party.


Rainbow party decorations can be as simple as balloons in a mix of rainbow colours (see Balloons ~ Rainbow Mix as we have packs made up which coordinate perfectly with our block coloured rainbow packs) or a Happy Birthday banner in spotty rainbow colours (Garland ~ Toot Sweet Spotty is an all time favourite which is often hard to keep in stock). For a more modern feel, Felt Ball Garland ~ Rainbow is a gorgeous option which can be moved to decorate a bedroom or living space after the party.

Rainbow party ideas also need to consider the food! Rainbow party food can be really fun and easy to get on theme. Think bold rainbow coloured baking cups, rainbow coloured sprinkles, jelly layered in clear glass jars, rainbow coloured fruit on kebab sticks…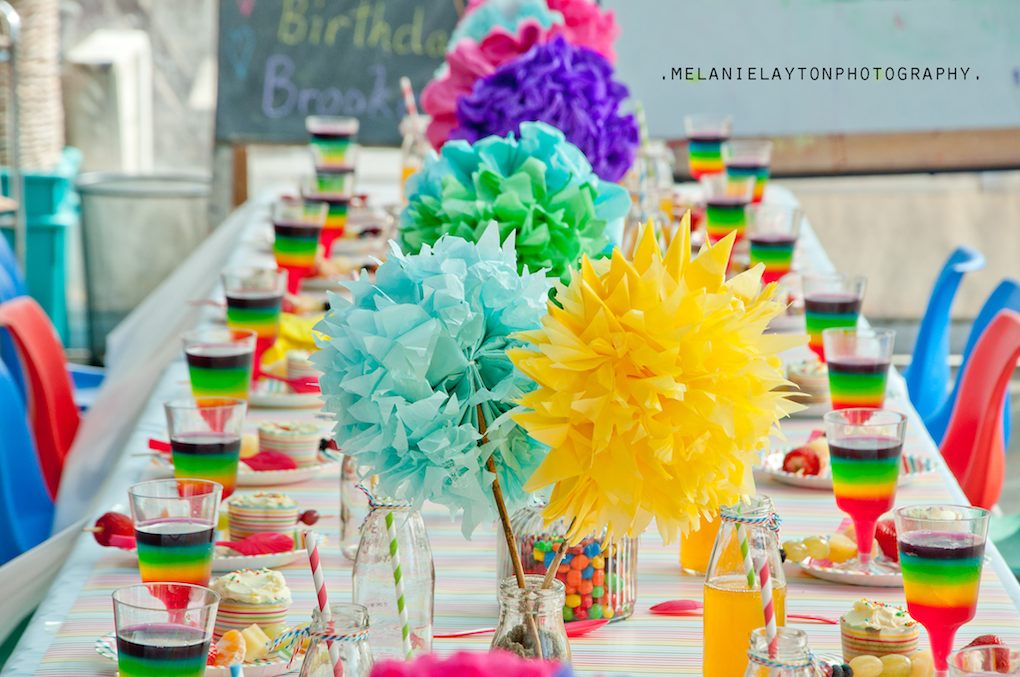 Image credit: Melanie Layton Photography
And for the cake, I highly recommend the Wilton 5 Layer Cake Pan Set (also known as the Easy Layers Cake Pan Set – you can see it in use in our Kids Birthday Cakes : The Layer Cake post) as you can make up a batch of cake batter, divide it evenly across 5 bowls and then colour them to suit. All 5 pans will fit into your oven at the same time and once cooked and cooled, you are ready to go. Simply put a thin layer of icing between each cake layer and then cover the entire cake in icing. For a rainbow cake, I like to stick with a white buttercream icing. You could then add lots of rainbow coloured MnMs, rainbow 100s & 1000s or leave plain ~ your guests are in for a treat when the cake is cut!
And if you are after some simple party bag options, our Cellophane Treat Tubes filled with rainbow coloured MnMs look fantastic!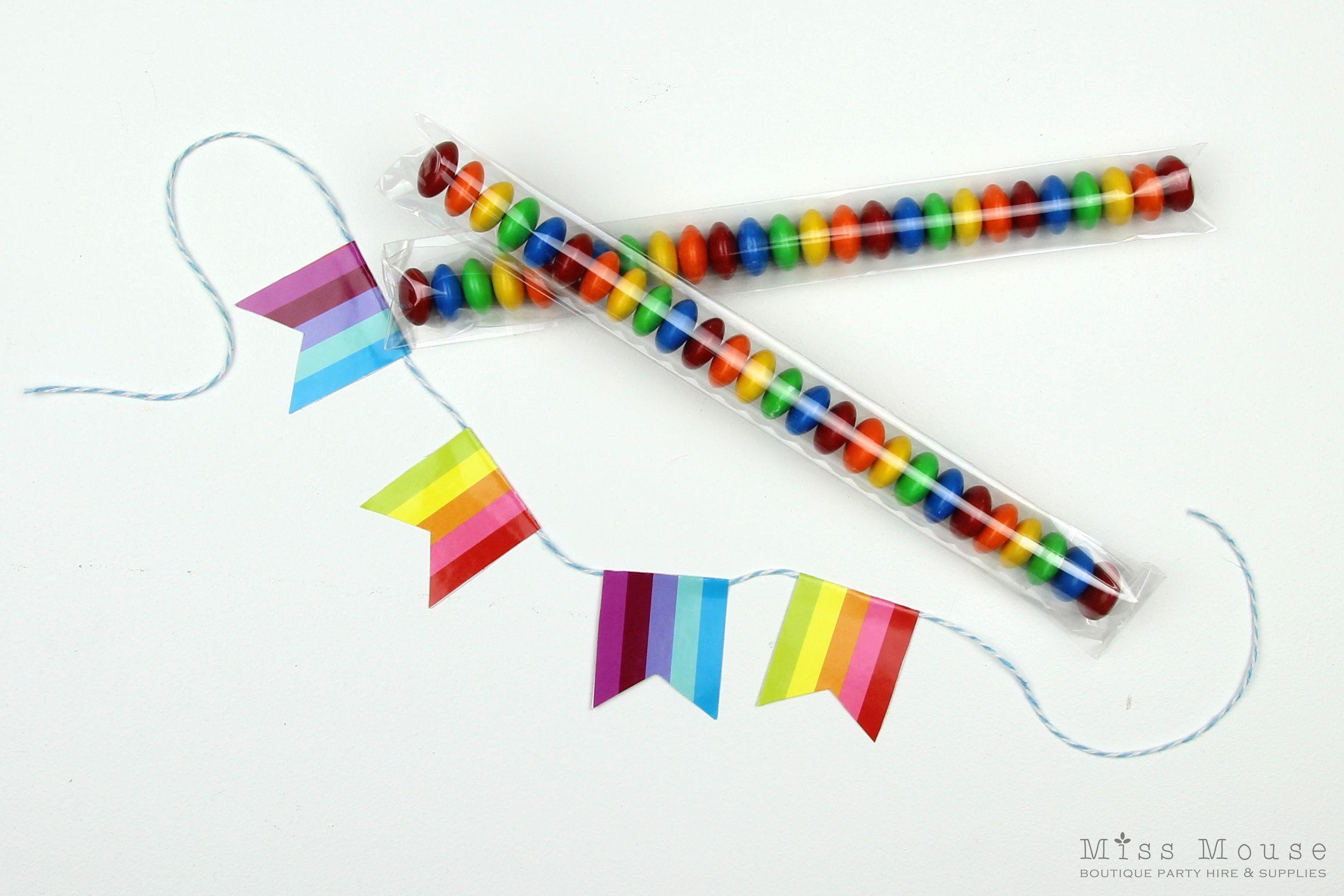 Feeling inspired? Check out our Rainbows & Unicorns post for more inspiration.
Credits:
Rainbow Party Supplies NZ: Miss Mouse