One of our lovely customers, Lisa from Lisa Foster Photography, recently created this amazing mermaid party for her daughter Eva's 3rd birthday. She mixed together many of our mermaid party supplies to create the most stunning party table. The mermaid party theme is a popular choice which is often created using different shades of blue. I love the mix of pink, mint, blue, green and hints of yellow used here; it is a beautiful option for a mermaid party (and we think stunning for a baby shower too!).
Lisa used our pastel pink paper plates and teamed them up with our Toot Sweet Mint paper cups. These paper cups are so pretty with their mint stripes and silver scalloped details.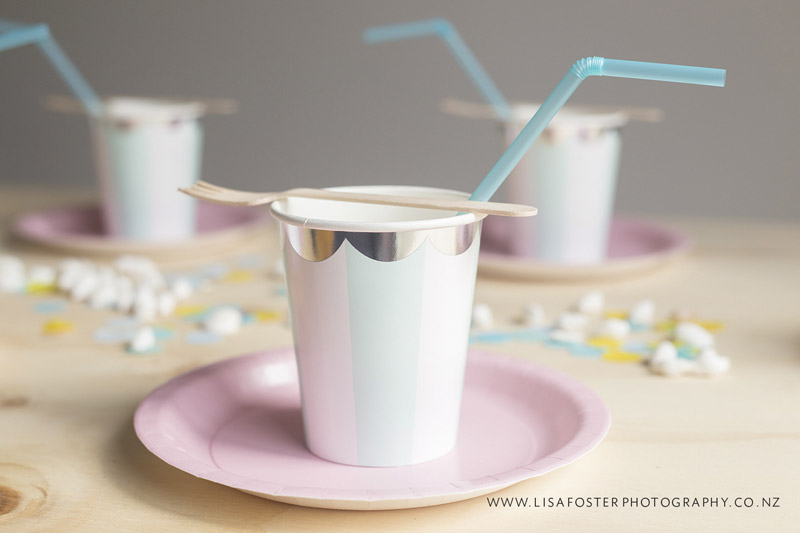 Simple wooden forks were added to each table setting. Wooden cutlery provides a lovely natural element to a party which was totally in keeping with this mermaid party theme.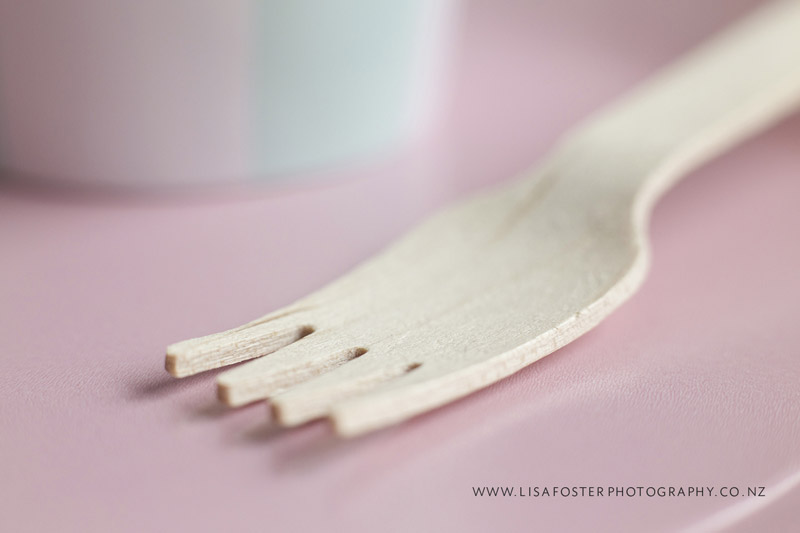 A beautiful mermaid party table was created quite simply but with very stylish elements included. Our poolside confetti was scattered through the middle and small white shells added alongside them to create the look and feel of a shoreline. A gorgeous Heritage Blue Mason Jar was filled with simple daisies at one end and a Heritage Spring Green Mason Jar filled with daisies at the other end. Mason jars always make wonderful vases on party tables.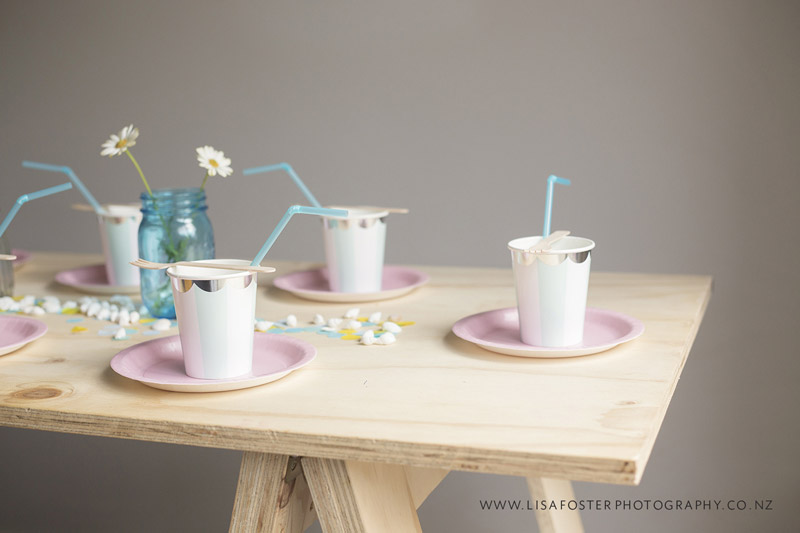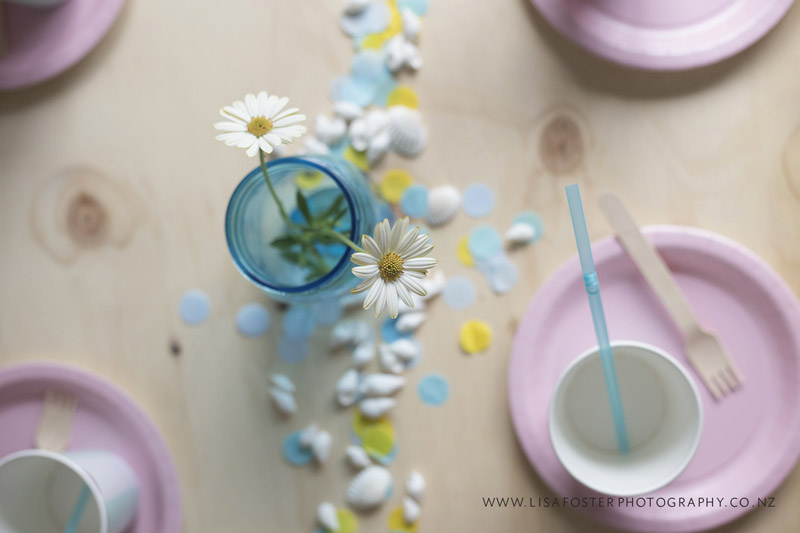 The little bowls of chocolate fish, popcorn and sweets in complementary colours were a lovely addition and we love the shots of colour provided by the confetti and the pretty little shells scattered alongside them.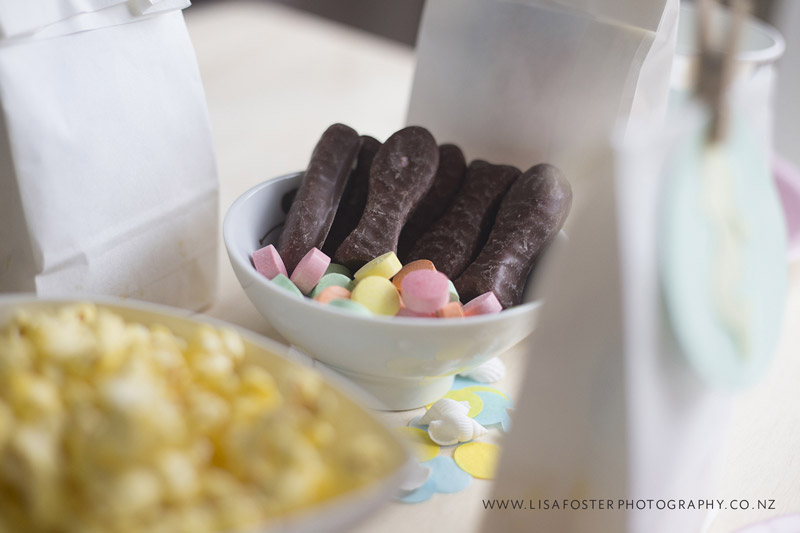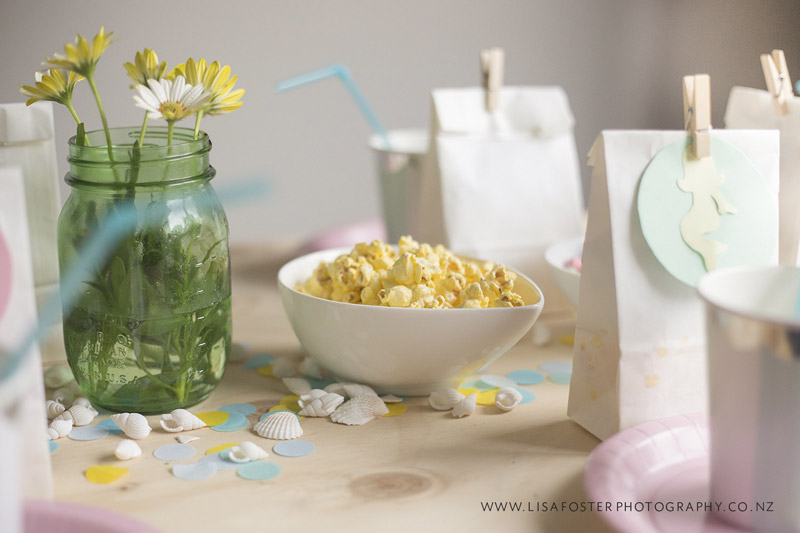 The mermaid themed party bags were created using our white paper bags, mini wooden pegs and pretty mermaid details crafted by Lisa. Inside were beach themed foam stickers, sea coloured balloons, sea shells and treats.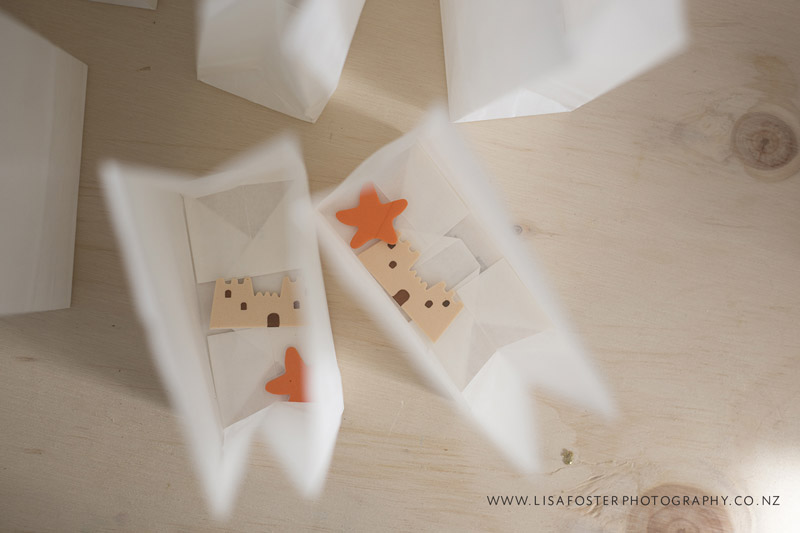 And the finishing masterpiece was the stunning mermaid birthday cake. What a beautiful party table!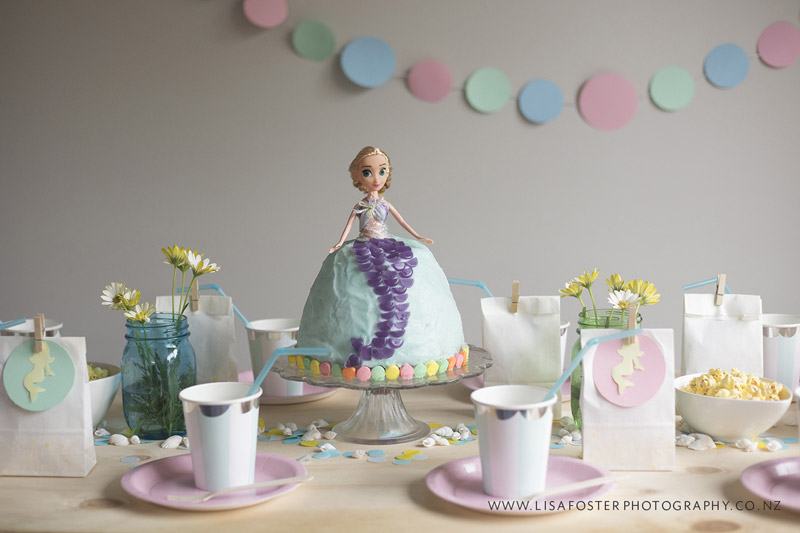 We hope you have loved this mermaid party using a collection of our mermaid party supplies. The colour palate is so pretty and, sans mermaid cake and decorations, would be a lovely option for a baby shower too!
Many thanks for sharing this pretty party with us Lisa.
For more mermaid party inspiration, please see our blog post Party Supplies for a Gorgeous Mermaid Party.
Credits:
Image copyright: Lisa Foster Photography
Party Supplies: Miss Mouse